Sophia Smith hat trick paces U.S. U-18 WNT in 5-0 win over Norway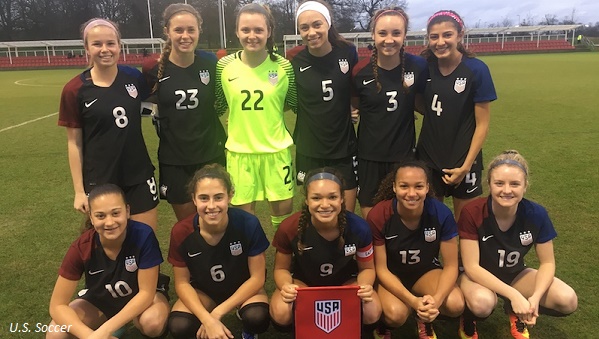 CHICAGO (Via U.S. Soccer) – The U.S. Under-18 Women's National Team won its second game in a row in England, defeating its counterparts from Norway, 5-0, as forward Sophia Smith scored three times while forward Summer Yates and midfielder Cori Dyke added single scores. The match was played at St. George's Park, England's National Training Center, where the USA defeated England, 3-1, on Feb. 19.
The USA will finish the trip with another match against England on Feb. 25. That match will be played at New Bucks Head in Wellington, which is the stadium for AFC Telford United.
In a match that featured 40-minute halves, Yates scored early for the second match in a row, this time in the 12th minute, as she finished a diving header off a cross from Rachel Jones that came from the left wing.
Smith doubled the lead 12 minutes later on a nice individual run, receiving the ball at midfield as she turned and cut through three defenders before ripping a shot into the lower left corner.
+READ: U.S. U-18 Women's National Team defeats England 3-1 in friendly
Smith assisted on third goal, taking a ball down the left wing past two defenders before playing a pass into the center of the penalty area. Alexa Spaanstra let the ball run through her legs and it rolled to a wide open Dyke, who slipped the ball past the goalkeeper into the left corner.
The USA took a 3-0 lead into halftime, but Smith completed her hat trick with goals in the 45th and 53rd minutes to give her five tallies over the two games.
The first came when she stole the ball from the goalkeeper, danced around two players and tapped the ball into the open net. The second came off a throw-in from the right side. Smith received the ball, cut inside two defenders and ripped a low and hard shot off the goalkeeper's left hand and into the net.
This group of players is at the start of a two-year cycle as U-18s before transitioning to U-20s in 2019, and will form the core of the group that will eventually attempt to qualify for the 2020 FIFA U-20 Women's World Cup.
– U.S. Under-18 Women's National Team Match Report-
Match: U-18 Women's National Team vs. Norway
Date: Tuesday, Feb. 21, 2017
Competition: Friendly Tournament
Venue: St. Georges Park, Burton-upon-Trent, England
Attendance: 100
Weather: 40 degrees; rain
Scoring Summary:   1          2          F
USA                             3          2          5
NOR                            0          0          0
USA – Summer Yates (Rachel Jones)           12th minute
USA – Sophia Smith                                        24
USA – Cori Dyke (Sophie Smith)                    37
USA – Sophia Smith                                        45
USA – Sophia Smith                                        53
Lineups:
USA: 22-Meagan McClelland; 5-Maycee Bell (14-Cassie Hiatt, 41), 4-Madelyn Desiano, 3-Brianna Martinez, 23-Shae Holmes (15-Sarah Piper, 57), 6-Madeline Vergura (16-Natalie Viggiano, 41), 8-Cori Dyke (18-Kali Trevithick, 41), 10-Summer Yates, 13-Rachel Jones, 19-Alexa Spaanstra (11-Emily Vatne, 41), 9-Sophia Smith (capt.) (24-Ashylnn Serepca, 59)
Subs Not Used:1-Hensley Hancuff, 7-Jenna Nighswonger, 21-Olivia Wingate
Head Coach: April Heinrichs
NOR: 1-Karen Sneve; 2-Martine Romsdal, 3-My Sorsdahl, 4-Malin Sunde (16-Emilie Bolviken, 31), 6-Rikke Nygard (capt.), 7-Matilde Rodge (17-Ylinn Tennebo, 58), 8-Thea Bjelde, 9-Jenny Olsen (18-Naomi Griffin, 58), 14-Silie Bjorneboe, 19-Elisabeth Terland (10-Elin Sorum, 59), 20-Olaug Tvedten (15-Kristin Holmen, 71)
Subs Not Used: 5-Ine Aarskog, 11-Miriam Mjaseth, 12-Kristin Rage
Head Coach: Borje Sorensen
Stats Summary: USA / NOR
Shots: 13 / 9
Shots on Goal: 9 / 3
Saves: 3 / 4
Corner Kicks: 7 / 4
Fouls: 5 / 2
Offside: 0 / 2
Misconduct Summary:
None
Officials: Lee Hible
Referee: Thomas Cooke
Assistant Referee 1: Carl Henry
Assistant Referee 2: David Constable