SoccerWire Q&A: NYCFC's Claudio Reyna on youth national teams, technical development, Tab Ramos
NEW YORK – The fourth annual NY FEST (Film and Entertainment Soccer Tournament) was held on Saturday at Pier 5 of Brooklyn Bridge Park, providing a chance for those in the media industry to come together and celebrate soccer.

The proceeds of the event went to charity, one of them being the Claudio Reyna Foundation. Although Reyna did not play with the NYCFC representative team during the industry tournament – he took on a front-office role with the new MLS club last year after a stint as U.S. Soccer's youth technical director – the former U.S. Men's National Team captain took part in the Celebrity game, showing that he's still got some game left in his legs (pictured at right).
SoccerWire.com caught up with Reyna to discuss the country's improvements at youth level, technical abilities of the players and his former USMNT colleague Tab Ramos' recent step up to the senior national team's coaching fold.
SoccerWire: As a former youth technical director of the United States, do you see the young players starting to really improve?
Claudio Reyna: Yeah, there is a bigger youth player pool now in the U.S., there is more talented players so it's exciting. I think our youth national teams are certainly competitive with anybody in the world at the younger age groups, and definitely the academy [system] that's been developed is really starting to take shape. All these things take a little bit of time, but you could see some of that year-round training and more of a professional organization and set-up at the younger ages starting to pay off.
SW: Do you see a more technical side to the U.S. as opposed to five, 10 years ago?
CR: I think we're trying to. It still depends. Some clubs, more than others, try to play. Everyone has their different sort of styles of play and different coaches. I think it's important that U.S. Soccer leads the way. In my time there, there was a lot of good coaches and there's a direction that's being led by U.S. Soccer in trying to play more of a possession-based soccer game, and also the identification of technical players is very important.
I think it starts with how you want to play followed by the type of players you're trying to bring to the national team. We have a lot of technical players in this country that maybe in the past were bypassed for more physical players that can get you a result. This requires a bit of patience and I think it's happening now. We have a lot of talented players in the youth system and it's definitely the right way forward.
SW: Tab Ramos got named to the senior side coaching staff, do you see that as being a bridge for the younger players to the senior national team?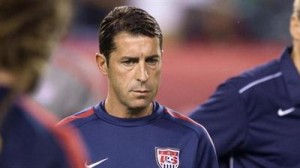 CR: It's still a big jump from the youth to the senior team so all of those players need a little bit of time. It's not going to be a direct jump from the Under-20s to the USMNT. Certainly in two, three, four years some of the players with the U-20s will get a chance, but it takes a little bit of time. The national team in itself, most of the players are above 22, 23 years old, they're a little bit more seasoned and [have] played more games.
The good thing is Jurgen [Klinsmann] is trying some of these younger players – probably not in an important game, but certainly when we have friendlies or the Gold Cup – young talent that's coming through will get an opportunity. [With Tab] there's a link from the youth to the senior team and that's very important.
SW: Speaking of Tab, do you think one day he could coach the senior side?
CR: It's possible. I think it's a big job and he has a lot of experience coaching mostly the youth teams. Now [that] he's been with the first team, you never know.