SoccerWire Q&A: Analyzing the Potomac Memorial Tournament with Arnold Tarzy
GERMANTOWN, Md. — It's not the biggest showcase youth tournament in the Mid-Atlantic region, or the oldest, and likely not the most well-known.
But the Potomac Memorial Tournament certainly can submit a claim to being the best, or close to it, in terms of the quality on the field — and density of college recruiters on the sidelines. This year's edition of the Memorial Day weekend event in Washington, D.C.'s northwest suburbs drew a startling number of NCAA scouts, including most of the East Coast's most renowned Division I programs and quite a few from further afield as well.
+READ: Potomac area Memorial Day Tournament recap 2015
They were drawn by an impressive mix of strong club teams primarily hailing from the Atlantic Seaboard, but also from as far away as California and Florida. And all were treated to ideal conditions as mild, sunny weather shined on the good natural-grass fields of the Maryland SoccerPlex, where the lion's share of older age groups were based.
SoccerWire.com staff was impressed with the level of play and number of compliments offered up by college coaches on hand, so we contacted tournament director Arnold Tarzy to chat about what's working for the PMT.
SoccerWire: How'd the weekend go, in your opinion? We saw good soccer and plenty of college scouts.
Arnold Tarzy: We were made to look real good by the weather. Once the weekend comes, if the weather's good, all we do is play games and write down scores.
I was extremely pleased with the quality of the teams. I think that over the last couple of years, we've seen the quality increase from when the [Development] Academy first came on the scene. I think we're seeing a bounceback of some of the quality to the club teams that had temporarily gone in the direction of academy teams, in no small part due to the expense and the rule against high school [soccer].
SW: Interesting — you think the DA's rule against participation in high school soccer has benefitted your tournament?
AT: They have fractured the talent. As soon as they made kids make a choice, that's exactly what they did – they made a choice. Some went academy, some [did] not.
SW: The college coaches certainly seem to find the best talent, wherever it's playing.
AT: We had 250 to 275 college coaches attending – a pretty large number of coaches, that's for sure.
SW: With so many teams and recruiters coming from all over the country, it seems that the PMT is competing with other showcases on a national basis. 
AT: Well, I don't mean any disrespect to you, but this isn't a new thing.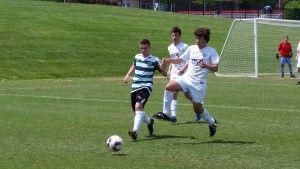 We're starting to get more teams from California, and more and more each year from Florida. We've had a decent number of teams from Canada – we're drawing from far and wide. We've been pretty fortunate that the reputation of our tournament has attracted some of the top teams from all over.
When they come to our tournament, teams are assured of top-quality fields, they're going to get referee coverage – they're not going to show up and have not enough referees for the games. And because of all these things, they get top-quality competition. I like to think that my staff does a job of communicating with people and making sure they get their questions answered quickly and that sort of thing. And I don't mean just over the weekend, I mean ahead of time – we go out of our way to make sure emails and that sort of thing are answered quickly.
SW: What are your plans for the future? Do you see the tournament growing in the years ahead?
AT: Well, no. We had 368 teams [this year]. I don't have any vision to make it bigger. We're about quality, not quantity. And if we were to find ways to expand it, we would perhaps have to look at fields that haven't been good enough for us to include thus far. I don't want to take on any more teams without quality fields and referees to host them. That really isn't what we're trying to do. As it is – which is remarkably unique, and what makes it so great for college coaches, which of course, makes it great for teams – we had 168 teams age 16 and older all playing at one field site, the SoccerPlex. So like no other situation that exists, a college coach can go to a tournament and see 168 teams, and not have to leave the site.
SW: The SoccerPlex is a great resource for the region — even now, it sometimes seems like it's underappreciated. 
AT: There's no lack of respect for it when anyone comes there. All they have to do is see it. And in my opinion what sets it apart from any other place in the country is not just that they have so many fields, and they're all excellent quality. There's two things that exist that you're never going to see all in one place: paved parking lots right next to the field, plenty of parking, and real buildings with restrooms, not just port-a-johns.
A lot of the larger sites, you have to park and walk a few hundred yards, park in a grass field, use port-a-johns, things like that. Everything is absolutely first-rate at the SoccerPlex and we do the same thing at all of our other field sites. I want to do everything first-rate. When somebody comes to our tournament, they expect and they receive everything first-rate.