SMU men's soccer team welcomes Top 5 ranked incoming class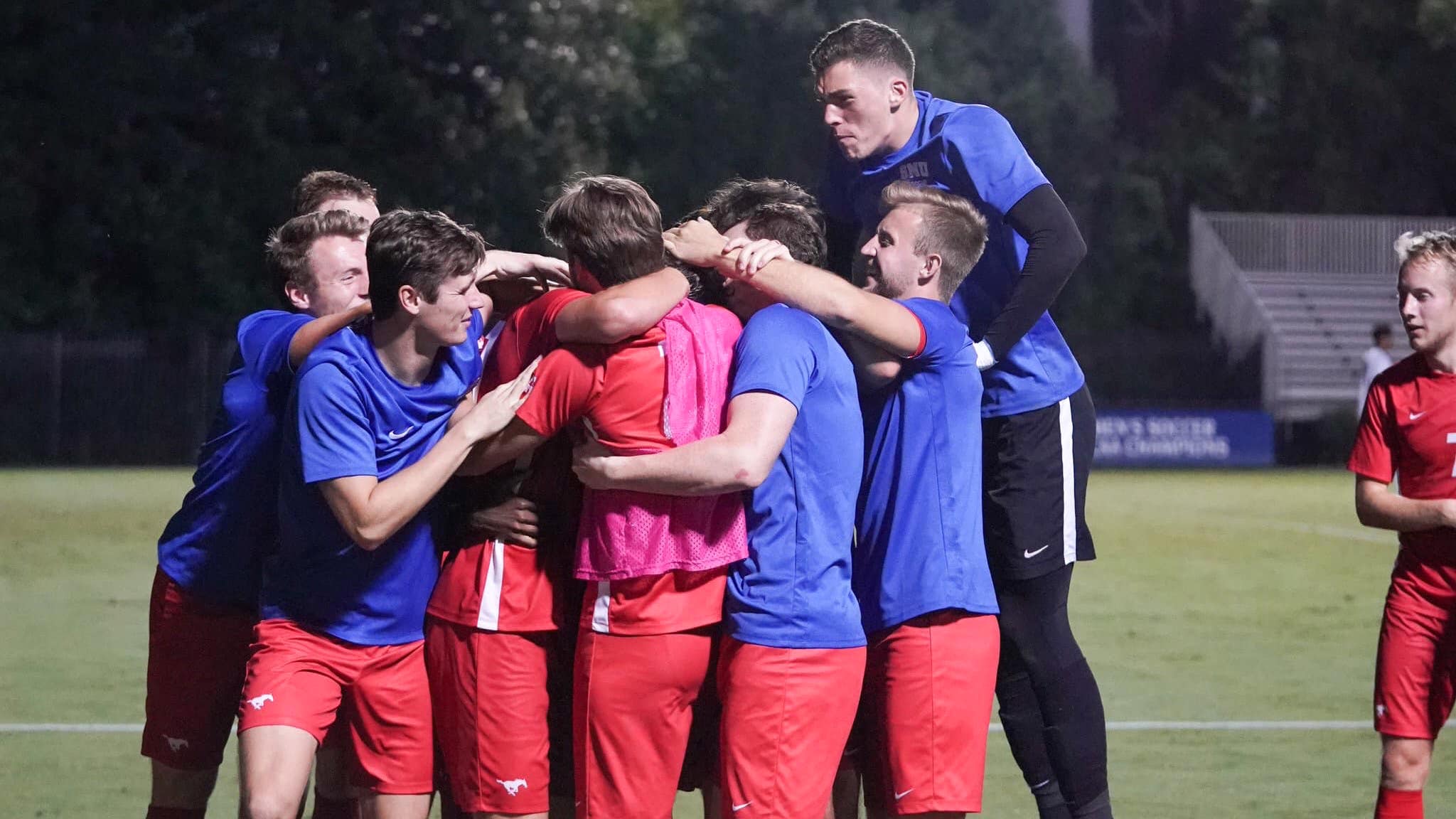 DALLAS – SMU head coach Kevin Hudson has announced the addition of 10 student-athletes to the men's soccer incoming class for the 2020 season.
The additions below join a pair of previously announced spring transfers in Timo Hummrich and Skage Simonsen. This class is ranked No. 4 in the country by College Soccer News and No. 5 by TopDrawer Soccer.
The Mustangs finished the 2019 season in the top 10 of all major polls, including a No. 3 ranking in the NCAA RPI and a No. 7 ranking in the United Soccer Coaches Poll. SMU's 18-2-1 season produced the fourth most wins in school history and the 63 goals scored were the most since a school-record 81 in 2000. The Mustangs allowed just 17 goals in 2019, giving the team the national lead in goal differential at +46.
"We are thrilled to add this group to our 2020 roster," Hudson said. "We know they possess the quality, character and winning mentality that has been the foundation of SMU Soccer. The expectations for this group are very high! Much of the credit for assembling this talented class goes to Associate Head Coach and Recruiting Coordinator, Ben Stoddard, and Assistant Coach, Brett Koziczkowski. These young men would not be at SMU without all the tireless recruiting efforts."
Nathan Ashley | M | Johannesburg, South Africa | Saint Andrews School (Fla.)
Ashley played for the South Florida Football Academy / Boca United in the US Soccer Development Academy since 2015.  He started 79 games in his DA career.  He attended Saint Andrew's School in Boca Raton, Florida.
Hudson on Ashley: Nathan is a technically gifted midfielder who is excellent in possession. His drive and ambition as a player make him a great fit for SMU Soccer. 
Kellan Barry | D | San Luis Obispo, Calif. | San Luis Obispo
Barry lettered three seasons at San Luis Obispo High School after playing club year-round as a freshman. He helped his team to three consecutive League Championships, was a three-time, first-team all-league selection and was named offensive Player of the Year.
Barry played club at Santa Barbara Soccer Club where he captained his team to a South Central Regional Championship as well as a Surf Cup Championship in 2019. He has earned a pair of National Team Combine invites.
Hudson on Barry: Kellan possesses the versatility to play in center midfield or wide. He is an explosive athlete who is excellent in 1v1 situations on both sides of the ball.
Cody Black | M | San Diego, Calif. | Torrey Pines
Black competed for Torrey Pines High School where he help his team to two Open Division CIF Championships. He played his club ball at Rancho Sante Fe Attack.
Hudson on Black: Cody has a great blend of size, technique and athleticism. He is most effective as a defensive midfielder when he connects passes and breaks up opposition attacks.
Judson Burns | D | Argyle, Texas | Clemson / Argyle
Burns spent his freshman season at Clemson, where he helped the Tigers to an ACC regular season Championship and an appearance in the NCAA Quarterfinals in 2019. He returns to Dallas where he played for Luchi Gonzalez and Chuy Vera at the FC Dallas Academy.
Hudson on Burns: Judson is a winner. His mentality and determination will drive himself and the team to success. He is a tough defender but also is comfortable on the ball when building from the back. He developed his abilities with FC Dallas so we know he will be prepared for any challenge at SMU. 
Harvey Castro | M | Flower Mound, Texas | Marcus
Castro played at Marcus High School and was a three-year letterwinner and captain. He was an All-American, first-team All-State selection and was also named the 6A district MVP. Castro helped Marcus to a pair of district championships.
Castro played at Solar, helping his club to a pair of US Youth Soccer National Championships, a Regional Championship and two North Texas State Championships. The team also collected runner-up honors at the Dallas Cup and Castro earned Dallas Cup Best XI honors.
Hudson on Castro: Harvey is a tall and smooth midfielder. He has a very calming demeanor on the ball which gives confidence to the team. He reads the game well and is excellent in tight combinations. 
Cesar Garcia | M | The Colony, Texas | Lone Star
Garcia played for Chuy Vera at FC Dallas Academy where he anchored the midfield for the past 4 years. He started over 90 games for FC Dallas Academy while scoring 17 goals. Cesar was part of the US U-17 National Team. He also played with North Texas SC (USL – 1).
Hudson on Garcia: Cesar is an extremely talented passer. His vision and passing range will help the SMU offense break teams down. He has a very high soccer IQ. He has experience playing with North Texas SC, FC Dallas and the US U17 National Team so he will adjust quickly to college soccer.
Cole Johnson | GK | Phoenix, Ariz. | Chaparral
Johnson played three seasons at Scottsdale Christian Academy before finishing his high school career at Chaparral. He was a two-time team MVP and an Arizona Republic Player of the Year nominee. Johnson also lettered in basketball.
Johnson played club for Real Salt Lake-AZ where he was an ECNL All-Conference Selection in 2017-18 and 2018-19. He was also selected for the 2020 U.S. Youth Soccer ODP National Training Camp.
Hudson on Johnson: Cole has a very high ceiling as a goalkeeper. He's a brave and powerful athlete. Cole has been trained by former SMU Coach, Joe Waggoner, so we know he has a strong technical base and outstanding work ethic. 
Papa Ndoye | F | Saly, Senegal | LIU / Mbour
Ndoye transferred to SMU after spending a season at LIU where he was a United Soccer Coaches All-Northeast Region First-Team selection. At the conference level, Ndoye earned first-team honors and was named NEC Rookie of the Year. He started 15 of 17 games played and led the team in points (19) and goals (9).
Hudson on Ndoye: Papa is a dynamic striker who has proven his ability to score goals at the D1 level during his time at LIU. He has a burst of pace to separate from defenders and consistently finds himself in good spots to score goals.  
Tyler Oakson | M/D | Mission Viejo, Calif. | Mission Viejo
Oakson lettered four years at Mission Viejo High school and was named first-team CIF and all-league in 2020 as well as second-team all-league in 2019. A two-year team captain, Oakson earned Male Athlete of the Year and Team MVP honors in 2020.
Oakson played club for Pateadores DA and was named the Cal South Player of the Year and a Generation Adidas Cup Premier Division Honorable Mention selection in 2019. A Cal South ODP captain on two occasions, he was a four-time member of the Western Region ODP All-Star squad.
Hudson on Oakson: Tyler is a physically gifted midfielder who can cover a tremendous amount of ground. He is strong on the ball and tough in the tackle. He is a natural competitor with a strong desire to improve.
Jose Ortiz | F | Arlington, Texas | Sam Houston
Ortiz played at Sam Houston High School where he was named the Gatorade Texas Player of the Year as a freshman. In three seasons, Ortiz scored 133 goals and was named the Fort-Worth Star Telegram Player of the Year three times and the Dallas Morning News Player of the Year in 2019. Jose was a first-team All-State and All-District player for his 3 high school seasons. He was also named a High School All-American in 2019.
Ortiz played for Casey Cantor at FC Dallas and previously for Victoria FC in Honduras.
Hudson on Ortiz: Jose is a natural goal scorer. He has a unique ability to exploit space behind an opposition back line and find pockets of space in the box to score. He is powerful when dribbling 1v1 and constantly creates trouble for opponents.