Significant changes featured in new Boys Fall 2022 High School Rankings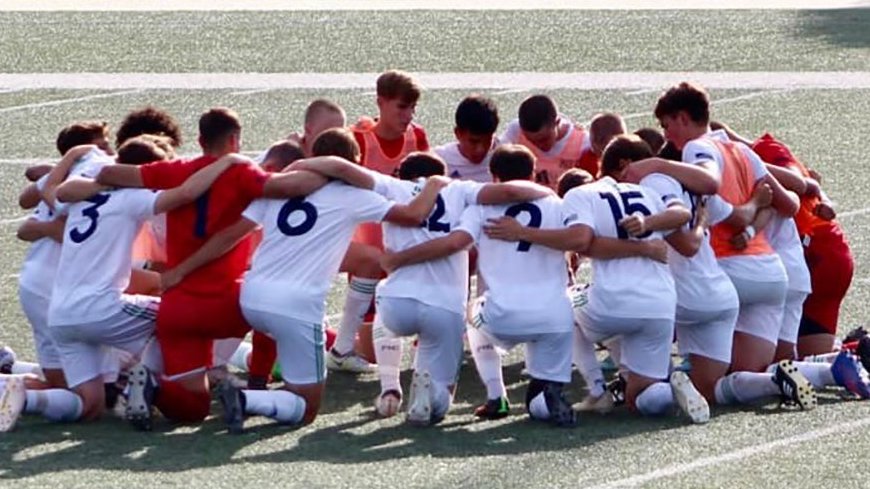 KANSAS CITY, Mo. – United Soccer Coaches released the latest fall high school boys' and girls' soccer rankings.
St. Ignatius (Cleveland, Ohio) claimed the top spot again this week in the boys' poll, followed by St. Benedict's Prep (Newark, N.J.) in second, Peoria Notre Dame (Pictured Above) (Peoria, Ill.) in third, Scarsdale (Scarsdale, N.Y.) in fourth, and Salesianum School (Wilmington, Del.) in fifth.
FALL BOYS – NATIONAL – POLL 3 – SEPTEMBER 20, 2022
| Rank | School | Prev | W-L-T |
| --- | --- | --- | --- |
| 1 | St. Ignatius (Cleveland, Ohio) | 1 | 7-0-0 |
| 2 | St. Benedict's Prep (Newark, N.J.) | 2 | 5-0-0 |
| 3 | Peoria Notre Dame (Peoria, Ill.) | RV | 10-0-0 |
| 4 | Scarsdale (Scarsdale, N.Y.) | 6 | 6-0-0 |
| 5 | Salesianum School (Wilmington, Del.) | 7 | 3-0-0 |
| 6 | Detroit Central Catholic (Novi, Mich.) | 14 | 13-1-0 |
| 7 | Legacy (Broomfield, Colo.) | RV | 4-0-0 |
| 8 | Nashua South (Nashua, N.H.) | 8 | 5-0-0 |
| 9 | Seton Hall Prep (West Orange, N.J.) | 9 | 4-0-0 |
| 10 | Centerville (Centerville, Ohio) | 10 | 8-0-0 |
| 11 | Brentwood (Brentwood, N.Y.) | 11 | 4-0-1 |
| 12 | Saint Thomas Aquinas (Overland Park, Kan.) | 12 | 4-0-1 |
| 13 | Stillwater Area (Oak Park Heights, Minn.) | RV | 9-0-0 |
| 14 | Eldorado (Las Vegas, Nev.) | 15 | 12-0-1 |
| 15 | Woodberry Forest (Orange, Va.) | NR | 3-0-0 |
| 16 | Weymouth (Weymouth, Mass.) | NR | 5-0-0 |
| 17 | Martin Luther King, Jr. (New York, N.Y.) | 18 | 4-0-0 |
| 18 | Seneca Valley (Harmony, Pa.) | 17 | 8-0-0 |
| 19 | Whitefish Bay (Whitefish Bay, Wis.) | RV | 8-0-1 |
| 20 | York (Elmhurst, Ill.) | 3 | 7-0-3 |
| 21 | Ballard (Louisville, Ky.) | RV | 12-0-0 |
| 22 | Calvert Hall (Baltimore, Md.) | NR | 6-0-1 |
| 23 | Timberline (Boise, Idaho) | RV | 11-0-1 |
| 24 | William Hall (West Hartford, Conn.) | 23 | 1-0-0 |
| 25 | Amityville (Amityville, N.Y.) | RV | 6-0-0 |
Records shown are through Sept. 18, 2022
Also receiving votes: Pingry School (Basking Ridge, N.J.), Charleston Catholic (Charleston, W.Va.), Wayzata (Plymouth, Minn.), North Kingstown (Kingston, R.I.), West Lafayette (West Lafayette, Ind.), McNary (Keizer, Ore.), Blue Valley Northwest (Overland Park, Kan.), Fairport (Fairport, N.Y.), Carmel Christian School (Mathews, N.C.), Lincoln (Portland, Ore.), Ludlow (Ludlow, Mass.), DeSmet Jesuit (St. Louis, Mo.), Father Judge (Philadelphia, Pa.), Olentangy Liberty (Powell, Ohio), Troy (Troy, Mich.), Chaminade (Mineola, N.Y.), Marquette University High (Milwaukee, Wis.)