Several appointments and proposals approved at U.S. Soccer Annual General Meeting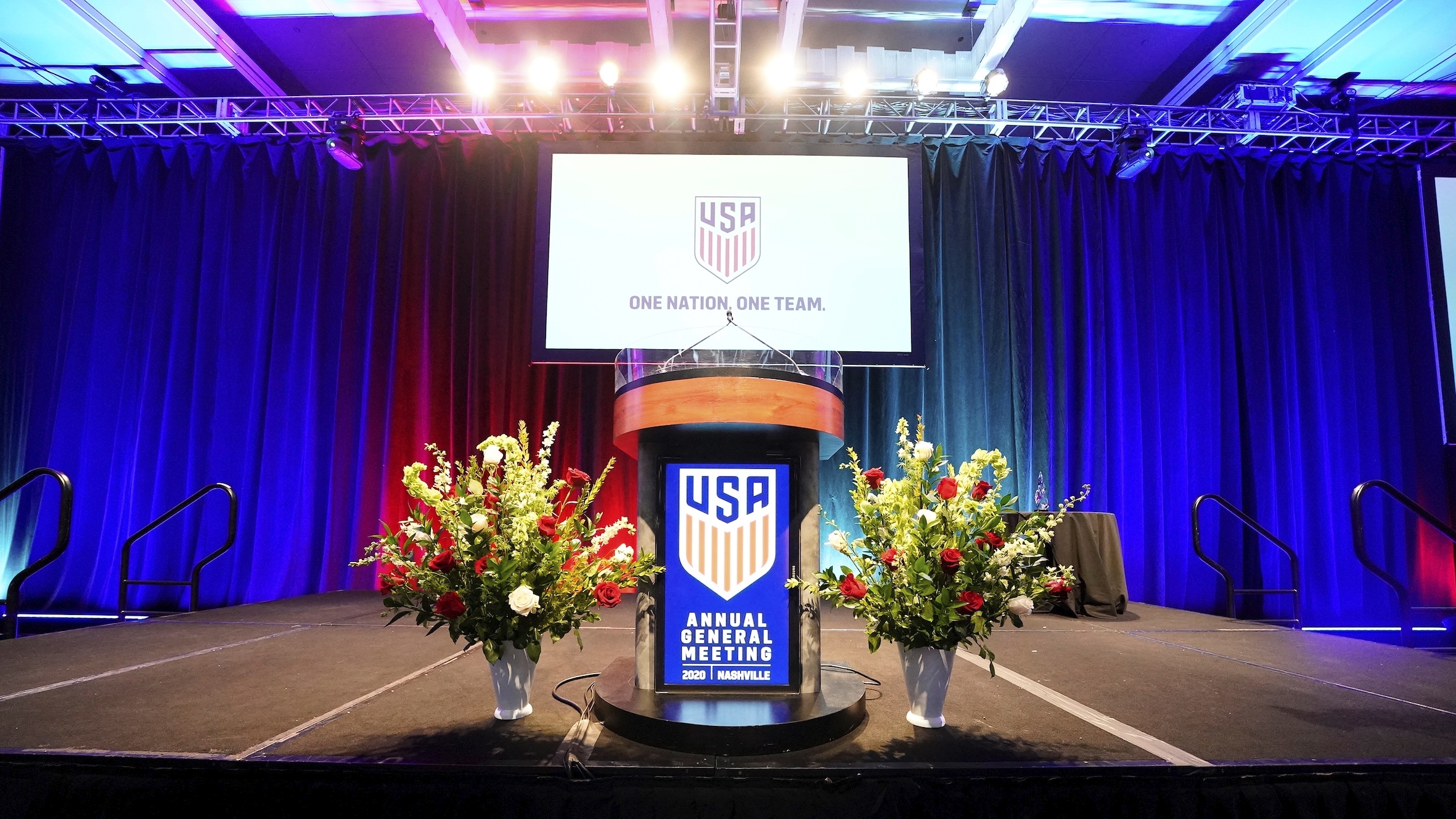 CHICAGO – The U.S. Soccer Membership approved a range of appointments and proposals at the 2020 U.S. Soccer Annual General Meeting (AGM) in Nashville, Tenn.
During the National Council Meeting, sitting Vice President Cindy Parlow Cone was re-elected to a full four-year term, while Juan Uro was elected as an Independent Director on the U.S. Soccer Board of Directors.
Additionally, three applicants, Cerebral Palsy Soccer, National Independent Soccer League, and United Futsal were admitted as new U.S. Soccer Member Organizations, while the National Armed Services Sports Council was granted provisional national affiliate status by the U.S. Soccer Board.
It was also announced that the Jill Ellis Scholarship has been established to focus on supporting women's coaches and growing the number of women coaches working at all levels of the game. The scholarship fund has already raised $215,000 to support women's coaches.
CINDY PARLOW CONE RE-ELECTED U.S. SOCCER VP
Former U.S. Women's National Team star Cindy Parlow Cone, who was elected to serve out the remaining year of the previous VP term at the 2019 U.S. Soccer AGM, was re-elected to serve a full four-year team that will run until 2024. She was challenged for the seat by U.S. Soccer Board of Directors Adult Council Representative John Motta.
"It has been an honor to serve as your Vice President, and I look forward to continuing the work of growing the game, creating better environments for all and eliminating barriers to access over the next four years," Parlow Cone said. "I am excited to continue our work in the game from the grassroots to the international level and am passionate about building bridges that will serve the game, our players, coaches and referees as well as our Members."
Recently inducted as a member of the National Soccer Hall of Fame Class of 2018, Parlow Cone's re-election as U.S. Soccer VP is the latest achievement in an impressive career that began as a star forward with the U.S. Women's National Team from 1996-2004, and title-winning coach at the grassroots, collegiate and professional levels. During the past 20 years, she has served on U.S. Soccer's Referee Committee, Medical Advisory Committee, Appeals Committee and the Athletes' Council as well as more recently with U.S. Soccer's Youth Task Force.
JUAN URO CONFIRMED AS INDIPENDENT DIRECTOR
The National Council elected Juan Uro, a Partner at Ernst & Young with deep expertise in corporate strategy, growth strategy, capital allocation, operating model, operational improvement, governance and organizational design as an Independent Director to the U.S. Soccer Board of Directors. He specializes in advising CEOs, Boards, CFOs and other C-suite executives on strategy, corporate finance, operations issues. He has over 20 years of management consulting experience with companies across many sectors (media, financial services, consumer products and healthcare) and geographies (North America, Europe, Asia, and Latin America).
THREE NEW U.S. SOCCER MEMBERS
The addition of Cerebral Palsy Soccer, National Independent Soccer Association, and United Futsal as new Members brings the total number of U.S. Soccer Member Organizations to 113 and will help further U.S. Soccer's mission to make soccer, in all its forms, the preeminent sport in the United States and to continue the development of soccer at all recreational and competitive levels.
BYLAW AND POLICY UPDATES
The National Council voted to amend one U.S. Soccer Bylaw, approving a change to Bylaw 703 that was submitted by the Athletes' Council. The update will create a two-person panel with an arbitrator and an Athlete to hear every Member grievance filed with U.S. Soccer.
Five U.S. Soccer Policies were also approved by the National Council. Policy 414-1 included updating the minutes of the meetings of the Board, Referee and U.S. Open Cup Committee to specify where the minutes may be found on ussoccer.com. The addition will aid in transparency of governance in the broader soccer community.
The Board approved the following policy amendments, which were then ratified by the National Council:
102(4)-1 – which will better articulate rules regarding team eligibility requirements, player and team match discipline, and the handling of cancelled or terminated matches.
601-2, 601-4 – which will provide clearer information to concerned parties about the registration of professional players and the reinstatement of amateur players.
Policy 601-5 will ensure all Organization Members will register players electronically.
WERNER FRICKER HONOREE
Joining the distinguished list of Werner Fricker winners is former FIFA referee and veteran Referee Instructor, Esse Baharmast, who was honored at an awards dinner following the National Council Meeting. Baharmast is the second winner primarily involved with referees to be honored with the Werner Fricker Builder Award following former referee administrator Gerhard Mengel, who received the award in 2005. Baharmast is the first Werner Fricker winner whose career focused on building the sport for referees in the United States.