Semifinal matchups set at 2014 US Youth Soccer Region I Championsh​ips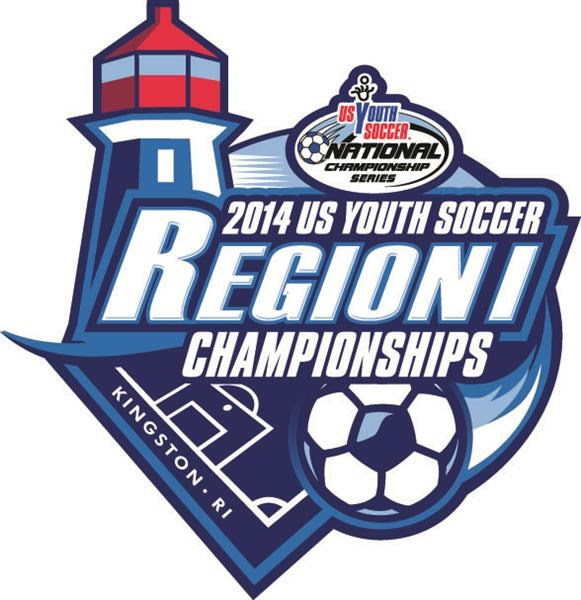 Kingston, R.I. (Via US Youth Soccer) – Competition was at its peak on the final day of preliminary play at the 2014 US Youth Soccer Region I Championships as teams battled for a spot in Monday's semifinal matches.
The Regional Championships carry a tradition as a proving ground, as every team must earn their way into the competition. Brentwood SC 97 (NY-E) qualified as the Under-16 Girls Eastern New York state champion and went 3-0 on the way to a semifinal matchup with MRM Coyotes (MD). Coach Nir discussed what's helping to motivate the girls this year now that they're back.
"Last year we came here and we were very hungry," said Brentwood's Coach Nir Sveri. "The kids came in but we were depleted with injures and it was tough to play. Today we came in and I told them that even though we need a tie we're not playing for a tie. We went in and we scored first and that made it that much easier."
"We're going up a notch in level for this semi-final and we'll try to do what we didn't do last year, which is advance to the final. I think the girls see the goal and have set themselves up to compete in this match the best they can. The goal is to get to Nationals, regardless this season is a success to them and this would be the icing on the cake. This is extra, there is no more pressure on them the pressure was to get to the semifinals and duplicate last year's success. I think playing relaxed and not having to worry about the outcome is actually a good thing for us."
Notes from a few of today's games…
U-16 Girls
Brentwood SC 97 (NY-E) just needed a tie in order to advance through to the semi-finals but was up against the semi-finalist team from the 2013 Region I Championships, PWSI Courage97 Red (VA). Brentwood got on the board in the first half with a header by Julianne Johnston that went just over the PWSI keeper in the 27th minute. In the second half Brentwood's Samantha Millmann got on the end of a ball and put a shot through the PWSI keeper's legs to put Brentwood up 2-0. PWSI pushed late as they now needed three goals in order to have a chance of advancing. PWSI saw multiple shots, and a header, go just either just wide or off the posts to keep them scoreless. Brentwood advances for the second consecutive year to the semi-final round where they'll face the 2012 National Champions MRM Coyotes (MD).
Under-16 Boys
The Under-16 Boys group showed just how close it can be when it comes to qualifying for semi-finals. There were three teams in Group C that had a chance to advance with point leaders Baltimore Celtic (MD) just needing a tie in order to advance. Bruno United FC (RI) and Empire Revolution SA Buffalo Blue (NY-W) both had three points going into the final game. Celtic faced off against a Bruno United team who could advance if they beat the Maryland side. Celtic's Keegan Kelly scored just four minutes in to put Celtic ahead 1-0. Kelly struck again in the 50th minute to give Celtic a 2-0 win and to help them advance to the semi-finals. Despite a 6-0 win in their game Empire Revolution couldn't advance with Celtic winning their game.
Under-19 Girls
VSA Heat Blue (VA) lost in the 2013 Region I Championships semi-finals last year but advanced to the National Championships via the US Youth Soccer National League. This year they have to go through regionals as National League only goes up through the Under-18 age-group. After winning their first two games, while allowing zero goals, VSA needed only a tie to advance to the semi-finals. They came up against EPIC Pride (WV) who had only allowed one goal in two games. VSA continued their dominate run of their group and ended the game with five different goal scorers and got the help of an own goal to win 7-0.
"National League has really helped prepare us in the years up to now," VSA Head Blue coach Steve Smith said about his team. "The girls were challenged every time they stepped out on the field in those games. It was a top quality league that not only helped prepare them for US Youth Soccer events but the college level as well."
"We wanted one last go together. These girls really enjoy playing together as a team. It's been tough getting numbers but we made it happen and now we're just going to see what happens these next two days. It would be the icing on the cake if we could get to the National Championships again. We've gotten to the National Championships the last two years. Last year we were missing some players and now we have our group back so it will truly be our team. So now we're just trying to get there."
Regional winners of the Under-13 through Under-19 age groups earn a berth to the 2014 US Youth Soccer National Championships, presented by the National Guard, to be played July 22-27, at Maryland SoccerPlex in Germantown, Md.
The US Youth Soccer National Championships will consist of US Youth Soccer Regional Champions in the Under-13 through Under-19 Boys and Girls age groups as well as the US Youth Soccer National League qualifiers in the Under-14 through Under-18 Boys and Girls age groups to complete the field of  teams
Schedule of tomorrow's semi-final games
| | | | | |
| --- | --- | --- | --- | --- |
| Start Time | Age Group | Home Team | Away Team | Field |
| 8:00 AM | U12 Girls | PDA Storm (NJ) | RI Strikers FC – Bettencourt (RI) |  Field 10 |
| 8:00 AM | U12 8v8 Girls | Greater Binghamton FC (NY-W) | Alleycats Soccer Club (NY-E) |  Field 8 |
| 8:00 AM | U13 Boys | Baltimore Celtic Dynasty (MD) | Global Premier Soccer (NH) |  Field 16 |
| 8:00 AM | U13 Boys | BRYC Elite (VA) | Bruno United Red (RI) |  Field 17 |
| 8:00 AM | U14 Girls | FC Penn Strikers (PA-E) | Empire Revolution Buffalo Blue (NY-W) |  Field 20 |
| 8:00 AM | U14 Girls | NEFC Elite (MA) | Quickstrike FC (NY-E) |  Field 14 |
| 8:00 AM | U16 Girls | MRM Coyotes (MD) | Brentwood SC Pride (NY-E) |  Field 2 |
| 8:00 AM | U16 Girls | Beadling SC Wolfpack (PA-W) | New Jersey Rush (NJ) |  Field 3 |
| 8:00 AM | U16 Boys | Synergy Football Club (VT) | PDA Pele (NJ) |  Field 1 |
| 8:00 AM | U16 Boys | Manhattan SC Cruzeiro (NY-E) | Baltimore Celtic (MD) |  Field 13 |
| 8:00 AM | U19 Girls | FC Stars of Mass (MA) | VSA Heat Blue (VA) |  Field 7 |
| 8:00 AM | U19 Girls | FC Frederick (MD) | Smithown Kickers SC Spirit (NY-E) |  Field 6 |
| 9:30 AM | U12 Girls | FSA FC Navy (CT) | Sachem Speed (NY-E) |  Field 10 |
| 9:30 AM | U12 8v8 Girls | Victory Express (PA-W) | Stars of Mass NH United (NH) |  Field 8 |
| 9:45 AM | U13 Girls | Delaware Rush (DE) | Greater Binghamton FC Select (NY-W) |  Field 16 |
| 9:45 AM | U13 Girls | Bethesda SC Blue (MD) | South Shore Select Elite (MA) |  Field 17 |
| 9:45 AM | U15 Boys | Penn Fusion SA (PA-E) | Loudoun SC Red (VA) |  Field 20 |
| 9:45 AM | U15 Boys | Delaware Rush (DE) | Marlboro SA Warriors Blue (NJ) |  Field 14 |
| 10:00 AM | U15 Girls | NEFC Elite (MA) | YMS Premier Xplosion (PA-E) |  Field 2 |
| 10:00 AM | U15 Girls | Delaware Rush (DE) | Loudoun Red (VA) |  Field 3 |
| 10:00 AM | U18 Girls | Beadling SC Thunder (PA-W) | Bayside FC Bolts (RI) |  Field 7 |
| 10:00 AM | U18 Girls | Richmond Kickers Elite (VA) | PDA Ginga (NJ) |  Field 6 |
| 10:00 AM | U18 Boys | Lehigh Valley United (PA-E) | Annandale United FC Hawks (VA) |  Field 1 |
| 10:00 AM | U18 Boys | Penn Fusion SA (PA-E) | OBGC Rangers (MD) |  Field 13 |
| 11:00 AM | U12 Boys | PDA Kaka White (NJ) | GPS-NH Classics Elite (NH) |  Field 10 |
| 11:00 AM | U12 8v8 Boys | PWSI Courage Red (VA) | North Union United Cannons (PA-E) |  Field 8 |
| 11:30 AM | U14 Boys | FSA FC Navy (CT) | Delaware Rush SC (DE) |  Field 20 |
| 11:30 AM | U14 Boys | Arlington SA Eagles Red (VA) | GPS-MA Crusaders Elite (MA) |  Field 14 |
| 12:00 PM | U17 Girls | YMS Premier Wildcats (PA-E) | VSA Heat Blue (VA) |  Field 2 |
| 12:00 PM | U17 Girls | Toms River FC United (NJ) | Bayside FC Bolts (RI) |  Field 3 |
| 12:00 PM | U17 Boys | Manhattan SC PSG (NY-E) | Empire Revolution  Buffalo Blue (NY-W) |  Field 1 |
| 12:00 PM | U17 Boys | CFC Sound Azul Juniors (CT) | Smithtown Kickers SC Arsenal (NY-E) |  Field 13 |
| 12:00 PM | U19 Boys | Pipeline SC Black (MD) | Beadling SC (PA-W) |  Field 7 |
| 12:00 PM | U19 Boys | PDA Harkes (NJ) | Ironbound SC Inter (NJ) |  Field 6 |
| 12:30 PM | U12 Boys | FSA FC Navy (CT) | Levittown Gunners FC (NY-E) |  Field 10 |
| 12:30 PM | U12 8v8 Boys | Baltimore Celtic Darby (MD) | West Chester United Predators (PA-E) |  Field 8 |
Scores from Day Three:
| | | | |
| --- | --- | --- | --- |
| Under-12 Girls | | | |
| World Cup SC Elite (NH) | 0 | FSA FC Navy (CT) | 3 |
| PDA Storm (NJ) | 2 | Sachem Speed (NY-E) | 2 |
| RI Strikers FC – Bettencourt (RI) | 4 | Cumberland YSA SCP United (RI) | 1 |
| | | | |
| Under-12 Boys | | | |
| PDA Kaka White (NJ) | 0 | FSA FC Navy (CT) | 1 |
| GPS-NH Classics Elite (NH) | 1 | Levittown Gunners FC (NY-E) | 1 |
| West Virginia Rowdies (WV) | 0 | Bruno United (RI) | 2 |
| | | | |
| Under-12 8v8 Girls | | | |
| PWSI Courage (VA) | 2 | Ukrainian Nationals (PA-E) | 1 |
| Maryland United FC (MD) | 1 | Greater Binghamton FC (NY-W) | 1 |
| Victory Express (PA-W) | 4 | Nordic SC (VT) | 0 |
| Fury Dragons (WV) | 0 | Delaware Rush (DE) | 5 |
| Stars of Mass NH United (NH) | 3 | MCU Portland Phoenix (ME) | 0 |
| Alleycats Soccer Club (NY-E) | 1 | Bayside FC Bolts (RI) | 0 |
| | | | |
| Under-12 8v8 Boys | | | |
| Cobras FC (NY-W) | 0 | PWSI Courage Red (VA) | 2 |
| Delaware Rush (DE) | 0 | Beadling Soccer Club (PA-W) | 5 |
| MCU Portland Phoenix – Adipower (ME) | 2 | Bayside FC Bolts (RI) | 4 |
| North Union United Cannons (PA-E) | 2 | NY Kosmos/Greek Americans (NY-E) | 2 |
| World Cup SC of Greater Nashua Elite (NH) | 1 | Baltimore Celtic Darby (MD) | 2 |
| Century V White (PA-W) | 8 | Nordic SC Green (VT) | 1 |
| Ironbound SC Fever (NJ) | 4 | BYSA NY Soccer Central (NY-W) | 2 |
| West Chester United Predators (PA-E) | 3 | Fury Soccer Club (WV) | 0 |
| | | | |
| Under-13 Girls | | | |
| Greater Binghamton FC Select – Riley (NY-W) | 1 | Americans SC Blue Blaze (NJ) | 0 |
| Nordic SC Premier (VT) | 0 | Global Premier Soccer (NH) | 0 |
| MCU Portland Phoenix – Elite (ME) | 2 | Delaware Rush (DE) | 0 |
| NHP Wildcats SC Firecats (NY-E) | 0 | Bayside FC Bolts Red (RI) | 0 |
| CFC Arsenal (CT) | 0 | Bethesda SC Academy Blue (MD) | 1 |
| MUSC Athletica (WV) | 1 | Pennsylvania Rush (PA-E) | 3 |
| South Shore Select Elite (MA) | 2 | Premier Strikers (MD) | 2 |
| FCV United (VA) | 0 | Century V FC Gold (PA-E) | 0 |
| | | | |
| Under-13 Boys | | | |
| NEFC Elite (MA) | 7 | West Virginia Chaos (WV) | 0 |
| Nordic SC Premier (VT) | 1 | Global Premier Soccer (NH) | 4 |
| PDA Donovan (NJ) | 6 | BYSA NY Soccer Central (NY-W) | 1 |
| Baltimore Celtic Dynasty (MD) | 0 | Delaware Rush Soccer Club (DE) | 0 |
| Bruno United Red (RI) | 3 | Manhattan SC – Emelec (NY-E) | 3 |
| REAL NJ Soccer Club Arsenal (NJ) | 3 | Beadling SC White (PA-W) | 0 |
| BRYC Elite (VA) | 3 | Lehigh Valley United (PA-E) | 2 |
| MCU Portland  Phoenix Elite (ME) | 1 | FSA FC Navy (CT) | 7 |
| | | | |
| Under-14 Girls | | | |
| Century V X-treme (PA-W) | 1 | FC Copa Academy Milan (NJ) | 2 |
| FC Frederick (MD) | 1 | Empire Revolution SA Buffalo Blue (NY-W) | 2 |
| Nordic SC Premier (VT) | 0 | FC Penn Strikers (PA-E) | 2 |
| Fury Soccer Club Fighters (WV) | 0 | Bayside FC Bolts (RI) | 2 |
| YMS Premier Pride (PA-E) | 2 | Delaware Rush (DE) | 1 |
| Quickstrike FC (NY-E) | 2 | FSA FC Navy (CT) | 0 |
| MCU Portland Phoenix Elite (ME) | 0 | NEFC Elite (MA) | 4 |
| Annandale United FC (VA) | 2 | Global Premier Soccer (NH) | 1 |
| | | | |
| Under-14 Boys | | | |
| Dix Hills Hurricanes (NY-E) | 2 | Loudoun SC Red (VA) | 1 |
| Delaware Rush SC (DE) | 1 | Northern Steel Bayern (PA-W) | 1 |
| Fewster FC (MD) | 0 | FSA FC Navy (CT) | 2 |
| Nordic SC Premier (VT) | 0 | Patriot FC Red (PA-E) | 1 |
| Seacoast United Maine SC Premier – KM (ME) | 2 | GPS-MA Crusaders Elite (MA) | 4 |
| Global Premier Soccer (NH) | 2 | MUSC Revolution Elite (WV) | 0 |
| Arlington SA Eagles Red (VA) | 0 | BYSA NY Soccer Central (NY-W) | 0 |
| Black Watch Premier Santos (RI) | 2 | Den of Lions Mustangs (NJ) | 1 |
| | | | |
| Under-15 Girls | | | |
| Buffalo Soccer Academy Crusaders (NY-W) | 5 | Portsmouth YSA (RI) | 0 |
| SUMSC Mariners Premier -SG (ME) | 0 | NEFC Elite (MA) | 3 |
| New Jersey Rush (NJ) | 1 | Far Post SC Premier (VT) | 1 |
| EPIC SC Blizzard (WV) | 0 | YMS Premier Xplosion (PA-E) | 5 |
| Brentwood SC Freedom (NY-E) | 0 | Delaware Rush (DE) | 2 |
| ASA Azzurri (MD) | 2 | BRYC Elite (VA) | 1 |
| Beadling SC Bulldogs (PA-W) | 1 | Seacoast United Elite – CS (NH) | 0 |
| Loudoun Red (VA) | 3 | Beachside SC (CT) | 0 |
| | | | |
| Under-15 Boys | | | |
| Fury Pro Performance Select (WV) | 1 | SUMSC Mariners Premier – Keen (ME) | 1 |
| World Cup SC of Greater Nashua Elite (NH) | 0 | Penn Fusion SA (PA-E) | 1 |
| FC Stars of Mass Central United (MA) | 1 | SDFC Rangers (NJ) | 1 |
| FSA FC Navy (CT) | 0 | Loudoun SC Red (VA) | 4 |
| Black Watch Premier Barcelona (RI) | 0 | Lake Grove – Newfield Rampage (NY-E) | 1 |
| Black Watch Burlington Academy (VT) | 0 | Delaware Rush (DE) | 2 |
| PSAFC (MD) | 3 | Empire Revolution SA Buffalo Blue (NY-W) | 2 |
| Marlboro SA Warriors Blue (NJ) | 1 | Beadling Soccer Club Red (PA-W) | 0 |
| | | | |
| Under-16 Girls | | | |
| Syracuse Development Academy (NY-W) | 3 | GPS-MA Elite (MA) | 0 |
| MRM Coyotes (MD) | 3 | Penn Legacy FC Black (PA-E) | 0 |
| Brentwood SC Pride (NY-E) | 2 | PWSI Courage Red (VA) | 0 |
| SoccerPlus Elite GCF Academy (CT) | 6 | Nordic SC Premier (VT) | 1 |
| Beadling SC Wolfpack (PA-W) | 0 | Bayside FC Bolts Red (RI) | 0 |
| Seacoast United Elite-JB (NH) | 0 | MCU Portland Phoenix Elite (ME) | 1 |
| West Virginia Chaos (WV) | 1 | New Jersey Rush (NJ) | 1 |
| Delaware Rush (DE) | 1 | NJ Stallions Dynamite (NJ) | 4 |
| | | | |
| Under-16 Boys | | | |
| Synergy Football Club Academy (VT) | 1 | Western United Pioneers FC Red (MA) | 0 |
| Arlington SA Impact Red (VA) | 0 | Lower Merion SC Magic (PA-E) | 2 |
| MCU Portland Phoenix Elite (ME) | 2 | Global Premier Soccer (NH) | 1 |
| Arsenal FC Elite ( PA-W) | 0 | PDA Pele (NJ) | 2 |
| Manhattan SC Cruzeiro (NY-E) | 1 | Kirkwood SC Roma (DE) | 1 |
| CFC Azul (CT) | 2 | Continental FC Premier (PA-E) | 0 |
| Empire Revolution SA Buffalo Blue (NY-W) | 6 | EPIC SC Xplosion (WV) | 0 |
| Bruno United FC (RI) | 0 | Baltimore Celtic (MD) | 2 |
| | | | |
| Under-17 Girls | | | |
| YMS Premier Wildcats (PA-E) | 2 | SUMSC Mariners Showcase -JB (ME) | 0 |
| FC Europa Storm (PA-E) | 1 | Seacoast United Elite-DB (NH) | 0 |
| Farmingdale SC United (NY-E) | 1 | Beadling Gunners (PA-W) | 1 |
| VSA Heat Blue (VA) | 3 | Farmingdale SC United (NY-E) | 0 |
| Toms River FC United (NJ) | 1 | PSC Baltimore (MD) | 0 |
| Mountain State Soccer Club Pride (WV) | 0 | NEFC Elite (MA) | 4 |
| Bayside FC Bolts (RI) | 3 | Delaware Rush (DE) | 0 |
| Far Post SC Premier (VT) | 4 | Empire Revolution SA Rochester Blue (NY-W) | 1 |
| | | | |
| Under-17 Boys | | | |
| SUMSC Mariners Premier-GA (ME) | 0 | Manhattan SC PSG (NY-E) | 4 |
| Kirwood SC Academy/DSB KU (DE) | 1 | Arlington SA Strikers Red (VA) | 4 |
| Empire Revolution SA Buffalo Blue (NY-W) | 0 | Arsenal FC (PA-W) | 1 |
| West Virginia SC Rowdies  (WV) | 1 | Bayside FC Bolts (RI) | 2 |
| Hershey Soccer Club Orange Pride (PA-E) | 0 | Washington United Lightning (NJ) | 2 |
| CFC Sound Azul Juniors (CT) | 5 | Nordic SC Premier (VT) | 0 |
| Smithtown Kickers SC Arsenal (NY-E) | 5 | Seacoast United Premier-PR (NH) | 0 |
| Severna Park Fever (MD) | 2 | NEFC Elite (MA) | 0 |
| | | | |
| Under-18 Girls | | | |
| MUSC Shox (WV) | 1 | PDA Ginga (NJ) | 2 |
| MCU Portland Phoenix Firecrackers (ME) | 3 | SUMSC Blackbear Premier-MJB (ME) | 2 |
| SUMSC Blackbear Premier-MJB (ME) | 2 | Aztec Soccer Premier (MA) | 5 |
| Bayside FC Bolts (RI) | 3 | Match Fit Academy FC United (NJ) | 1 |
| Quickstrike FC Xtreme 96 (NY-E) | 1 | Richmond Kickers YSC Elite (VA) | 4 |
| Empire Revolution SA (NY-W) | 1 | Far Post SC Premier (VT) | 4 |
| Beadling SC Thunder (PA-W) | 1 | Rage SC Athletica (PA-E) | 1 |
| Southeast SC (CT) | 2 | Rocky Hill CFC Wolves (CT) | 1 |
| | | | |
| Under-18 Boys | | | |
| Lehigh Valley United (PA-E) | 1 | Delaware Rush (DE) | 1 |
| Downtown United SC White (NY-E) | 3 | Rocky Hill CFC Wolves (CT) | 1 |
| Beadling SC 95ers (PA-W) | 5 | WVSC Rowdies (WV) | 1 |
| Bayside FC Bolts (RI) | 0 | Annandale United FC Hawks (VA) | 1 |
| MCU Portland Phoenix Elite (ME) | 1 | Penn Fusion SA (PA-E) | 2 |
| GPS-MA Knights Elite (MA) | 1 | SDFC Gauchos (NJ) | 0 |
| Syracuse Development Academy (NY-W) | 0 | Seacost United Premier -PW (NH) | 0 |
| OBGC Rangers (MD) | 0 | Nordic SC Premier (VT) | 0 |
| | | | |
| Under 19-Girls | | | |
| CFC United (CT) | 0 | FC Stars of Mass (MA) | 4 |
| Smithown Kickers SC Spirit (NY-E) | 5 | Blue Monkeys (DE) | 0 |
| FC Frederick (MD) | 1 | Bruno United FC (RI) | 0 |
| Empire Revolution SA Rochester Blue (NY-W) | 1 | Continental FC (PA-E) | 0 |
| EPIC SC Pride (WV) | 0 | VSA Heat Blue (VA) | 7 |
| SUMSC Mariners Showcase-PC (ME) | 9 | Barrington SC Co-Stars (NJ) | 0 |
| | | | |
| Under-19 Boys | | | |
| Tidal Wave SC Bulldogs (RI) | 1 | SUMSC Crew-KS (ME) | 0 |
| Sterling FC (VA) | 1 | Pipeline Soccer Club Black (MD) | 3 |
| Montgomery United SC Black Premier (PA-E) | 1 | PDA Harkes (NJ) | 1 |
| NY Kosmos/Greek Americans (NY-E) | 0 | NEFC Elite (MA) | 1 |
| United FC Adidas (NY-W) | 0 | Beachside SC (CT) | 3 |
| Delaware Rush (DE) | 1 | Beadling SC (PA-W) | 2 |
| Ironbound SC Inter (NJ) | 3 | Black Watch Premier – Buffalo Arsenal (NY-W) | 1 |
| Fury Ajax (WV) | 3 | Trumbull United Real Rush (CT) | 2 |