Second day complete at the 2015 US Youth Soccer National Championships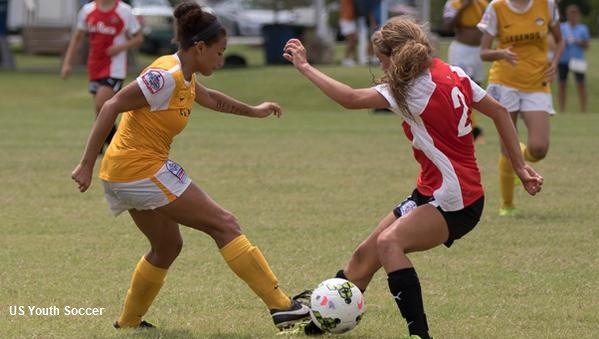 Follow the moments: Scores and Standings | Video | LIVE GAMES
Tulsa, Okla. (Via US Youth Soccer) — The 2015 US Youth Soccer National Championships continued Wednesday, as teams competed in their second of three group stage games at the Mohawk Soccer Complex in Tulsa, Okla. It was a must-win situation for many of the teams looking to advance to this weekend's games.
With the teams having completed their second games, the stage is set for crucial games on Thursday, as the 96 sides play their final group stage games to solidify the group standings. The top two teams in the Under-13 and Under-19 age groups will advance to the National Championship final on Saturday, while the top two teams in each group in Under-14 through Under-18 play advance to their respective semifinals.
+Read: Play begins at US Youth Soccer National Championships in Oklahoma
All of the teams competing in Tulsa earned their place in the National Championships via success in the US Youth Soccer National Championship Series or the US Youth Soccer National League.
Live broadcasts of more than 80 games, daily highlight videos, photos, reports and complete results from the tournament are available on http://championships.usyouthsoccer.org/.
A few highlights from Wednesday's matches…
Girls
Under-14 Girls South Shore Select Elite (MA) came back from a 1-0 halftime deficit to defeat HBC Impact 00 (NY-E) 2-1. HBC forward Gina Giovinco netted a goal just 14 minutes after the starting whistle, but South Shore remained composed, not letting the score affect their game. In the 46th minute Alyssa Fleming found the South Shore tie, and Brooke Cavino followed with the game winner in the 70th minute.
A late goal gave Beach FC Academy 97 (CA-S) a win against Under-17 Girls La Roca Premier (UT). Both teams tried hard to break the scoreless stalemate, and in the 85th minute, just moments before the final whistle, Beach FC forward Kaitlin Fregulia found the back of the net to secure the win. Today's three points moved Beach into second place of Group A. Beach will face Tampa Bay United tomorrow to see who will finish on top of the group.
Tampa Bay United 97 Premier (FL) got their second 2-0 victory, this time defeating Region I Champs NJ Stallions Dynamite (NJ). A scoreless first half in the Under-17 Girls Group A broke in the 55th minute when forward Samantha Betters put Tampa Bay on top. Better's teammate, Brianne Folds doubled the score in the 87th minute for the 2-0 win and critical three points in the standings.
VSA Heat 96 Blue (VA) overcame yesterday's loss by getting a 4-2 win over Under-18 Girls La Roca PO (UT). VSA kicked off the match with an Olivia Korhonen goal in the 14th minute, but La Roca's Averie Collins netted the 18th minute equalizer. Abigail Gardner put VSA back on top in the 43rd minute to take the match to halftime with a 2-1 VSA advantage. In second half play, VSA utilized their momentum and got a third goal by Gabrielle Gillis in the 55th minute. Madison Siddoway quickly responded with a 57th minute La Roca goal, but Madeline Watson added another tally for VSA in the 85th minute to secure the win. The result puts VSA in second place in Group A.
KC Metro Dynamos (KS) continues to shine, getting their second straight win. Their 4-2 victory versus Beach FC Academy (CA-S) today began with a 2-0 halftime lead after an early 7th minute goal by Jamie Kutey and a 30th minute goal by teammate Brooke Prondzinski. In the 59th minute, an own goal gave KC Metro a 3-0 lead. Mckenna Doyle put Beach FC on the board in the 70th minute, but Kutey continued the KC Metro scoring netting her second goal of the match in the 75th minute. Haley Noble scored a late 82nd minute Beach FC goal, but the KC Metro performance moved the Kansas side to the top of the Under-18 Girls Group A standings.
Tampa Bay United Premier (FL) and FC Nova Nationals (ID) played to a 0-0 draw on their second day of play at the national championships. A scoreless first half moved to a scoreless second half as strong backlines on both sides held the shutout. The result moves Tampa Bay United to third place in the standings, and FC Nova is now in second place after acquiring two ties.
Boys
A 2-0 win over Dallas Texans 00 Red (TX-N) helped Fewster FC (MD) move to the top of Under-15 Boys Group B with one day of group play remaining. Some early pressure resulted in a goal from Fewster's Brenden Hollingsworth, as the Maryland side grabbed a 14th-minute lead. The score line remained unchanged until Benjamin Stitz added an insurance goal in the final minute to seal Fewster's 2-0 victory.
Elsewhere in Under-15 Group B, Arlington Eagles Red (VA) got its first win of the week with a 2-1 result against Fullerton Rangers White (CA-S). Nelson Flores Blanco netted his second goal of the tournament in the 25th minute to put Arlington in front, and Edison Giron followed just two minutes later to push the lead to 2-0. Fullerton's Santiago Beningazza pulled his side within a goal with a 41st-minute strike, but Arlington held on for the important victory to move into a tie for second in the group with the Texans.
A couple of former National Champions, Santa Barbara SC White (CA-S) and Baltimore Celtic 97/98 (MD), met in a key Under-17 Group A matchup on Wednesday. Santa Barbara captain Timothy Heiduk opened the scoring with a rocket from 20 yards out in the sixth minute. Baltimore responded with a well-struck volley from Thomas Wang following a corner kick that leveled the score. Shortly after, Santa Barbara's Sahid Conteh pressure on the Baltimore keeper resulted in another go-ahead goal to put the Cal South side up, 2-1, at halftime. Chairat Puengrod made it 3-1 before Baltimore's Charles Pulliam III pulled his side within one in the 75th minute. However, Antony Andoyan added two late goals for Santa Barbara to help the Cal South side to a 5-2 victory.
Lehigh Valley United 97 (PA-E) moved into a tie with Santa Barbara atop Under-17 Group A with a 3-1 win over South San Jose PAC Indios (CA-N). Evan Vare gave LVU a 1-0 lead at the half-hour mark, and Ibrahim Tounkara found the back of the net eight minutes later to double the Pennsylvania side's advantage. San Jose received a goal from Kevin Garcia Gomez to pull back within one, but LVU's Pierre Reedy sealed the 3-1 win with an 83rd-minute strike — giving LVU four points after two days of play.
In Under-17 Group B action, Chicago Magic PSG Preacademy (IL) and Arlington Impact Red (VA) played to a scoreless tie. Both sides generated quality chances, and Arlington had several close calls throughout the game. However, neither side managed to find the back of the net before the final whistle, as they split the points with the tie. Each team still has work to do on Thursday in order to secure a spot in the semifinals.
A back-and-forth game between Under-18 Kansas Rush Academy Blue 96/97 (KS) and CUP Gold 96/97 (OH-S) featured four lead changes, as Kansas prevailed, 4-3. Zachary Ferguson scored twice for Kansas, and Ethan Bowman added two, including the 90th-minute game-winner. Meanwhile, Bryce Curran, Dan Schleitweiler and Christian Lytle each added a goal for CUP. The two sides are now tied for second place in a tight Group A.
2015 US Youth Soccer National Championships
Day 2 Results: Group Play Matches
| | | | | | |
| --- | --- | --- | --- | --- | --- |
| Under-13 Girls | | | | | |
| So Cal Blues Baker | CA-S | 0 | PSG MI Gators 02 Orange | MI | 0 |
| Albion Hurricanes 02  | TX-S | 1 | FC Frederick 01 | MD | 0 |
| | | | | | |
| Under-13 Boys | | | | | |
| SCUFC 01 Elite | SC | 0 | Baltimore Celtic Darby 01/02 | MD | 3 |
| EC Real Galaxy FC 01 | CA-N | 3 | Sporting J. B. Marine – Mann | MO | 1 |
| | | | | | |
| Under-14 Girls | | | | | |
| Tophat 19 Gold | GA | 0 | Dallas Kicks SC 01 | TX-N | 1 |
| Campton United Navy | IL | 1 | CUP Gold 00/01 | OH-S | 3 |
| Legends FC Gold  | CA-S | 2 | FC Pride 01 Elite | IN | 0 |
| HBC Impact 00 | NY-E | 1 | South Shore Select Elite | MA | 2 |
| | | | | | |
| Under-14 Boys | | | | | |
| Cincinnati United CUP Gold | OH-S | 0 | Houstonians 2001 | TX-S | 0 |
| Baltimore Celtic Dynasty | MD | 0 | GSA 01 Premier | GA | 0 |
| San Diego SC 00 Navy | CA-S | 0 | SJ Earthquakes PDA 01 | CA-N | 1 |
| LFSC Geerling White | MO | 0 | McLean 00 Green  | VA | 1 |
| | | | | | |
| Under-15 Girls | | | | | |
| Albion SC White | CA-S | 2 | Penn Strikers | PA-E | 0 |
| Carlsbad Elite 99 | CA-S | 1 | Tophat 18 Gold | GA | 1 |
| Futura Pink Panthers Elite | MO | 2 | Solar Chelsea Elite 00 | TX-N | 1 |
| Legends FC 99 | CA-S | 1 | La Roca Premier PO | UT | 1 |
| | | | | | |
| Under-15 Boys | | | | | |
| Sporting KC Academy | KS | 2 | United FA 00 Premier | GA | 1 |
| S.C. United FC 99 Elite | SC | 2 | Surf Aguilar | CA-S | 4 |
| Dallas Texans 00 Red | TX-N | 0 | Fewster FC | MD | 2 |
| Arlington Eagles Red | VA | 2 | Fullerton Rangers White | CA-S | 1 |
| | | | | | |
| Under-16 Girls | | | | | |
| Futura Academy Forte Elite | MO | 1 | La Roca FD | UT | 2 |
| Kings Hammer Academy Red | OH-S | 0 | Tophat 17 Gold | GA | 5 |
| Beadling Bulldogs | PA-W | 0 | YMS Premier Xplosion 98 | PA-E | 2 |
| 99 Lady Lobos Rush Premier | TN | 1 | JFC Storm 98/99 | FL | 2 |
| | | | | | |
| Under-16 Boys | | | | | |
| Baltimore Celtic | MD | 2 | Albion SC White | CA-S | 1 |
| Seattle United 98 Copa | WA | 3 | SDFC Rangers | NJ | 0 |
| Penn Fusion 98 | PA-E | 0 | Loudoun 98 Red | VA | 1 |
| Sporting St. Croix | MN | 1 | CESA 98 Premier | SC | 2 |
| | | | | | |
| Under-17 Girls | | | | | |
| La Roca Premier | UT | 0 | Beach FC Academy 97 | CA-S | 1 |
| NJ Stallions Dynamite | NJ | 0 | Tampa Bay United 97 Premier | FL | 2 |
| Tophat 16 Gold | GA | 1 | Carlsbad Elite 97/98 | CA-S | 3 |
| KHA Red | OH-S | 1 | Michigan Jaguars 98 Green | MI | 0 |
| | | | | | |
| Under-17 Boys | | | | | |
| Santa Barbara SC White | CA-S | 5 | Baltimore Celtic 97/98 | MD | 2 |
| Lehigh Valley United 97 | PA-E | 3 | South San Jose PAC Indios | CA-N | 1 |
| FC Dallas 98 Premier | TX-N | 3 | Sunrise Elite 97/98 | FL | 1 |
| Chicago Magic PSG Preacademy | IL | 0 | Arlington Impact Red | VA | 0 |
| | | | | | |
| Under-18 Girls | | | | | |
| La Roca PO | UT | 2 | VSA Heat 96 Blue | VA | 4 |
| KC Metro Dynamos | KS | 4 | Beach FC Academy | CA-S | 2 |
| 97 Louisiana Fire Navy | LA | 0 | DMCV Sharks Elite | CA-S | 2 |
| Beadling Gunners | PA-W | 2 | Carlsbad Elite  | CA-S | 4 |
| | | | | | |
| Under-18 Boys | | | | | |
| NASA 15 Elite | GA | 3 | Fullerton Rangers 96 White | CA-S | 3 |
| CUP Gold 96/97 | OH-S | 3 | Kansas Rush Academy Blue | KS | 4 |
| FC Golden State White | CA-S | 3 | FC Dallas 97 Premier | TX-N | 1 |
| Manhattan SC PSG 96 | NY-E | 0 | LVSA 97 Red | NV | 4 |
| | | | | | |
| Under-19 Girls | | | | | |
| Beadling SC Thunder | PA-W | 0 | Gretna Prima 95/96 Green | NE | 3 |
| Tampa Bay United Premier | FL | 0 | FC Nova Nationals | ID | 0 |
| | | | | | |
| Under-19 Boys | | | | | |
| St. Louis Scott Gallagher | MO | 2 | GSA 96 Premier | GA | 2 |
| Scottsdale 96 Blackhawks | AZ | 1 | Massapequa Arsenal | NY-E | 2 |