Seattle Sounders, NYCFC win Boys Development Academy titles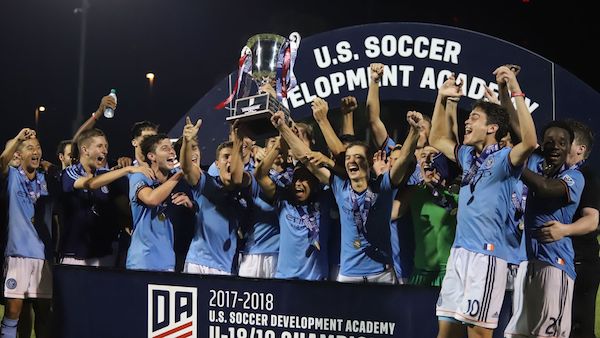 KANSAS CITY, Mo. (Via U.S. Soccer) – In the 11th season of the U.S. Soccer Development Academy, Seattle Sounders FC U-16/17 and New York City FC U-18/19 became the newest clubs to win Academy Championships.
Seattle Sounders FC 5, Atlanta United FC 1
With 115 goals in 34 regular season games, Seattle's offensive prowess was once again on display in the U-16/17 Academy Championships Final. After conceding an early goal to Atlanta United FC, the defending champs at this age level, Seattle rallied at the end of the first half to shift momentum in its favor with two goals. In the second half, a penalty kick save from goalkeeper Robert Harraka further sparked the Sounders forward. Serrano Lopez netted his second goal in the 64th minute while Seattle scored two more in stoppage time to firmly shut the door on Atlanta's back-to-back title hopes.
"I'm delighted for our community and for our club," said Chris Little, Sounders head coach and West Conference Coach of the Year. "There are so many people that work tirelessly for the players and the Academy program: our education department, welfare, administrators, technical staff, trainers. They invest so much time and support into the players. There are so many people that have played a big part in this success and we're delighted for them. For our club and the investment they've made, it feels great. We're very fortunate to win the first one and hopefully it will be the first of many for Seattle."
⭐️⭐️⭐️⭐️⭐️!

Alfonso Ocampo-Chavez seals the deal in the final minute of play! @SoundersAcademy are the U-16/17 champs! pic.twitter.com/F9RN1DD0Fq

— Development Academy (@ussoccer_da) July 11, 2018
New York City FC 0 (5), LA Galaxy 0 (3)
Lifting the U-18/19 Academy trophy proved to require a marathon effort. In an East Coast-West Coast clash, New York City FC and LA Galaxy left everything on the field in Kansas City through 120 minutes of scoreless deadlock. In the climactic penalty kick shootout, goalkeeper Johan Peñaranda and defender James Sands played the hero roles. After both teams converted their first three attempts from the spot, Peñaranda dove to his right to stop the Galaxy's fourth shot and tee-up Sands for the game-winner. The defender nailed it to the top left corner to clinch the championship. Both teams found goal-scoring opportunities in regulation and extra time, but Sands, a key player at last fall's FIFA U-17 World Cup, led the back line to a clean sheet, while Peñaranda was called upon to make some sterling saves. NYC finishes its first season at U-18/19, as the club has steadily built up its Academy program age group-by-age group since its 2015 founding.
"This is a fantastic achievement, especially in the oldest age group" said Matt Pilkington, NYC head coach and East Conference Coach of the Year. "For some of these players, it's their last youth game. These are memories they will cherish forever. Obviously, this is the highest level of youth soccer, at this oldest age group, and they've really performed well. I think they'll enjoy this for a long time and it will be something to look back on. Overall, I'm very pleased with the result, the performance and what the players have achieved as a group."
? They did it #ForTheCity! ?@NYCFC are bringing the 2018 U-18/19 championship to the big apple! ? pic.twitter.com/h0yLwGxNS3

— Development Academy (@ussoccer_da) July 11, 2018
The man of the hour. ?

Post-game reaction from @NYCFC GK Johan Peñaranda, fresh off saving the PK that secured the ?! pic.twitter.com/ht8ABynHIA

— Development Academy (@ussoccer_da) July 11, 2018