Seattle Sounders FC signs Trey Muse as Homegrown Player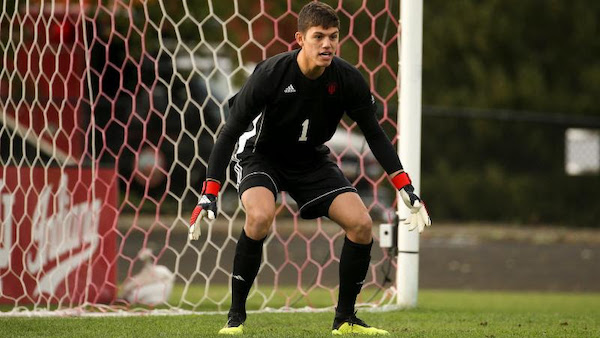 SEATTLE, WASH. (Via Seattle Sounders FC) – Sounders FC today announced that it has signed goalkeeper Trey Muse as a Homegrown Player.
Muse comes to the Rave Green following a standout two-year career at Indiana University, where he twice led the Hoosiers to the NCAA College Cup, in addition to being named a First Team All-American and the 2018 Big 10 Goalkeeper of the Year. The Sounders FC Academy product is set to join the First Team ahead of the Sounders FC's 2019 preseason, which begins on January 22.
"It's always exciting to add an academy product and we're pleased to sign Trey to the First Team roster," said Sounders FC General Manager & President of Soccer Garth Lagerwey. "We've had success at goalkeeper over the years, so we're looking forward to getting him to work with Tom Dutra once preseason gets started."
+READ: Colorado Rapids sign Matt Hundley, Sam Raben as Homegrown Players
Muse, 19, started all 49 of his appearances over two seasons at Indiana, where the Hoosiers advanced to the College Cup – the final four teams of the NCAA Soccer Tournament – in both 2017 and 2018. The six-foot-four netminder accumulated an impressive career 38-4-7 record with a 0.39 goals against average and 30 individual shutouts. As a freshman in 2017, Muse earned Freshman All-Big 10 and All-America honors after leading the nation with 18 shutouts and a 0.26 goals against average – allowing just seven goals in 25 appearances – as Indiana went 18-1-6 before falling to Stanford in the NCAA Championship. He then earned First Team All-America honors by the United Soccer Coaches, Top Drawer Soccer and College Soccer News as a sophomore in 2018, leading the Hoosiers to a 20-3-1 record and an appearance in the NCAA Semifinals. A MAC Hermann Trophy finalist, his 0.54 goals against average and 12 shutouts also earned him First Team All-Big 10 and Conference Goalkeeper of the Year honors.
"We've had many great goalkeepers play for Sounders FC throughout the years and Trey has an opportunity to follow in those footsteps," said Sounders FC Head Coach Brian Schmetzer. "If he works hard, takes the lessons from Tom Dutra and learns by example from playing alongside Stefan Frei and Bryan Meredith, he'll put himself in a good position to be successful."
Muse joined the Sounders FC Academy in 2015 from Derby City Rovers in Louisville, Kentucky. Throughout his two years with the Rave Green in the U.S. Soccer Development Academy, the goalkeeping prospect received plenty of accolades, including 2015-2016 Western Conference U-15/16 Goalkeeper of the Year, 2016-2017 Western Conference Goalkeeper of the Year, and 2016-2017 Western Conference Player of the Year. During the 2016-2017 season, Muse helped guide the Sounders to a third-place finish in the USSDA Playoffs, the club's best-ever finish at the time.
"I couldn't be more excited for the opportunity and to begin my professional career with the Sounders after two terrific seasons at Indiana University," said Muse. "My two years in Bloomington under Head Coach Todd Yeagley and the rest of the IU staff have helped me tremendously for the next step in my journey. I can't wait to get to Seattle to join the team and get to work for Coach Schmetzer, Coach Dutra and learn from a couple of great veterans in Stefan Frei and Bryan Meredith."
+READ: MLS SuperDraft 2019 | Full Recap from Rounds 1 and 2
The signing of Muse marks the 11th Sounders FC Homegrown Player signing in club history. U.S. National Team defender DeAndre Yedlin was the club's first Homegrown Player in 2012, making two MLS All-Star appearances before being sold to Tottenham Hotspur in England's Premier League. The club then signed midfielder Aaron Kovar and forward Sean Okoli in 2013, before adding forwards Victor Mansaray and Darwin Jones in 2014. In 2016, the Rave Green signed University of Denver midfielder Jordan Schweitzer and Stanford forward Jordan Morris to Homegrown deals, then added forward Seyi Adekoya from UCLA and Henry Wingo from Washington to the roster in 2017. Midfielder Handwalla Bwana became the 10th Academy product to sign with the First Team prior to last season.
Sounders FC begins its 2019 preseason on Tuesday, January 22 at Starfire Sports before traveling to out-of-town training camps in Orange County, California (January 24-February 2) and Tucson, Arizona (February 6-16). Major League Soccer unveiled Sounders FC's full 2019 schedule earlier this year, with the Rave Green set to host expansion side FC Cincinnati in the season opener on March 2 at CenturyLink Field.
TRANSACTION: Seattle Sounders FC signs goalkeeper Trey Muse to Homegrown Player contract on January 15, 2019.
Trey Muse
Position: Goalkeeper
Height: 6-4
Weight: 195
Born: July 26, 1999 in Lexington, Kentucky
Hometown: Louisville, Kentucky
Citizenship: United States
College: Indiana
Acquired: Signed as Homegrown Player on January 15, 2019