Schedule, rosters announced for ODP Boys Winter Interregional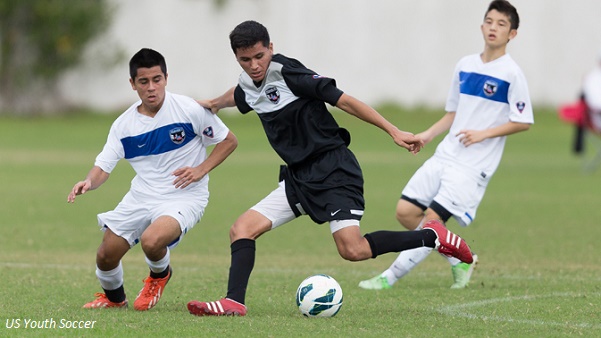 FRISCO, Texas (Via US Youth Soccer) — US Youth Soccer has announced the schedule and participants for the US Youth Soccer ODP Boys Winter Interregional, set to take place Dec. 14-18 at IMG Academy in Bradenton, Florida.
Participating teams will be comprised of players in the 2001 age group, from each of the four US Youth Soccer Regions.
The event will feature more than 70 of the nation's top players selected from US Youth Soccer State Association and Regional level evaluations. In each age group, players will attend scheduled training sessions and also compete in matches against each of the other regional teams.
+Read: Final games complete at US Youth Soccer ODP Boys Thanksgiving Interregional
The US Youth Soccer ODP Boys Winter Interregional annually attracts numerous college coaches, as well as several U.S. Soccer scouts. The talent on display from each team allows coaches and scouts to evaluate players in an environment similar to what they will face at the next level of play.
Rosters
| | | | |
| --- | --- | --- | --- |
| Region I | | | |
| First | Last | Position | Hometown |
| Andrew | Weiner | Forward | North Bellmore, NY |
| Carter | Houlihan | Defender | North Wales, PA |
| Connor | Allen | Midfield | Hampstead, MD |
| Dane | Jacomen | Goalkeeper | Pittsburgh, PA |
| Daniel | Salom | Midfield | Blackburg, VA |
| Dennis | Mensah | Forward | Alexandria, VA |
| Elijah | Jones | Forward | Clifton, VA |
| Francis | Nardiello-Smith | Forward | Bristol, VT |
| Hunter | Kochiss | Goalkeeper | Shelton, CT |
| Jack | Ruddy | Defender | Virginia Beach,VA |
| Joseph | Leon | Forward | Deer Park, NY |
| Juan | Molina | Midfield | Gathersburg, MD |
| Mitchell | Lyons | Midfield | South Windsor, CT |
| Nevin | Baer | Forward | Glenside, PA |
| Olufemi | Adu | Midfield | Ashburn, BA |
| Philip | Vollmer | Defender | State College, PA |
| Ryan | Levay | Midfield | Vienna, VA |
| Thomas | Hoy | Defender | Conshohacken, PA |
| | | | |
| Region II | | | |
| First | Last | Position | Hometown |
| Andrew | Bliss | Midfield | Maize, KS |
| Andrew | Feltz | Forward | West Des Moines, IA |
| Andrew | Nicholsen | Goalkeeper | Novi, MI |
| Caleb | Ragland | Defense | Olathe, KS |
| Carlos | Hernandez Sias | Defense | Muskegon, MI |
| Eric | Smits | Defense | Edina, MN |
| Joseph | Tawah | Midfield | St Paul, MN |
| Joshua | Johansen | Midfield | Huntley, IL |
| Keaton | Woods | Defense | Cedar Rapids, IA |
| Laufer | Rowan | Midfield | Lawrence, KS |
| Mason | Leeth | Midfield | Kansas City, MO |
| Maxwell | Keenan | Defense | Portage, MI |
| McRay | Drong | Midfield | St. Cloud, MN |
| Neython | Lec Streitz | Defense | Bloomington, MN |
| Noah | Madrigal | Forward | Peoria, IL |
| Peter | Wagner | Goalkeeper | Champaign, IL |
| Tamirat | Knutson | Forward | Rothschild, WI |
| William | Taylor | Midfield | Madison, WI |
| | | | |
| Region III | | | |
| First | Last | Position | Hometown |
| Alex | Ducheine | Defender | Pembroke Pines, FL |
| Cale | Torres | Defender | Pembroke Pines, FL |
| Daniel | Senior | Defender | Windermere, FL |
| Diego | Hernandez | Midfield | Alamo, TX |
| Eric | Barocas | Midfield | San Antonio, TX |
| Jaden | Jones-Riley | Forward | Tallahassee, FL |
| Jansen | Wilson | Midfield | Elizabethtown, KY |
| Juan | Becerra | Goalkeeper | El Paso, TX |
| Kaleem | Shabout | Midfield | Irving, TX |
| Leo | Bueno | Midfield | Peachtree City, GA |
| Lukas | Spady | Midfield | New Orleans, LA |
| Matias | Morales | Midfield | Hilton Head Island, SC |
| Shanyder | Borgelin | Forward | North Lauderdale, FL |
| Takuma | Suzuki | Defender | Peachtree City, GA |
| Tyler | Baughcome | Midfield | Piedmont, SC |
| Victor | Delgado | Midfield | Conyers, GA |
| Vince | Florio | Goalkeeper | San Antonio, TX |
| Zayne | Zezulka | Midfield | Prairieville, LA |
| | | | |
| Region IV | | | |
| First | Last | Position | Hometown |
| Avery | Whipple | Midfield | Corvallis, OR |
| Ben | Ortiz | Forward | Orem, UT |
| Caden | Buckley | Defender | Las Vegas, NV |
| Cameron | Weller | Midfield | Spokane, WA |
| Dalton | Gibson | Midfield | Lehi, UT |
| Diego | Aragon | Forward | Le Verne, CA |
| Drew | Rizk | Midfield | Fairbanks, AK |
| Easton | Harryman | Defender | Draper, UT |
| Erwin | Martinez | Midfield | Gilbert, AZ |
| Jaylen | Magana | Forward | Lamont, CA |
| Jesus | Ubario | Midfield | Las Vegas, NV |
| Julian | Vazquez | Forward | Nibley, UT |
| Luis | Villegas | Goalkeeper | Phoenix, AZ |
| Nic | Bourgeois | Midfield | Phoenix, AZ |
| Sam | Twenhafel | Midfield | Anchorage, AK |
| Sterling | Eaglin | Midfield | Spokane, WA |
| Theo | Steinmetz | Defender | Shoreline, WA |
| Tyler | Kirberg | Goalkeeper | Peoria, AZ |
Game Schedule
Friday, Dec. 16
1:15 PM
2001
  Region I v Region III
Field 2
1:15 PM
2001
  Region II v Region IV
Field 3
Saturday, Dec. 17
1:15 PM
2001
  Region I v Region IV
Field 17
1:15 PM
2001
  Region II v Region III
Field 18
Sunday, Dec. 18
8:00 AM
2001
  Region II v Region I
Field 17
8:00 AM
2001
  Region III v Region IV
Field 18