Santa Ana wins CONCACAF U-13 Champions League title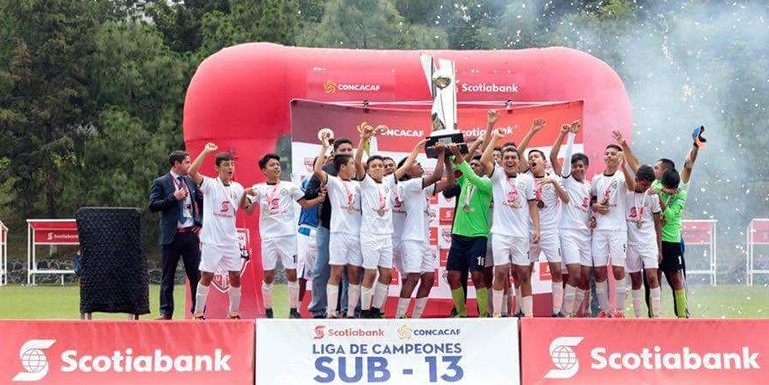 MEXICO CITY (Via CONCACAF) – Santa Ana outlasted Comunicaciones 5-4 on penalty kicks to capture the 2016 CONCACAF Under-13 Champions League title after their final ended in a 0-0 draw on Saturday at the Universidad Intercontinental.
The Salvadoran side completed a remarkable unbeaten run in the competition's second-ever edition, posting a 5W-1D-0L record without conceding a goal.
Armando Ramos initiated a run of five straight successfully converted penalty kicks, followed by Denys Soriano, Marlon Fabian, Florentin Alvarez and Orssi Rodriguez.
Comunicaciones matched Santa Ana on each of its first four attempts as Carlos Lemus, Ivan Arana, Keny Lopez and Allan Perez hit the back of the net, before missing on the fifth.
In the match for third place, Alejandro Corrales scored in the 45th minute and Alajuelense earned a 1-0 win over Sporting Kanas City.
Mexico's Toluca won the inaugural Scotiabank CONCACAF Under-13 Champions League last year.
CONCACAF Under-13 Champions League
Universidad Intercontinental – Mexico City, Mexico
July 23-30, 2016
FIRST ROUND
Group A
Buhos de Hermosillo (Mexico) 3-3-0-0-14-1-9
San Juan Jabloteh (Trinidad & Tobago) 3-1-1-1-4-5-4
Harbour View (Jamaica) 3-1-1-1-6-10-4
Real Esteli (Nicaragua) 3-0-0-3-3-11-0
July 23, 2016
Buhos de Hermosillo 7, Harbour View 0
Real Esteli 1, San Juan Jabloteh 2
July 24, 2016
Real Esteli 0, Buhos de Hermosillo 4
San Juan Jabloteh 1, Harbour View 1
July 26, 2016
Buhos de Hermosillo 3, San Juan Jabloteh 1
Harbour View 5, Real Esteli 2
Group B
Comunicaciones (Guatemala) 3-1-2-0-5-3-5
Alajuelense (Costa Rica) 3-1-2-0-4-2-5
Vancouver Whitecaps (Canada) 3-1-0-2-3-5-3
Menor Tijuana (Mexico) 3-0-2-1-4-6-2
July 23, 2016
Menor Tijuana 1, Alajuelense 1
Comunicaciones 2, Vancouver Whitecaps 0
July 24, 2016
Vancouver Whitecaps 0, Alajuelense 2
Comunicaciones 2, Menor Tijuana 2
July 26, 2016
Menor Tijuana 1, Vancouver Whitecaps 3
Alajuelense 1, Comunicaciones 1
Group C
Santa Ana (El Salvador) 3-2-1-0-5-0-7
Sporting Kansas City (USA) 3-2-0-1-4-2-6
Pungarabato Guerrero (Mexico) 3-1-1-1-3-3-4
Chorrillo FC (Panama) 3-0-0-3-1-8-0 
July 23, 2016
Pungarabato Guerrero 3, Chorrillo FC 1
Sporting Kansas City 0, Santa Ana 2
July 24, 2016
Sporting Kansas City 2, Pungarabato Guerrero 0
Santa Ana 3, Chorrillo FC 0
July 26, 2016
Chorrillo FC 0, Sporting Kansas City 2
Pungarabato Guerrero 0, Santa Ana 0
Group D
Herediano 3-2-1-0-3-1-7
Impact de Montreal 3-1-1-1-4-3–4
Instituto Cedrus (Mexico) 3-0-3-0-4-4-3
ADFA Ahuachapan (El Salvador) 3-0-1-2-1-4-1 
July 23, 2016
Instituto Cedrus 1, Herediano 1
ADFA Ahuachapan 0, Impact de Montreal 2
July 24, 2016
Impact de Montreal 0, Herediano 1
ADFA Ahuachapan 1, Instituto Cedrus 1
July 26, 2016
Herediano 1, ADFA Ahuachapan 0
Instituto Cedrus 2, Impact de Montreal 2
QUARTERFINALS
July 27, 2016
Buhos de Hermosillo 0, Alajuelense 0
Alajuelense advances on penalty kicks, 4-2
Santa Ana 1, Impact de Montreal 0
Armando Ramos 49'
Comunicaciones 2, San Juan Jabloteh 0
Christopher Martinez 53'; Allan Perez 60'
Herediano 0, Sporting Kansas City 1
Tyler Freeman 42' pen
SEMIFINALS
July 30, 2016
Alajuelense 0, Santa Ana 1
Armando Ramos 9'
Comunicaciones 5, Sporting Kansas City 0
Ivan Arana 42', 46'; Carlos Lemus 53', 55' pen; Dennis Orantes 58'
MATCH FOR THIRD PLACE
July 31, 2016
Alajuelense 1, Sporting Kansas City 0
Alejandro Corrales 45'
FINAL
July 31, 2016
Santa Ana 0, Comunicaciones 0
Santa Ana captures 2016 Scotiabank CONCACAF Under-13 Champions League, 5-4 on penalty kicks