Rosters, schedule announced for ECNL Southeast PDP event in Atlanta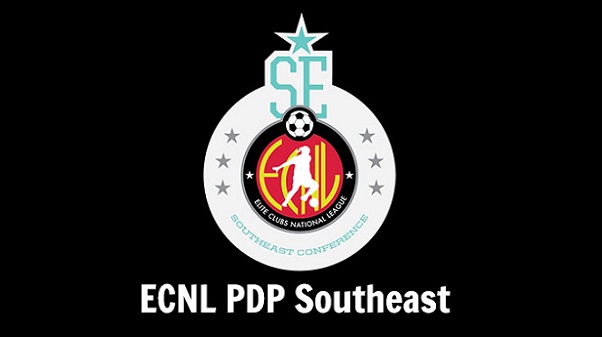 RICHMOND, VA (Via ECNL) – The rosters and schedule for the Elite Clubs National League Player Development Program (PDP) Southeast event, to be held February 24-25, have been announced. The event will take place in Atlanta, Georgia. [SCHEDULE]
The PDP Southeast event will be held in Atlanta, GA, with some of the best players from the following ECNL clubs in the Southeast conference: Alabama FC, Armada Youth, Atlanta Fire, Concorde Fire, FC Alliance, Florida Elite, Florida Krush, GSA, Orlando City, Tampa Bay United, Tennessee SC, and NTH – Tophat.
Player Development Programs (PDPs) are identification and development programs within US Club Soccer's id2 Program with three primary goals: (i) provide top players with an opportunity to be identified and evaluated for higher levels of play; (ii) provide a high-quality developmental experience; and (iii) recognize and reward individual performance and achievement. PDPs are operated in conjunction with elite leagues sanctioned by US Club Soccer.
+READ: Rosters named for ECNL Mid-Atlantic Player Development Program event
The ECNL PDPs listed above will include a training session and two 11 vs. 11 games over two days. Top players from each ECNL PDP, along with other players scouted in ECNL competition throughout the year, will be considered for invitations to the ECNL National Training Camp in late July.
Players are selected for the Player Development Programs based on their scouted performance in ECNL competitions, and by objective recommendations from ECNL Directors across the country. The ECNL will be hosting eleven PDP events across the country over the next three months, providing an opportunity for top players in every ECNL club. There are no costs for participation in Player Development Programs. The ECNL covers all staffing, facility rental and equipment costs for the ECNL PDPs. The only responsibility for participating players will be the cost of travel and accommodation (where necessary).
+NCAA Women's Soccer Commitment Announcements | February 2018
The full schedule of 2018 ECNL PDP events is available, click here.
 Team One
| | | | |
| --- | --- | --- | --- |
| Jersey # | Player Name | Position | Club |
| | Mackenzie Haba | GK | FC Alliance |
| | Loren House | D | Concorde Fire |
| | Allison Amrozowicz | D | NTH Tophat |
| | Averi Visage | D | NTH Tophat |
| | Harper White | D | Tennessee SC |
| | Kylie Bechard | M | Alabama FC |
| | Kailyn Zipay | M | Florida Krush |
| | Amanda Hartmann | M | Orlando City |
| | Sophie Shrader | M | Tampa Bay United |
| | Anna Major | M | Tennessee SC |
| | Allie Avallone | M | Florida Krush |
| | Olivia Candelino | F | Armada Youth |
| | Jasmine Warren | F | Concorde Fire |
| | Claire Rain | F | Tampa Bay United |
| | Tori Penn | F | NTH Tophat |
| | Morgan O'Connor | F | Alabama FC |
Team Two
| | | | |
| --- | --- | --- | --- |
| Jersey # | Player Name | Position | Club |
| | Cristina Roque | GK | Florida Krush |
| | Kelly Hall | GK | Atlanta Fire |
| | Angela Steidl | D | Concorde Fire |
| | Chandler Kenny | D | NTH Tophat |
| | Tara Katz | M | Alabama FC |
| | Rylee Forester | M | Armada Youth |
| | Mackenzie Smith | M | FC Alliance |
| | Keelin Pray | M | GSA |
| | Katherine Jordan | M | Tampa Bay United |
| | Anna Haddock | M | Tennessee SC |
| | Ashley Tirrill | M | Tennessee SC |
| | Nieva Gaither | M | GSA |
| | Morgan Bentley | M | Concorde Fire |
| | Kendall Cook | F | Atlanta Fire |
| | Emma Marcus | F | Florida Krush |
| | Natalie Gorji | F | Tampa Bay United |
| | Kaitlin Palaian | F | Concorde Fire |
Team Three
| | | | |
| --- | --- | --- | --- |
| Jersey # | Player Name | Position | Club |
| | Talia Nowlan | GK | Tampa Bay United |
| | Eliana Johnson | D | Atlanta Fire |
| | Brenna Robinson | D | Florida Elite |
| | Njeri Butts | D | GSA |
| | Gracie Falla | M | Alabama FC |
| | Kendall Ayers | M | Florida Krush |
| | Haley Howard | M | Tennessee SC |
| | Grace Grech | M | Florida Elite |
| | Micah Bryant | F | GSA |
| | Brooklyn Fugel | F | GSA |
| | Hannah Johnson | F | NTH Tophat |
| | Aleksandra Fekany | F | Orlando City |
| | Mary Whitaker Buchanan | F | Tennessee SC |
Team Four
| | | | |
| --- | --- | --- | --- |
| Jersey # | Player Name | Position | Club |
| | Carley Borgelt | GK | GSA |
| | Mallory Thomas | GK | Tennessee SC |
| | Reese Wheeler | D | Florida Elite |
| | Allyna Thurston | D | Florida Krush |
| | Jazmin Ferguson | D | GSA |
| | Avery Raimondo | M | Florida Elite |
| | Camryn Bliss | M | Tampa Bay United |
| | Katie Zailski | F | Armada Youth |
| | Ava Martin | F | Atlanta Fire |
| | Makai Laguines | F | GSA |
| | Olivia Briede | F | NTH Tophat |
| | Hayley Chamberlain | F | NTH Tophat |
| | Avery Clark | F | Tennessee SC |
| | Briyah Drayton | F | Orlando City |