Rosters named for ECNL Mid-Atlantic Player Development Program event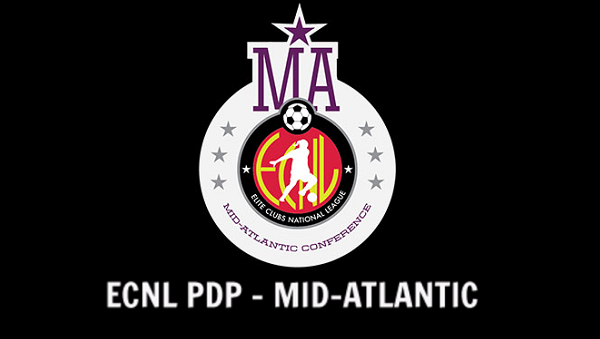 RICHMOND, VA (Via ECNL) – The roster and schedule for the Elite Clubs National League Player Development Program (PDP) Mid-Atlantic event, to be held February 24-25, have been announced. The event will take place in Greer, South Carolina. [SCHEDULE]
The PDP Mid-Atlantic event will be held at Mesa Soccer Complex, with some of the best players from the following ECNL clubs in the Mid-Atlantic Conference: BRYC Elite Academy, Carolina Rapids, CESA, McLean YS, NC Fusion, NCFC Youth, Richmond United, and South Carolina United.
Player Development Programs (PDPs) are identification and development programs within US Club Soccer's id2 Program with three primary goals: (i) provide top players with an opportunity to be identified and evaluated for higher levels of play; (ii) provide a high-quality developmental experience; and (iii) recognize and reward individual performance and achievement. PDPs are operated in conjunction with elite leagues sanctioned by US Club Soccer.
+NCAA Women's Soccer Commitment Announcements | February 2018
The ECNL PDP will include a training session and two 11 vs. 11 games over two days. Top players from each ECNL PDP, along with other players scouted in ECNL competition throughout the year, will be considered for invitations to the ECNL National Training Camp in late July.
Players are selected for the Player Development Programs based on their scouted performance in ECNL competitions, and by objective recommendations from ECNL Directors across the country. The ECNL will be hosting eleven PDP events across the country over the next three months, providing an opportunity for top players in every ECNL club. There are no costs for participation in Player Development Programs. The ECNL covers all staffing, facility rental and equipment costs for the ECNL PDPs. The only responsibility for participating players will be the cost of travel and accommodation (where necessary).
+READ: Rosters, schedule announced for ECNL Southeast PDP event in Atlanta
The full schedule of 2018 ECNL PDP events is available, click here.
ECNL Mid-Atlantic PDP Event Rosters (Feb. 24-25, 2018)
Team One
| | | | |
| --- | --- | --- | --- |
| Jersey # | Player Name | Position | Club |
| | Olivia Pratapas | GK | NC Fusion |
| | Courtney Evans | D | BYRC Elite Academy |
| | Kelly Wilson | D | McLean YS |
| | Madelyn Strieffler | D | Richmond United |
| | Emily Berg | D | South Carolina United |
| | Y-Van Nguyen | M | BRYC Elite Academy |
| | Adison Galek | M | Carolina Rapids |
| | Maria Rayburn | M | Carolina Rapids |
| | Chela Parris | M | NC Fusion |
| | Allison Travis | M | NCFC Youth |
| | Kiley Fitzgerald | M | Richmond United |
| | Eme McQueen | M | South Carolina United |
| | Chidubem Dike | F | Carolina Elite SA |
| | Gemma Maltby | F | McLean YS |
Team Two
| | | | |
| --- | --- | --- | --- |
| Jersey # | Player Name | Position | Club |
| | Ryanne Daley | GK | South Carolina United |
| | Jordan Yang | D | BRYC Elite Academy |
| | Madison Luckett | D | Carolina Elite SA |
| | Abbie Wise | D | NC Fusion |
| | Gabrielle Stidham | D | NCFC Youth |
| | Lily Render | M | BRYC Elite Academy |
| | Carly Thatcher | M | Carolina Elite SA |
| | Ella Joaquin | M | Carolina Rapids |
| | Stephanie Christianson | M | McLean YS |
| | Dru Drake | M | McLean YS |
| | Addie Cooper | M | NCFC Youth |
| | Abbey Merchant | M | Richmond United |
| | Brinley Murphy | F | Carolina Elite SA |
| | Ivy Garner | F | NC Fusion |
Team Three
| | | | |
| --- | --- | --- | --- |
| Jersey # | Player Name | Position | Club |
| | Madison Howard | GK | NC Fusion |
| | Erika Manfre | D | Carolina Elite SA |
| | Makaya Parham | D | NCFC Youth |
| | Maggie Fralin | D | Richmond United |
| | Erin Junkmann | D | Richmond United |
| | Meghan McHugh | M | Carolina Rapids |
| | Serena Pham | M | McLean YS |
| | Natalie Wilson | M | McLean YS |
| | Sophie Faircloth | M | NC Fusion |
| | Brianna Behm | M | Richmond United |
| | Caitlin Murphy | M | South Carolina United |
| | Alanna Colbert | M | South Carolina United |
| | Virginia Delacruz | F | BRYC Elite Academy |
| | Angelica Castro | F | Carolina Elite SA |
| | Angela Caloia | F | McLean YS |
| | Emma Kennedy | F | NC Fusion |
| | Grace Powell | F | South Carolina United |
Team Four
| | | | |
| --- | --- | --- | --- |
| Jersey # | Player Name | Position | Club |
| | Maddy Dewey | GK | Richmond United |
| | Erika Brown | D | Carolina Elite SA |
| | Kennedy Capps | D | NC Fusion |
| | Brynn Adams | D | NCFC Youth |
| | Hannah Corley | D | South Carolina United |
| | Faith Adams | M | Carolina Rapids |
| | Alex Odle | M | Carolina Rapids |
| | Julia Leas | M | McLean YS |
| | Eliza Turner | M | McLean YS |
| | Lauren Meeks | M | McLean YS |
| | Julia Edwards | M | Richmond United |
| | Nicolle Malpartida | M | South Carolina United |
| | Aria Nagai | F | BRYC Elite Academy |
| | Mayleigh Template | F | Carolina Elite SA |
| | Kendall McBride | F | McLean YS |
| | Chloe Marr | F | NCFC Youth |