Rosters announced for ECNL Mid-Atlantic PDP event in Richmond, Va.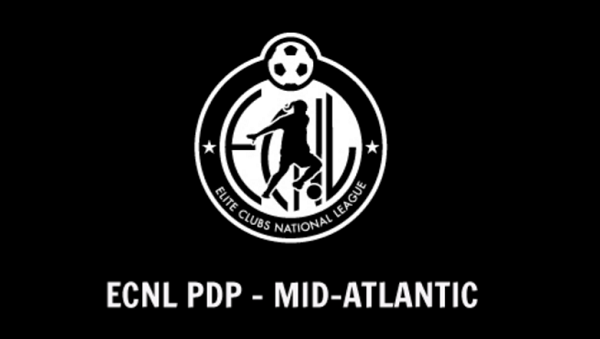 Richmond, VA (Via ECNL) – The rosters and schedule for the Elite Clubs National League (ECNL) Player Development Program (PDP) event to be held in Henrico, VA on April 30 – May 1 have been announced. The event will be held at West Creek Soccer Complex, with some of the best players from the following ECNL clubs in the Mid-Atlantic Conference: Bethesda SC, Charlotte SA, CASL, FC Virginia, Maryland United, McLean YS, NC Fusion and Richmond United.
For a full roster of the participating players, including team assignments and schedule for this event, click here.
The ECNL PDP in Henrico will include a training session and two 11 vs. 11 games over two days.  Top players from each ECNL PDP, along with other players scouted in ECNL competition throughout the year, will be considered for invitations to the ECNL / id2 National Training Camp in August.
+Read: Brackets announced for FC DELCO Players Cup (Girls)
Players are selected for the Player Development Programs based on their scouted performance in ECNL competitions, and by objective recommendations from ECNL Directors across the country.  The ECNL will be hosting eleven PDP events across the country over the next three months, providing an opportunity for top players in every ECNL club.
The full schedule of 2016 ECNL PDP events is available, click here.
Team One
| | | | |
| --- | --- | --- | --- |
| Jersey # | Player Name | Position | Club |
| 1 | Grace Young | GK | Richmond United |
| 6 | Madeline Uenking | D | CASL |
| 7 | Jadyn Wilensky | D | Bethesda SC |
| 8 | Claire Constant | D | McLean YS |
| 9 | Olivia Kane | M | Bethesda SC |
| 10 | Alana Moore | M | FC Virginia |
| 11 | Cam Keating | M | NC Fusion |
| 12 | Haley Kimber | M | Charlotte SA |
| 13 | Ashley Andersen | M | FC Virginia |
| 14 | Morgan Everett | M | NC Fusion |
| 15 | Sandra Geiselhart | M | NC Fusion |
| 16 | Amy Thompson | F | FC Virginia |
| 17 | Paige Franks | F | Richmond United |
| 18 | Morgan Hall | F | Richmond United |
Team Two
| | | | |
| --- | --- | --- | --- |
| Jersey # | Player Name | Position | Club |
| 2 | Ruthie Jones | GK | Charlotte SA |
| 19 | Madison Hammond | D | McLean YS |
| 20 | Meaghan Nally | D | FC Virginia |
| 21 | Kennedy Temple | D | FC Virginia |
| 22 | Kaili Gregory | D | Bethesda SC |
| 23 | Susanna Freidrichs | D | Richmond United |
| 24 | Zoe Boocock | M | FC Virginia |
| 25 | Maria Pareja | M | FC Virginia |
| 26 | Tess Sapone | M | McLean YS |
| 27 | Bella Ponzi | M | FC Virginia |
| 28 | Avery Gardner | M | CASL |
| 29 | Jessica McCoppin | F | CASL |
| 30 | Kori Locksley | F | Bethesda SC |
| 31 | McKinley Burkett | F | Richmond United |
| 32 | Meghan Kammerdeiner | F | McLean YS |
Team Three
| | | | |
| --- | --- | --- | --- |
| Jersey # | Player Name | Position | Club |
| 3 | Hanna Sellinger | GK | Bethesda SC |
| 33 | Remi Roberts | D | Charlotte SA |
| 34 | Kelsey Lynch | D | Charlotte SA |
| 35 | Emily Crocco | D | Richmond United |
| 36 | Addison Salz | D | CASL |
| 37 | Abbey Duncan | M | McLean YS |
| 38 | Grace Sklopan | M | McLean YS |
| 39 | Rachel Rouse | M | NC Fusion |
| 40 | Morgan Nanni | M/F | CASL |
| 41 | Camryn Dixon | F | CASL |
| 42 | Haleigh Stackpole | F | CASL |
| 43 | Aleigh Gambone | F | McLean YS |
| 44 | Blake Sutherland | F | Charlotte SA |
| 45 | Jordan Canniff | F | Richmond United |
| 46 | Cameron Murtha | F | Bethesda SC |
Team Four
| | | | |
| --- | --- | --- | --- |
| Jersey # | Player Name | Position | Club |
| 4 | Maisy Fling | GK | Richmond United |
| 47 | Kiersten Hening | D | Richmond United |
| 48 | Samantha Jerabek | D | Richmond United |
| 49 | Brianna Morris | D | CASL |
| 50 | Nicole Foley | M | FC Virginia |
| 52 | Makenzie DePriest-Kessler | M | McLean YS |
| 53 | Grace Sherman | M | Bethesda SC |
| 54 | Natalie Maurer | M | Richmond United |
| 55 | Keeley Cooper | F | NC Fusion |
| 56 | Emily Duerr | F | CASL |
| 57 | Adrianne Vaughn | F | Bethesda SC |
| 58 | Maliah Morris | F | Bethesda SC |
| 59 | Mary Elliot McCabe | F | Charlotte SA |