Roster unveiled for 2019 US Club Soccer id2 National Selection team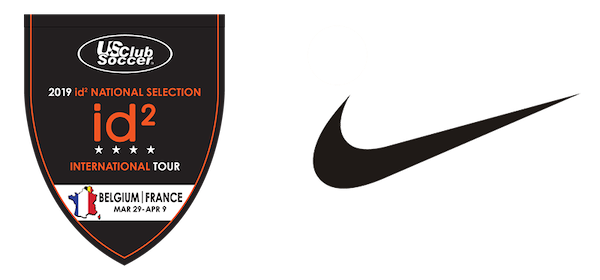 CHARLESTON, S.C. (Feb. 26, 2019) – For the first time in US Club Soccer id2 Program history, the delegation of the id2 National Selection International Tour will travel to Belgium and France to play top academy clubs, including a match against Paris Saint-Germain. The group, made up of 18 of the top boys players born in 2005, will also be immersed in culture with excursions throughout the neighboring countries.
In total, the 2019 id2 National Selection International Tour spans March 29-April 9. Of the 18 players, there are 17 clubs and 13 states represented, and one-German based athlete. For the 10th consecutive year, id2 Boys Program Director Gerry McKeown will lead the team, which has played the likes of FC Barcelona, Real Madrid, Manchester City, Juventus, Inter Milan, Everton, Celtic, Atletico Madrid and Ajax over the years.
Staff
Head of Delegation: Eddie Henderson (Issaquah, Wash.)
Head Coach: Gerry McKeown (Summit, N.J.)
Assistant Coach: Ian Mork (Petaluma, Calif.)
Goalkeeper Coach: Tyler Stakiwicz (Nutley, N.J.)
Athletic Trainer: Chris Young (Annandale, Va.)
The 2019 id2 National Selection International Tour is a multi-faceted trip, which includes a brief domestic camp in New Jersey and stops in Antwerp, Belgium and Paris, France. The delegation will train in top facilities and play friendlies against academy clubs, highlighted by a match against PSG 2005s. Additionally, the team will attend a Ligue 1 game and enjoy various cultural activities. More specifics about the tour schedule will be available on usclubsoccer.org in the coming weeks.
The 2019 id2 National Selection International Tour represents the final id2 programming element for boys born in 2005. It concludes an age group cycle that featured numerous identification and development opportunities, including Player Development Program (PDP) events and id2 Training Camps.
Nike continues to be an influential supporter of this international tour – and the id2 Program in general. "We are looking forward to embarking on another European journey of discovery," McKeown said. "We get to learn a lot about these players while being tested by the world's best. More importantly, the players learn a lot about themselves. Sometimes these experiences can be the catalyst for self belief."
Numerous id2 National Selection alumni have advanced to the highest levels of the sport, including Christian Pulisic (2012), Jonathan Gonzalez (2013), Tyler Adams (2013), Corey Baird (2010), Collin Fernandez (2010), Matthew Olosunde (2012), Tommy Redding (2011), Ben Swanson (2010) and Timothy Weah (2013). Stay tuned to usclubsoccer.org for the latest edition of the annual "id2 where are they now" series, detailing the rosters from previous international trips.
Consistent with US Club Soccer's philosophy that identification and development should be free to players, the organization is funding the trip in conjunction with the strong support of Nike; there is no cost to players, including airfare, lodging, meals and gear. The id2 Program is an Olympic Development Program approved by the United States Olympic Committee and U.S. Soccer Federation.
In addition to Nike, Premier International Tours is offering its resources to enhance the 2019 id2 National Selection International Tour – serving as an on-site liaison for the duration of the trip.