Seven Eclipse Select SC players featured at id2 National Training Camp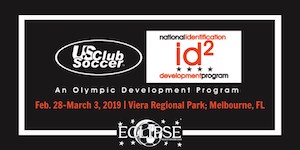 OAK BROOK (Via Eclipse Select SC) – Seven Eclipse Select Soccer Club players have been invited to the 2019 US Club Soccer id2 National Training Camp.
The first stage of its National Identification and Development Program, the camp will be held at Viera Regional Park in Melbourne, Fla. from Feb. 28 through March 3.
U.S. Club Soccer's id2 National Identification and Development Program provides an opportunity for the country's elite youth soccer players to be identified, developed and scouted for inclusion in U.S. Soccer's National Team programs.
Five boys from the Eclipse West Black 2006 team and two girls from the Eclipse Lunar ECNL 2005 squad make up the group heading to their first id2 National Camp. The attendees of the first id2 Camp of 2019 include the following:
BOYS
Alvaro Alanis (Aurora, Ill.)
Logan Ellison (Naperville, Ill.)
Divinci Huitron (Oswego, Ill.)
Patrick Bohan (Naperville, Ill.)
Kamden Held (Naperville, Ill.)
GIRLS
Taylor Ahmadian (Naperville, Ill.)
Gemma Gillespie (Rolling Meadows, Ill.)
This is not the first time the club has had players selected to partake in the id2 event. Since its beginning in 2004, Eclipse has annually featured several talented players who have earned the opportunity to participate with many going on to join the U.S. Youth National Team program.
A comprehensive national scouting and recommendation program is used to form a pool from which top players are invited to attend an id2 Training Camp. At the camp, players work with some of the nation's best coaches, play with and against some of the nation's best players in their age group, and are scouted by on-site U.S. Soccer staff. In addition to on-field sessions, the camps feature guest speakers, lectures/classroom sessions and other offerings, which make for a multi-faceted learning experience.