Roster announced for U.S. U-14 Boys National Team training camp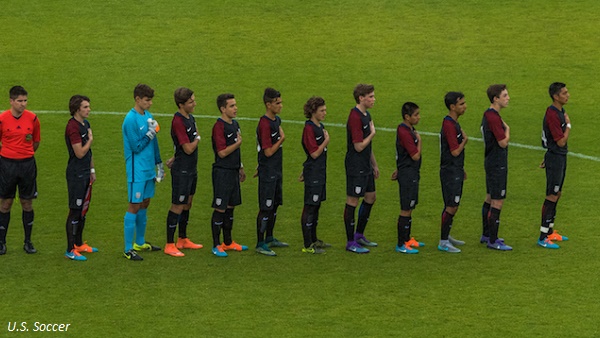 CHICAGO (Via U.S. Soccer) – U.S. Under-14 Boys' National Team head coach Clint Peay has gathered a 36-player group for the team's second camp of 2017, and third since the U-14 cycle of the National Development Program started in 2016, to be held in Portland, Oregon.
"In the age group, it's important to have a good base of players in our pool to look at for the future," Peay said. "For this camp, the idea is to open it up to a bunch of new players who, maybe haven't had a chance, but have excelled on the field (with their clubs) to give them a chance, to play in an environment like this. Out of the 36 players, 33 have never been into a U.S. Youth National Team camp before. We are looking to expand the U-14 player pool by looking at some new players to see where they are."
During the camp, the U-14 BNT will play an intrasquad match as well as a pair of friendlies against Portland Timbers and Seattle Sounders Development Academy teams, a mix of 2002 and 2003 birth year players.
+READ: U.S. U-15 Boys National Team roster named for CONCACAF Championship
The U-14's most recent camp took place in Croatia last May where they went 3-1-0 in a quadruplet of friendlies, defeating local Croatian clubs Dinamo Zagreb U-15 (4-0) and Bosnia and Herzegovina U-15 (2-1), before splitting two against the Croatia U-14 BNT (1-3; 2-1).
Thirty-two players from the group are currently registered with a Development Academy club for the 2017-18 season, which kicks off its 11th season on Sept. 2.
Roster by Position
GOALKEEPERS (4): Mitchell Budler (Shattuck-St. Mary's; Lincoln, Neb.), Nickolas Cardona (New England Revolution; Roxbury, Mass.), Lucas Hatsios (Carolina Rapids; Statesville, N.C.), Gavin Krenecki (Sacramento Republic FC; Fair Oaks, Calif.)
DEFENDERS (12): Mateo Acosta (FC United; Skokie, Ill.), Diego Alvarado (Chicago Fire; Addison, Ill.), Owen Barber (Atlanta United FC; Clinton, Miss.), Dominic Briones (Columbus Crew SC; Pickerington, Ohio), Maxwell Brown (Internationals SC; Aurora, Ohio), Cesar Carbajal (Colorado Rapids; Denver, Colo.), Abedi Godefroid (Sereno SC; Phoenix, Ariz.), Alexsander Jovel (DC United; Silver Spring, Md.), David Mysiuk (Chicago Fire; Bourbonnais, Ill.), Andre Ramos (LA Galaxy; Los Angeles, Calif.), Gavin Tabije (New York Red Bulls; Matawan, N.J.), Dominic Vegaalban (Sacramento Republic FC; Rocklin, Calif.)
MIDFIELDERS (10): Alejandro Alvarado (LA Galaxy; Los Angeles, Calif.), Jacob Bergin (Cleveland United; Rocky River, Ohio), Henry Cordova (Carolina Rapids; Statesville, N.C.), Alejandro Herrera (Real Colorado; Highlands Ranch, Colo.), Austen Herring (Southampton FC; Kidlington, U.K.), Dante Huckaby (Philadelphia Union; Morgantown W. Va.), Anthony Miron (Real So Cal; Pacoima, Calif.), Jay Portela (Weston FC; Miami, Fla.), Michael Sherlock (San Diego Surf; San Diego, Calif.), Kai Walsh (San Diego Surf; San Diego, Calif.)
FORWARDS (10): Brandon Bryant (Orlando City SC; Fort Walton Beach, Fla.), Caden Clark (Minnesota Thunder Academy; Medina, Minn.), Lorenzo DiMercurio (Weston FC; Biscayne Park, Fla.), Edward Mendy (Charlotte Soccer Academy; Charlotte, N.C.), Selmir Miscic (Philadelphia Union; Royersford, Pa.), Sebastian Nava (LA Galaxy; Wilmington, Calif.), Ricardo Pepi (FC Dallas; McKinney, Texas), Anthony Sorenson (Crew Wolves; Ann Arbor, Mich.), Aidan Wolf (Columbus Crew SC; Cleveland Heights, Ohio), Joseph Zalinsky (New York Red Bulls; Brick, N.J.)