Roanoke Star SC announces new college commitments, award winners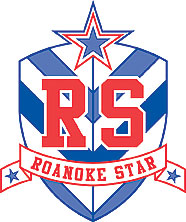 Roanoke Star SC has announced the following 21 players that will be taking their talents to the college level:
Daniel Friedberg – Lynchburg College
Currie Hanes – Radford University
Ibrahim Kromah – Patrick Henry Community College
Teig Lesko – Christopher Newport University
Will Linkenhoker – University of Mary Washington
Shane Mecham – UNC at Wilmington (NC)
Hunter Sampson – Eastern Mennonite University
Lauren Fleming – Emory and Henry College
Leah Hairfield – Mars Hill University (NC)
Lucas Blankenship – Hampden Sydney College
Morgan Todd – Bridgewater
Roanoke Star players also had a lot of success in their high school programs this year. There were 110 players who made an All Conference/District team. The club had five Conference/District Players of the Year and three Conference/District Coaches of the Year.
Boys:
1st Team – 28 Players
2nd Team – 15 Players
Honorable Mention – 2 Players
Conference Players of the Year: Shane Mecham (Blacksburg)
Girls:
1st Team – 31 Players
2nd Team – 29 Players
Honorable Mention – 5 Players
Conference Players of the Year: Sara Bane (Lord Botetourt), Valentina Donnini (James River), Aina Tuck (Franklin County)
Conference Coach of the Year: Giuseppe D'Arpa (Lord Botetourt), Moe Potter (Franklin County)
Roanoke Star players departing to play college soccer: 
Ben May – Rhodes College (Memphis)
Brian McConkey – Shenandoah University
Kori Potter – Emory & Henry
Samantha Craighead – Emory & Henry
Aina Tuck – Ferrum
Mikayla Cannaday – Ferrum
Kimmi Martin – Shenandoah
Cailee Brown – Averett
Hope Bocchi – Washington & Lee
Emily Hillman – VCU