Richmond Strikers 04 Elite Girls capture 2019 Jefferson Cup berth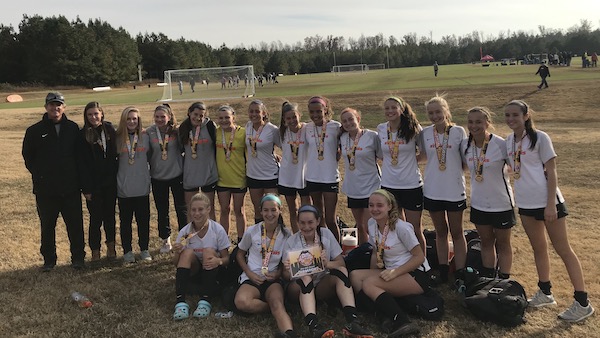 Henrico, Va. – An early thunderous drive from Dekota Bemberis started the game and a late point-blank strike from Alyssa Gagen finished it as the Richmond Strikers 04 Elite defeated the LMVSC Patriots 2004 Red 2-0 to capture the U-15 Premier Division title of the Capital Fall Classic.
Representing the host club of the Capital Fall Classic, the Strikers controlled the game from the opening whistle with strong build-up play on the wings and Madelyn Radtke pulling the strings with a dominant performance, as she drifted between the midfield and forward lines.
Both goals originated from Radtke taking up starting positions out wide. Gagen made the killer blow on a late breaking run into the box before powering home a well-placed, side-footed effort to put the game away. 
"She's new to the team this year and plays forward," Strikers' head coach David Burch said of Radtke after the final whistle. "She's a very dynamic player."
+READ: Capital Fall Classic provides exciting fall finale for VA Rush U-13s
While the story of the final was Radtke and the Strikers' fluid build-up play, the headline of the tournament concerns their defense, which went the entire weekend without conceding a goal.
This included the final where Richmond shut down LMVSC's run-and-gun offense by starving the Patriots' front-three of service.
This was staunchly executed by the Richmond midfield, who made it a point to plug the passing lanes while the defense stuck tight to the LMVSC attackers.
"Last year we had a strong team," Burch said, "but we let in a lot of goals. So, I made some adjustments with some players and it seems to really change the tone of this team. We went from a lot of goals against to now [where] we're not giving up so many goals and our goalkeeper has improved tremendously."
In addition to earning automatic qualification for this spring's prestigious Jefferson Cup, the Capital Fall Classic offered Burch's team a chance to prepare for the VisitRaleigh.com Girls College Showcase in two weeks.
"It's a great tournament for our club to host," Burch remarked of the Richmond Strikers' Capital Fall Classic. "We get to see some teams we don't normally see and play on these nice fields [at the West Creek Complex]."
"There's been some really good teams that come down here, Burch continued, "and we appreciate them taking their time to come to Richmond and play in the Capital Fall Classic."
"For us [the Strikers], it's just about playing and these kids have been doing really well. They're kind of on a roll right now and that's the important thing. Just keeping it going."
More Capital Fall Classic 2018 Coverage: