Richie Williams names 20-player U-17 Men's National Team squad for three-match Pacific Northwest tour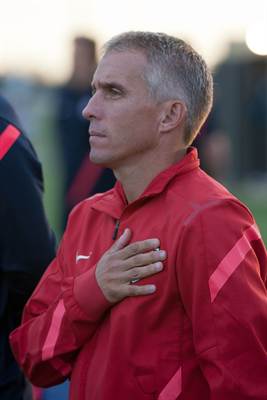 CHICAGO – U.S. Under-17 Men's National Team head coach Richie Williams has named a 20-player squad to take part in a three-match tour of the Pacific Northwest that will run from March 7-18. The trip includes games against the Seattle Sounders FC U-17/18s, the University of Portland Pilots and the Portland Timbers Reserves.
The U.S. U-17 MNT begins its tour in Seattle, where the players will train for two days as well as attend the opening kickoff of the 2014 MLS season when Seattle Sounders FC hosts Sporting Kansas City on March 8. Before departing the Emerald City, the U.S. U-17s will face a Sounders squad, featuring a blend of the club's U-17/18 Academy players and first team Reserves at Starfire Sports Complex, Field 1 on March 10, at 7 p.m. PT. The match is open to the public and free to attend.
The U.S. U-17s then travel to Portland, Ore., for a game against the Portland Pilots on March 12. The match, which is set to kick off at 7 p.m. PT, will be played at Merlo Field on the university's campus and is free to the public.
The team will train in Portland through the weekend, including one day at the Nike Campus in Beaverton, before playing its final match on March 17 against a Portland Timbers squad comprised primarily of the club's first team Reserves and some players from its U-17/18 Development Academy team. Kickoff for the game is set for 10 a.m. PT at Providence Park and is a Timbers season-ticket holder event.
Seventeen of the 20 players on the U.S. U-17 roster are currently enrolled in U.S. Soccer's Residency Program in Bradenton, Fla. Two non-Residency players, Edwin Lara and Nicholas Taitague, who are age eligible for the U.S. U-15 Boys' National Team, continue their run of call-ups for Richie Williams' side, and the only other player not currently in Residency is New York Red Bulls Academy product Tyler Adams, who recently captained the U-15 BNT for two friendlies against the United Arab Emirates during an international training camp in Abu Dhabi in February.
Including Adams, the New York Red Bulls lead the five MLS Academy teams represented with two players on the roster; Matthew Olosunde is New York's other Academy product on the roster. The other four MLS Academies are Chivas USA (Hugo Arellano), Crew Soccer Academy (George Braima), FC Dallas (Alejandro Zendejas) and the LA Galaxy Academy (Haji Wright).
U.S. U-17 MNT SCHEDULE:
March 10; 7 p.m. PT – U-17 MNT vs. Seattle Sounders Reserves/U-17/18's; Starfire Field #1
March 12; 7 p.m. PT – U-17 MNT vs. University of Portland Pilots; Merlo Field
March 17; 10 a.m. PT – U-17 MNT vs. Portland Timbers Reserves/U-17/18s; Providence Park
U.S. U-17 MNT ROSTER BY POSITION:
GOALKEEPERS (2): William Pulisic (Richmond Strikers; Mechanicsville, Va.), Kevin Silva (PDA; Bethlehem, Pa.)
DEFENDERS (7): Tyler Adams (New York Red Bulls Academy; Wappingers Falls, N.Y.), Hugo Arellano (Chivas USA Academy; Norwalk, Calif.), Tanner Dieterich (TN Soccer Club; Nashville, Tenn.), Edwin Lara (De Anza Force; San Leandro, Calif.), John Nelson (Internationals; Medina, Ohio), Matthew Olosunde (New York Red Bulls Academy; Trenton, N.J.), Alexis Velela (San Diego Surf; San Diego, Calif.)
MIDFIELDERS (6): George Braima (Crew Soccer Academy; Columbus, Ohio), Eric Calvillo (Real So Cal; Palmdale, Calif.), Thomas McCabe (PDA; South Orange, N.J.), Christian Pulisic (PA Classics; Hershey, Pa.), Nicholas Taitague (Richmond Strikers; Midlothian, Va.), Alejandro Zendejas (FC Dallas Academy; El Paso, Texas)
FORWARDS (5): Pierre Da Silva (New York Soccer Club; Port Chester, N.Y.), McKinze Gaines (Lonestar SC; Austin, Texas), Eric Matzelevich (Bethesda-Olney; Washington, D.C.), Elijah Rice (Chicago Magic PSG; Highland Park, Ill.), Haji Wright (LA Galaxy Academy; Los Angeles, Calif.)