Report: US Youth Soccer directs state associations not to speak to media about concussions
US Youth Soccer has asked officials at its 55 state affiliates not to talk to the media about concussions in youth soccer, according to a report published by the Louisville Courier-Journal late Thursday evening.
The motives behind the directive are unclear, as are its true origins.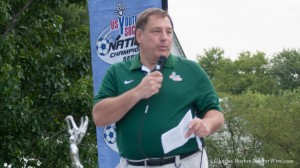 The Courier-Journal reports that the memo in question was sent out by USYS chairman John Sutter on April 24 in specific regards to a class-action lawsuit filed against FIFA and its U.S. affiliates – including US Youth Soccer and the U.S. Soccer Federation – last year.
The lawsuit, Mehr v. Fèdèration Internationale de Football Association, was filed in the U.S. District Court for the Northern District of California. It "seeks to require FIFA and its U.S. affiliates to implement up-to-date guidelines for detection of head injuries and for return to play after a concussion," alleging that "these groups have failed to adopt effective policies to evaluate and manage concussions, a common occurrence at all levels of the game" and that "a lack of effective policies poses a greater danger to women and children players, who are more vulnerable to traumatic and long-lasting brain injury."
Sutter apparently also alluded to a feature on the youth soccer concussion epidemic being prepared by HBO's "Real Sports" which the organization fears will be a "set-up piece" painting USYS in a negative light.
"The memo 'strongly encourages' soccer officials to decline other media requests for 'interviews, information, access or permission to film' until 'protocols are developed and new recommendations made,'" writes The Courier-Journal's Andrew Wolfson.
"But Tim Turney, president of the Kentucky Youth Soccer Association, which has 38,970 members, said the request came from the parent U.S. Soccer Federation and was sent out as a precaution because of the pending lawsuit," continues Wolfson. "Neil Buethe, a spokesman for [USSF], said it would have no comment because of the litigation. He said affiliates were advised to seek their own legal advice."
+READ: Lori Chalupny U-turn raises doubts about U.S. Soccer's concussion policies
US Youth Soccer is the nation's largest youth sports organization, with more than 3 million players from ages 5 to 19 and around 300,000 coaches across the country. It is U.S. Soccer's primary youth sanctioning partner but is a separate entity in terms of management, structure and the like.
The Courier-Journal obtained Sutter's memo from "Louisville soccer officials who said the subject of concussions among young players needs more public discussion, not less." Sutter declined to explain the memo's intentions in a phone interview with Wolfson.
Head trauma – from both heading of the ball and collisions with other players – has become one of youth soccer's biggest safety risks, particularly for women and girls, with some studies suggesting that girls' soccer poses concussion risks nearly as great as gridiron football.
In response, some youth associations have mandated limits on heading activities, but concussion protocols remain spotty and uneven even at the sport's highest levels.