Remaining Maryland State Cup champions decided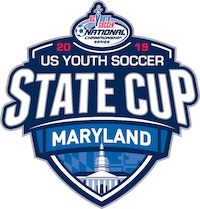 State Cup Brackets | College Coaches
After the majority of Maryland State Cup title matches were played on June 2, the remaining three age groups crowned their champions over the past week.
SAC Premier Blue 07 won the 12U Girls State Cup championship, emerging with a thrilling 2-1 overtime victory over Maryland United FC 07 Red in the final on Wednesday, June 5.
The 18U Boys final also came down to an overtime battle, as Olney Rangers Blue came away with a 3-2 win over Bethesda SC Blue on Saturday night.
Baltimore Celtic 00 Mizell completed their perfect run through 19U Boysage group, shutting out Next Level Soccer Juventus 00 by a 3-0 margin on Wednesday evening. Celtic did not concede a single goal during their 5-game sweep of State Cup opponents.
All 16 teams from the 12U-19U age groups that won their respective state titles have earned the chance to represent the Maryland State Youth Soccer Association (MSYSA) in the 2019 US Youth Soccer Eastern Regional Championships.
See below for a full listing of 2019 Maryland State Cup champions and finalists:
Boys
12U
Champion: Achilles FC
Finalist: Potomac Soccer Blue
13U
Champion: Pipeline SC Pre-Academy
Finalist: Next Level Ajax
14U
Champion: Brausa United FC Blue
Finalist: Bethesda SC Blue
15U
Champion: Maryland United ECNL
Finalist: Brausa United FC Blue
16U
Champion: Bethesda SC Blue
Finalist: Baltimore Celtic Central
17U
Champion: Brausa United FC Blue
Finalist: Maryland United ECNL
18U
Champion: Olney Rangers Blue
Finalist: Bethesda SC Blue
19U
Champion: Baltimore Celtic 00 Mizell
Finalist: Next Level Soccer Juventus 00
Girls
12U
Champion: SAC Premier Blue 07
Finalist: Maryland United FC 07 Red
13U
Champion: Baltimore Union SC Elite 06
Finalist: Ellicott City SC 06 Black
14U
Champion: Pipeline SC 05 Pre-Acaademy
Finalist: Baltimore Celtic 05 Elite
15U
Champion: Baltimore Union SC Elite 04
Finalist: Pipeline SC 04 Pre-Acaademy
16U
Champion: OPSA Magic 03
Finalist: FC Frederick 03
17U
Champion: Pipeline SC 02 Pre-Acaademy
Finalist: HFC United Blue Thunder
18U
Champion: Premier SC 01 Navy
Finalist: FC Frederick 01
19U
Champion: Pipeline SC 00/01 Pre-Academy
Finalist: SAC Showcase Premier 00