Quarterfinal matches set at US Youth Soccer Region IV Presidents Cup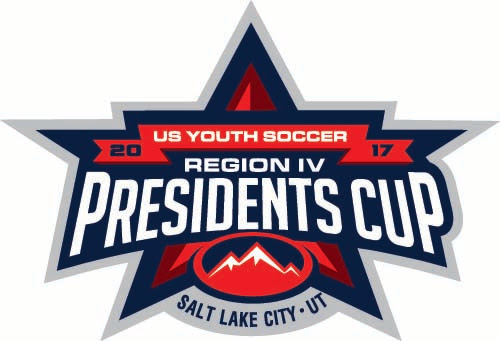 Day 3 of 6
Schedules, Scores and Standings
Facebook | Twitter | Instagram
SALT LAKE CITY (Via US Youth Soccer) — After three exciting days of group play, the quarterfinal matches are set at the 2017 US Youth Soccer Region IV Presidents Cup in Salt Lake City, Utah. The advancing 13U through 17/18U Boys and Girls teams are now one step closer to a regional title and a berth to the 2017 US Youth Soccer National Presidents Cup, July 12-16 in Auburndale, Fla.
One team that is advancing to the quarterfinals as a group winner is 13U Boys NSC 04 Green (WA), which used a four-goal explosion in a six-minute span to win a key match on Thursday.
"This is pretty fantastic for us, honestly," NSC coach Jason Grubb said. "I told the boys at halftime, when we pushed off on this journey, never in our dreams did we think we would make it this far. To actually do it and play against other teams like this has been an awesome experience. This is such a celebration of soccer."
Quarterfinal games begin at 8 a.m. on Friday at the Salt Lake City Regional Athletic Complex.
+READ: US Youth Soccer Region IV Presidents Cup Day 1 Recap
Utah Youth Soccer Association is hosting the event, and 12 other State Associations represented include Alaska, Arizona, California-South, California-North, Colorado, Hawaii, Idaho, Montana, Nevada, Oregon, Utah, Washington and Wyoming.
The US Youth Soccer Presidents Cup offers teams the challenge of experiencing different types of play by competing from state to regional to national levels. The Presidents Cup provides teams with a progressive, competitive experience that highlights competition, camaraderie and community.
Day 3 | Age Group Recaps
13U Boys
A quick flurry of second-half goals helped NSC B04 Green (WA) pick up a 4-0 win and finish first in Group A, while Rush 04B Nero (HI) gained a point from a thrilling 4-4 draw with Provo Athletic Club (UT) to finish second. Three wins in three days allowed Barcelona NV 04 Academy (NV) to secure first in Group B, and three clean sheets combined with a potent offense helped TFA SFV 04 (CA-S) cruise to a top finish in Group C. Barcelona NV's Kristan Botello led all scorers in the age group with five goals in group play.
13U Girls
After playing to a scoreless tie in their opening day meeting, FC Nova Gold – GK (ID) and WFC Rangers (WA) each won their final two Group A matchups. The Idaho side advances as the group winner due to a slight edge in goal differential. Meanwhile, a hat trick on Thursday gave WFC's Maria Pagnotta six on the week, which leads the age group. A third straight shutout allowed Real Colorado Olympico (CO) to take first place in Group B, as it defensive strength will make it a tough matchup in the knockout rounds. And in Group C, a 4-0 shutout victory sealed a strong preliminary round for group winner Beach FC LB G04 Nunes (CA-S).
14U Boys
Heat FC 03 (NV) has shown an ability to perform under pressure, as it picked up seven points in three games decided by a goal or less — helping the Nevada side finish atop Group A. In Group B, 4-H 03B Chelsea Pedro (OR) and Eastside FC B03 White (WA) each recorded shutout wins on Thursday to bump them up to seven points in the standings. But the Oregon side's four goals pushed it into first place on goal differential. The top scorers each came from Group C, where Carlos Lopez and Keegan Oyler each found the back of the net four times — helping Downtown Los Angeles SC 03 (CA-S) and Boise Nationals Timbers Blue (ID) finish first and second, respectively.
+READ: US Youth Soccer Region IV Presidents Cup Day 2 Recap
14U Girls
Arsenal FC 03 (CA-S) did not allow a goal en route to finishing first in Group A. Offensively, Kolo Suliafu paced the team with eight goals — doubling the closest players among top scorers. Colorado Rapids Youth 03G Select (CO) won, 4-1, on Thursday to finish 3-0-0 and atop Group B. Meanwhile, Eagles SC G2003 (CA-S) put in three complete efforts on either end of the field to pick up nine points in Group C. Spokane Sounders (WA) rode a day one win and a pair of draws to narrowly edge Players 03 Girls Elite (NV) for first place in Group D.
15U Boys
A couple of equally impressive runs through preliminary play propelled California Rush 02 Nero (CA-S) and STU Chelsea Academy 02 (WA) to first-place finishes in Group A and Group B, respectively. Both sides netted 11 goals while conceding none, and they'll aim to keep the momentum going in Friday's semifinals. Rush forward Eric Church was one of three players with five goals — tops in the age group. The other two players with five tallies — Ariel Garcia and Daniel Leyva — helped BARCELONA (NV) to go 3-0-0 and finish on top of Group C.
15U Girls
A second straight offensive outburst helped Barca Cantera (CA-S) finish the preliminary round 3-0-0 and on top of Group A. Barca also managed to hold Sara Tolliver to just one goal on Thursday, as Tolliver finished group play as the leading scorer with six tallies. Despite a 1-0 loss on Thursday, Idaho Rush Premier (ID) hung on to finish atop Group B via goal differential over second-place Barcelona AZ 02G (AZ). A three-way tie at the top of Group C resulted in Colorado Storm North 02 Girls Select (CO) finishing in first. Impact United TA (UT) took second, and Cook Inlet S.C. 02G (AK) will advance to the quarterfinalists as a third-place qualifier.
16U Boys
Conceding just one goal in three games, Santos Laguna White (CA-S) picked up nine points to finish on top of Group A. In Group B, Washington Premier White (WA) won on Thursday to hold on to first place, while Rocky Mountain SA Cougars Black (CO) picked up a key win to jump to second. Players Academy Blue 2001 (NV) picked up its most comfortable win of the week in on Thursday to wrap up a 3-0-0 record in Group C. Zachary Miller, Jacobo Ortega Cardenas and Caleb Wydick led the age group with four goals each.
16U Girls
Harbor Premier G01 Green (WA) outscored opponents 11-to-1 to take first place in Group A over Broomfield Blast SC Magista (CO) via a goal differential tiebreaker. In a tightly contested Group B, Pacific FC 01G Ice (OR) picked up seven points to finish first in the table. Meanwhile, L30 Crush G01 (UT) left little doubt in Group C, as it won the group thanks to a 1-0 win on Thursday against second-place Lady Nomads 01 Red (NV). Ava Seelenfreund led all scorers in the age group with four goals during preliminary play.
17/18U Boys
In Group A, F.C Deportivo UdeG (CA-S) held on for a 4-2 victory on Thursday to finish in the top spot in the standings. UDEG's Alexis Vladimir scored three times in the victory to finish preliminary play as the top scorer with six goals. A third straight clean sheet helped conclude a 3-0-0 run through Group B by Inter America Halcones FC (CA-S), who finished in first. TFA Barcelona AZ (AZ) picked up a big Group C win against NCU Manchester United (CA-N) to jump the Cal North side into first place. NCU finished second and will advance to the quarterfinals.
17/18U Girls
After a couple of close wins to open the week, Rampage Black LH (UT) wrapped up Group A play in dominant fashion to finish atop the table. IE Surf G00 Kooiman (CA-S) displayed the strongest defense of any team in the age group, as it conceded just one goal en route to finishing in first in Group B. Meanwhile, Cook Inlet S.C. 00G (AK) forward Jordan Foraker added two more goals on Thursday to push her total to seven — the most of any 17/18U Girls player. Foraker's potent scoring rate helped the Alaska side win all three of its Group C games to finish on top of the standings.