PWSI Icebreaker Tournament Day 1: Local teams finding their stride in preseason
The second of two PWSI Icebreaker Tournament weekends kicked off Saturday on turf fields throughout Prince William County, with U-13 to U-16 boys and U-9 to U-16 girls divisions competing in group play at the preseason event.
Around 300 teams primarily from Maryland and Virginia clubs got to play their first outdoor matches of the spring with NCSL, WAGS and other local leagues quickly approaching the regular season.
With heavy rain on Thursday evening forcing cancellations on the grass field locations, Saturday's group games featured 25-minute halves to accommodate additional usage of the turf fields. Most teams played two games each on Saturday, setting up a pivotal final round of group play on Sunday morning to determine the final match-ups.
While a series of winter storms has kept many local teams indoors for the past several weeks of preseason, technical skills refined through futsal and indoor practice along with improved agility and overall fitness were on display.
Offseason conditioning has clearly been a focal point for the Northern Virginia SC United 00 White boys, who took control of Bracket B in the U-14 Pride White Division, playing Fredericksburg FC 00 Red to a 2-2 draw in the morning match and defeating Culpeper Comets Black 3-0 in the afternoon at Howison Park.
Despite playing shorthanded in the second half against Culpeper, NVSC played a stifling brand of defense while earning a clean sheet and possession of first place in their bracket with a good chance to advance to Sunday's division final. While winning the tournament is a goal for Bill Hernandez's squad the main goal for NVSC is taking advantage of the tune-up opportunity leading into NCSL play.
"We love coming to the Icebreaker because we get to see some teams that we haven't played before, and it's two weeks before the season so it's a very important time for us," Hernandez said. "We've been working a lot on our fitness in the preseason because it was a weakness of ours last year. I thought we showed how much that has improved for us, I was happy with how we defended today." 
NVSC United White's NCSL division opponent SAC United Gold rebounded from a 1-0 loss to Lee Mt. Vernon SC Patriots Red on Saturday morning with a 2-0 win over Stafford Soccer Revolution in their afternoon match at Howison Park. SAC's offseason work on build-up play from out of the back was on display in the win over Stafford, particularly late in the match when Connor Bossom added an insurance goal on an assist by Elliott Keppler, coming off a play that started with a throw-in in the team's defensive third.
"We are working a lot on building from the back and this weekend is a good chance to focus on that against quality opponents," said SAC coach Adrian Burke. "I thought we were rusty but there were times where we played nicely. We have mostly technical players as opposed to big physical ones, so it was good for our players to match up against some of those bigger teams."
"We played hard and got some good preseason fitness in, it's a good chance for the kids to get out there," Burke said. "It's a nice tournament close to home straight before the start of NCSL and an opportunity for some great warm up games."
Other boys divisions in the U-13 and U-14 age groups battled it out at Howison Park, Hellwig Park, Patriot High School and Lake Braddock High School.
+Full results from PWSI Icebreaker Day 1
On the girls side, four age groups battled the cold, wind, and each other all day today at Long Park in Haymarket. Ten flights in all from U-9 through U-12 girls filled six fields, and perhaps the only thing more creative than some of the talented young players was the number of ways some parents found ways to fight off the unseasonably cold weather.
From portable propane heaters to fire pits purchased at the local hardware store on a whim, and something new on the scene resembling a clear plastic personal tent with a chair; the fans pulled out all the stops so they could cheer on the action.
Team from all over Virginia and Maryland didn't let the cold slow them down however, playing at a high pace during the group matches. Scores aside, there was a lot of young talent and a large range of coaching styles on display.  While a few teams were dominant from top-to-bottom, with surprising fluid and firm ball movement for their years, in general the skill level is very even, making for some exciting, close games.
Some coaches sat quietly, others paced and directed, and a few huddled together on the ground under blankets with the players. In the U-9 Classic division, two teams from Alexandria played each other, and kindly shared a bench – and halftime talk together.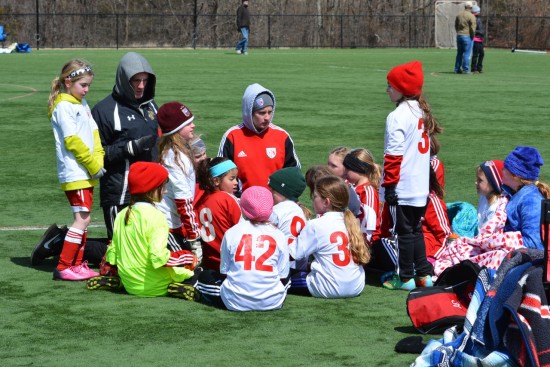 It was the second games of the day for most teams that were the most intense, as final group placements put some teams into Sunday morning semifinal action and others either clinching or setting up a better path to finishing on top for a berth in Sunday afternoon finals.
As winning is increasingly shunned as a measure of good player development at the younger ages, it was evident that the development level of individual player in the U-11 and U-12 groups was clearly resulting in wins, with the teams putting up big scores all doing so with at least some focus on "possession with a purpose" and several players with very creative dribbling skills.
Plenty of photos from Long Park went out over the tournament's Twitter account @PWCTournaments, with a fun focus on capturing the special moment just after a goal where it's easy to see why these kids play this game in the first place.
Sunday should be a bit warmer, but much less windy. Win or lose, may it be the final time any ice could actually be formed on a soccer field for a very long time.