Princeton women's soccer introduces 10-player signing class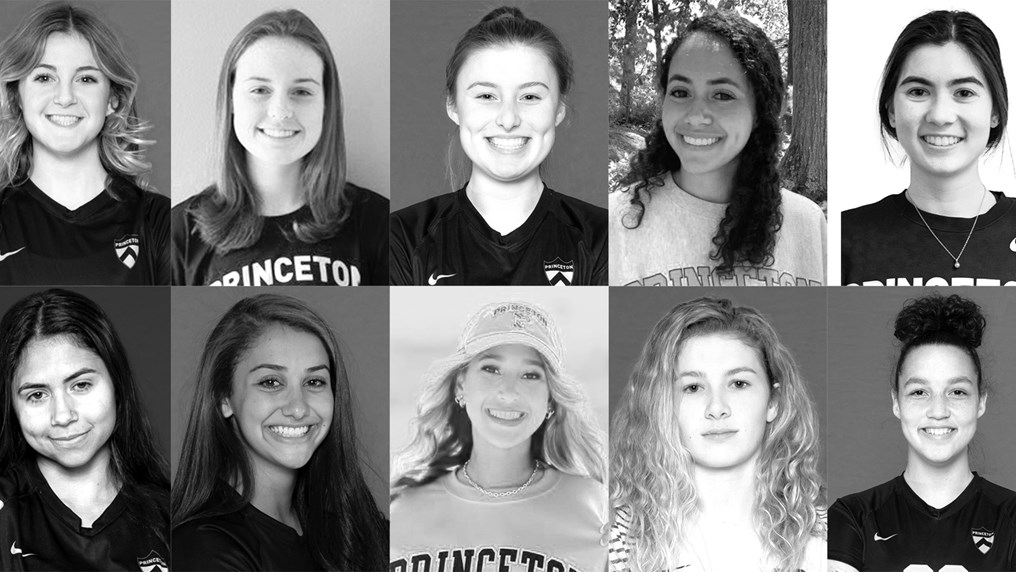 The Princeton University women's soccer signing class has been finalized ahead of the Fall 2021 season.
Some were introduced as part of the original Class of 2024, and some will be graduating high school this year, but between them, 10 Tigers are in the Princeton women's soccer program's Class of 2025.
The Tigers' incoming class includes: Ryann Brown, Lily Bryant, Kayleen Gowers, Kate Toomey, N'Dea "Didi" Godwin, Kiley Hamou, Heather MacNab, Tyler McCamey, Ella Midura and Grace Porter.
Princeton head coach Sean Driscoll shared the following statement on the Tigers' incoming class:
"Given the unprecedented nature of this past year, it makes sense that our announcement for the class of 2025 would also be unprecedented," . "As a result of the pandemic, six members of our 2024 class took a gap year and will now matriculate in the class of 2025 along with four of our original recruits slated for this class. It is hard to believe that we have not seen any of them play in person in more than 16 months. The silver lining, however, has been the opportunity to focus solely on non-soccer related conversations revolving around family, well-being, personal interests and what everyone is most excited about when restrictions start to scale back.  Those discussions have only made us more eager to welcome this accomplished group. In this uncharacteristically large class, we have added depth and talent to every position on the field. We are very excited to welcome Ryann, Lily, Kayleen and Kate to our program and re-introduce and welcome, once again, Didi, Grace, Heather, Ella, Kiley and Tyler. They are academically outstanding, athletically gifted and, most importantly, fantastic human beings. A special thanks goes out to Mike Poller for all of his efforts to help with the recruitment of these impressive women. We are extremely proud of this class and know that each of them will be excellent representatives of our program, university and athletic department."
Ryann Brown
Height: 5-8
Position: Center back/ Outside back
Hometown: Laguna Niguel, Calif.
High School: Aliso Niguel High School
Club Team: LAFC Slammers
Coach: Ziad Khoury
Accolades:
Scholar-Athlete 2018 & 2019
League MVP 2018
All County 2018 & 2019
All CIF Division 1 Southern California 2018 & 2019
High School Varsity Soccer Captain 2019 & 2020
ECNL National Championship Semifinalist 2019
Why I chose Princeton: "The countless opportunities that are possible at Princeton University assured me that it was the right school for me. From the education to the prestigious and historic campus and competitive soccer program, the Princeton experience is unparalleled. Academically, it's a top university and I truly admire how Princeton challenges and shapes their students to be well-rounded, sophisticated individuals. The campus is absolutely breathtaking and I remember the first time I visited the school I was taken aback by its beauty. The University's diverse student body and support for all cultures is a big motivator for me. I'm drawn to the inclusive and welcoming environment from the players, coaches, and staff. I'm so grateful to be given this opportunity and look forward to pursuing my next chapter of my life both on and off the field as a Tiger!"
Driscoll on Brown: "Ryann is our latest recruit from Slammers FC, following in the footsteps of Gabi Juarez and Madison Curry. She is an explosive athlete that will bring speed, toughness and physicality to our center back and/or wide back positions. Ryann's astute defensive awareness allows her to impose herself in a myriad of ways. Not only is she a tremendous individual defender, she is equally impressive in a covering role for her fellow backs. In addition, she offers us a highly coveted aerial presence. Our staff is really excited to see Ryann's competitive drive and the versatility she provides across the back line."
Lily Bryant
Height: 5-6
Position: Attacking Center Midfield
Hometown: Brookline, Mass.
High School: Noble and Greenough School
Club Team: FC Stars ECNL
Coach: Jason Dewhurst
Accolades:
Noble and Greenough Captain (2020)
ECNL National Training Camp (2019)
ISL All-Star (2019)
ECNL Player Development Program (2018)
Finalist, ECNL Nationals (2017)
New England Premiership, Player Development Program (2015-17)
Id2 Program (2016)
Olympic Development Program

Region I (2015-16)
National Training Camp (2016)

National Training Center (2015-16)
Why I chose Princeton: "Princeton has been my dream school since the moment I stepped foot on campus. Princeton is the whole package to me – a beautiful, connected campus; a bright student body drawn from all over the world; a devotion to undergraduates; a tangible sense of community; and an unbelievable soccer program. Coach Driscoll and Coach Poller have been amazing throughout my search for my next 'home,' and I could not be more excited to continue to learn and grow under their guidance. I am thrilled to join the Princeton community and to develop as an athlete, a scholar, and a person."
Driscoll on Bryant: "Fearless, versatile and talented, Lily will bring a combination of physicality and technical proficiency to our team. She can score goals, create assists and possesses a wonderful attack minded mentality.  At the same time, she equally values the impact she can have defensively and is incredibly disruptive to the opposition. Given those qualities, Lily could find herself in a variety of positions during her time at Princeton."
Kayleen Gowers
Height: 5-4
Position: Midfield
Hometown: Los Altos, Calif.
High School: Los Altos High School (c/o 2020)
Club Team: San Jose Earthquakes
Coach: Andres Deza
Accolades:
U.S. U18 Women's National Team Camps
U.S. U16 Women's National Team Camps
Trained with 1st Division team U20 SGS Essen in Germany (Fall 2020)
U17 USSDA National Championship 3rd Place in Kansas City (2017/18)
U17 USSDA Final Four Annual Awards Banquet in Kansas City (2017/18)
U.S. Training Center (2017)
2x US Futsal National Champion (2016, 2017)
4x NorthWest Regional US Futsal Champion (2015, 2016, 2017, 2018)
Id2 Arizona Player Identification Camp (2016)
NorCal PDP State Team (2014-2016)
Japanese Soccer Federation XF Cup with San Jose Earthquakes in Japan (July 2019)
Boys World Futsal Cup in Spain (December 2015)
Why I chose Princeton: "I chose Princeton because from the very beginning it felt right. I felt an immediate connection to the beautiful campus and the people I met. It simply felt like home. The excellent academics and top soccer program give me the best of both worlds, however just as important for my decision were the people and the culture. The Princeton women's soccer team not only embraces a soccer philosophy that matches my style of play, but also cultivates a positive environment where I can learn and grow as both a player and a person. I also find myself greatly inspired by Princeton's informal motto ("In the Nation's Service and the Service of Humanity"). I'm so excited and grateful for this opportunity to be part of the Tiger family and look forward to spending the next 4 years with an exceptional group of people!"
Driscoll on Gowers: "Silky smooth with the ball at her feet, Kayleen exudes a unique confidence on the field. She has impeccable vision, excellent technique and a wonderful deceptiveness to her play, which allows her to create goal scoring chances for herself and her teammates. Kayleen will bring composure to our midfield as well as an uncanny ability to control the tempo of the game."
Kate Toomey
Height: 5-8
Position: Midfield
Hometown: Bellevue, Wash.
High School: Holy Names Academy
Club Team: Crossfire Premier (2020-2021), Reign Academy (2016-2020)
Coaches: Sam Laity and Justi Baumgardt
Accolades:
Dallas Cup Champion (2021)
Reign Academy Captain (2016-2020)
Invited to train with the NWSL Reign First Team
US Soccer National Training Center Participant (2015-2019)
DA Winter Showcase U16/17 Best XI – Honorable Mention (2019)
ODP Inter-Regional Team 2017
Region IV ODP Finalist 2017
Region IV ODP Champion 2016
So-Cal ID2 Elite Camp Invitee
Why I chose Princeton: "Throughout the recruiting process, I had always set my sights high on a university that would provide both incomparable academics and a highly ranked women's soccer program. With Princeton, I found the ultimate combination. I feel so lucky to be joining such a close-knit and supportive community where I will be both challenged and inspired. Princeton's commitment to its undergraduate liberal arts education is unmatched, and I cannot wait to explore the incredible academic opportunities ahead. From the first time I stepped foot on campus my sophomore year, I sensed around me an inclusive and collaborative environment. At the soccer camps, I met players with passion and grit; teammates who I knew would support me while also pushing me to be better. Each conversation with Coach Sean and Coach Mike has only solidified my excitement to be a part of this incredible team. I know I have found my home, and I cannot wait to represent Princeton as a Tiger!"
Driscoll on Toomey: "The best way to describe Kate is insatiably relentless. She has an engine that never stops and a lung capacity that we truly admire. On both sides of the ball, there is an attention to detail, hunger to compete and an inner drive for excellence. Kate's technique, fitness level and really impressive aerial ability make her incredibly versatile. We believe she can play in various positions in midfield and potentially even as an attacking wide back."
Members of the original Class of 2024 joining the Class of 2025:
N'Dea "Didi" Godwin
Height: 5-11
Position: Center Back
Hometown: Altadena, Calif.
High School: Westridge School
Club Team: Slammers FC ECNL
Coaches: Tulio Marroquin and Cheyne Gordon
Accolades:
Ranked #42 in Top Drawer Soccer Southern California Region Class of 2020
First-team all-league (2017, 2019 & 2020)
Westridge High School MVP (2019 & 2020)
Westridge High School Captain (2018-2020)
U.S. Youth Futsal National Team Player (2017-2019)
First Team All-Conference (2019)
Selected U.S. Youth Futsal National Team Captain in 2017
Four-year U.S. Soccer Training Centers Participant (2013-2017)
Southern California Region U.S. Soccer Combine Invitee (2017)
Why I chose Princeton: "It is hard to describe the feeling of overwhelming gratitude and relief that comes with finding a university that you know is the exact right fit for you. As soon as I met Sean, as soon as I set foot onto the Princeton campus, I knew without a doubt that Princeton was that school for me. When on a tour, I learned that the school's unofficial motto is, 'In the Nation's Service and the Service of Humanity.' As someone who deeply values both individual and collective engagement in the betterment of society, this statement couldn't have better described the community I was looking for. I knew that Princeton would nurture my love of learning, foster my desire to challenge myself academically, and offer me an amazing soccer program and coaching staff that would help me grow as a player. I am beyond excited to join the Princeton family."
Driscoll on Godwin: "Didi drew immediate attention from our staff because of her strength, dominance in the air and incredibly soft feet. She is a weapon on set pieces because of her timing and fearlessness with services into the penalty area. Her experience with the U.S. Futsal Team has paid dividends in her mastery of the ball. Didi is unflappable regardless of the pressure around her. Her skill set makes her an option as a center back, looking to start the attack with controlled possession, or a holding midfielder that breaks up play and links with the forward line."
Kiley Hamou
Height: 5-7
Position: Wide Back
Hometown: East Setauket, N.Y.
High School: Ward Melville
Club Team: SUSA ECNL
Coaches: John Diehl, Paul Yardi, Ron Alber
Accolades:
Ranked #11 in Top Drawer Soccer New York Region Class of 2020
NYSSCOGS all-state (2019)
SCGSCA all-county (2017-2019)
SCGSCA Division 1 Player of the Year (2019)
NYS Scholar Athlete Award (2019)
ECNL Player to Watch (2017-2019)
Ward Melville High School Captain (2018-2019)
National Training Center Invitee (2015-2017)
ODP National Camp (2016-2017)
Region I Team (2015-2017)
Why I chose Princeton: "I chose Princeton because I love to be challenged. I felt that Princeton would challenge me in all aspects of my life, within my relationships, studies, and athletics. I also enjoy the fact that it is in the Northeast, where I grew up, because I love the climate and close proximity to my home. At my high school, I've been fortunate enough to have close, personal relationships with all of my teachers, counselors and coaches. Throughout my time at Ward Melville, I never felt an absence of support from staff members. After visiting Princeton and having the opportunity to meet with an amazing group of fellows and other coaches and staff members, I can truly say I felt that same amount of overwhelming support and care, if not more, that I've experienced throughout high school. Additionally, as one of the top universities in the country, housing the most intelligent students from all over the world, Princeton may seem to encompass a competitive environment. After stepping on campus, I felt the exact opposite. Students were challenging each other while still being humble and wholesome toward one another. They all held positive attitudes and continually supported each other inside and outside of the classroom. This made the atmosphere on campus that much more appealing, knowing that while still striving to be the best version of yourself, you have the guidance and strength of your peers to help you."
Driscoll on Hamou: "Kiley is an explosive athlete that will bring some steel to our back line. She has played as both a wide forward and back during her club career, which has been perfect preparation for the attack-minded wide back that can thrive in our system. From the first minute we saw Kiley at a camp three years ago, we marveled at her ability to positively impact both sides of the ball. Defensively, her pace, physicality and relentless approach combine to make her extremely difficult to beat in 1-v-1 duels. In possession of the ball, she has the confidence and skill set to beat players off the dribble and is a consistent threat in the final third to score or provide assists."
Heather MacNab
Height: 5-10
Position: Forward
Hometown: Indianapolis, Ind.
High School: Culver Academies
Club Team: FC Pride
Coaches: Nathaniel King, Matt Blackbourne, Mike Beckner
Accolades:
Ranked #17 in Top Drawer Soccer Great Lakes Region Class of 2020
Indiana Soccer Coaches Assoc. Top Team Player (2019)
Indiana Soccer Coaches Assoc. first-team all-district (2019)
Second-team all-state (2019)
US Club Soccer Player Development Program Selection (2018)
Culver Academy Captain (2018-2019)
USA Today Preseason All American (2017)
First-team all-state (2016)
High School Varsity Soccer MVP (2016, 2017, 2019)
USYS Nationals Best XI (2016)
U.S National Training Center Invitee (2015-2016)
Why I chose Princeton: "When deciding where I wanted to continue my academic and athletic career in college, I knew I wanted a place offering unmatched academics and athletics. I chose Princeton because of its rigorous academics, its close-knit student body, and its unparalleled soccer program. The small campus environment mixed with the kindness displayed by every person I met made Princeton feel like home from the minute I first stepped on campus. The resources and constant support offered to students and athletes by faculty, staff, and peers creates a place optimal for success. I connected particularly well with the Princeton mindset of embracing all sorts of challenges and setbacks that will get thrown at me and growing through those problems with the support network I will have. I have already experienced the abundant support and encouragement offered by Coach Sean and Coach Mike, all the girls on the team, and the team of fellows associated with Princeton Women's Soccer, and I am excited to spend the next four years in an environment where I can unlock my potential as a person, scholar, and athlete."
Driscoll on MacNab: "Heather first caught our attention as a rising ninth grader who took our summer camp by storm. Her ability to impact a game so positively at a young age was truly amazing. Since then, she has continued to develop into a dominant attacking force with a terrific left foot, an eye for goal and the technical ability to break teams down in a variety of ways. She can score goals from distance with power or with finesse from closer range. In addition, she can provide assists with accurate service from the left flank or by slipping passes behind the back line as she moves more centrally."
Tyler McCamey
Height: 5-10
Position: Goalkeeper
Hometown: Atlanta, Ga.
High School: The Westminster Schools
Club Team: Tophat Soccer Club DA
Coach: Troy Garner
Accolades:
Ranked #28 in Top Drawer Soccer South Atlantic Region Class of 2020
Tophat Captain (2017/18 & 2019/2020)
ECNL South East Conference Champions (2015-2017)
AAA State Championship (2017)
National Training Center Invitee (2014-2017)
U15 GNT National Training Camp (2016)
ODP National Training Event (2016)
Why I chose Princeton?: "My two priorities in choosing a university were academics and athletics. I wanted a school that was highly prestigious academically and had an elite soccer program and found it here at Princeton. After spending more time with the coaching staff and players on the team, I knew Princeton had the exact environment I wanted to be in. The team chemistry, the coaching staff's vision for the program and the general sense of community on campus immediately impressed me and ultimately sold me on Princeton. I can't wait to represent my dream school on and off the field."
Driscoll on McCamey: "Tyler brings a terrific pedigree to our program. Every time we had the opportunity to watch her play the past couple of years, she has been the epitome of composure. Technically, she is great with her feet, which is something we look for in all of our keepers, and her long-range distribution over distance is really impressive. Her command on crosses is top-notch and she is a very athletic shot stopper. Most importantly, she has a commanding presence and confidence about her that provides assurance to her back line and teammates."
Ella Midura
Height: 5-7
Position: Forward/Center Midfielder
Hometown: Wellesley, Mass.
High School: Noble and Greenough School
Club Team: FC Stars ECNL
Coaches: Joanna Hallac, Jason Dewhurst
Accolades:
Ranked #165 Nationally in Top Drawer Soccer Class of 2020
Ranked #73 Midfielder in Top Drawer Soccer Class of 2020
ECNL Northeast Player of the Year (2019)
ECNL All-America Team (2019)
ECNL Northeast All-Conference Team (2018 & 2019)
ECNL Northeast Conference Selection Program (2018 & 2019)
Massachusetts all-state team (2019)
All-NEPSAC team (2019)
All-New England team (2019)
Noble and Greenough School Team Captain (2019)
Why I chose Princeton: "I chose Princeton because of its optimal balance of superior academics and elite athletics. From the first time I stepped on Princeton's beautiful campus, I fell in love with the school and its supportive community. I look forward to being challenged academically and athletically in an environment where everyone strives for success. The amazing coaching staff, inspiring players, and welcoming sense of family on the team along with the promise of an excellent education make Princeton a perfect choice. I feel very lucky for the opportunity to play at Princeton and I'm so excited to be a Tiger in the fall!"
Driscoll on Midura: "Ella exudes confidence with the ball at her feet. She is a 1-v-1 artist who relishes the opportunity to attack opposing defenses whenever possible. Ella can play centrally as an attacking center mid creatively breaking down center backs or as a wide forward looking to isolate wide backs. Her composure, fast footwork and ability to improvise enable her to excel in tight spaces and, specifically, in the final third. Ella also possesses an accurate shot from distance and the ability to play dangerous passes leading to goal scoring opportunities for her teammates."
Grace Porter
Height: 5-5
Position: Midfielder/Back
Hometown: Oakland, Calif.
High School: Bishop O'Dowd
Club Team: EBU Bay Oaks Mavericks
Coaches: Lauren Nadler, Jon Nishimoto
Accolades:
First-team WACC (2018-2020)
Bishop O'Dowd MVP (2018-2020)
Bishop O'Dowd Captain (2018 & 2020)
ODP State Team 2019
EBU Bay Oaks Team Captain (2015-2020)
Why I chose Princeton: "Growing up, I heard a lot about Princeton because many people in my family have gone there. Because of this, I always knew that I would be interested. A little over a year ago, I got the opportunity to visit the campus for the first time, and that's when I really began to understand what makes Princeton so special. I immediately noticed a sense of community among the students and also a genuine excitement they each had for what they were studying. The soccer program was also a very big draw for me. There is such a clear emphasis on sisterhood and teamwork that I really appreciated. In addition, I have really enjoyed getting to know the coaching staff, and am very excited to have the privilege to be a part of the team. Simply put, I believe that Princeton has the perfect balance of academics, athletics, and community, and there truly is no other school like it."
Driscoll on Porter: "Grace is a player that brings athleticism, vision and an impressive range of passing. She excels in the box-to-box midfield position, naturally covering ground and valuing both the defending and attacking elements of the position. Her timing of late runs out of midfield is impeccable, as is her ability to release players behind the back line with a longer accurate pass. She possesses a lethal left foot, which she is not afraid to unleash from distance and offers another consideration for our set piece arsenal."