Potomac area teams post strong performances in Boys DA Playoffs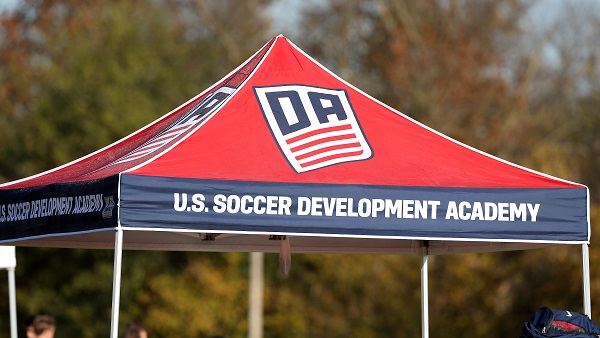 Potomac area teams representing D.C. United Academy, Bethesda SC and Baltimore Armour all turned in strong performances at the U.S. Soccer Boys' Development Academy Playoffs in Oceanside, Calif.
The four local teams combined for six wins, four losses and two draws during group play. See below for a look at how each team fared.
DA Playoffs Home Page | Boys DA Playoffs Results
D.C. United U-16/17
D.C. United U-16/17 posted a 1-1-1 record in Group G play at the Boys' DA Playoffs, earning points in two of their three games.
The Black-and-Red kicked off the postseason with a 2-1 victory over fellow MLS academy Orlando City SC, behind goals from Kevin Paredes (30') and Bryang Kayo (57').
n their second game, D.C. played Minnesota side Shattuck St. Mary's to a 1-1 draw. United took an early lead as Ronald Fuentes found the net in the 12th minute, and the defense held strong for almost the entire match. However, St. Mary's found an equalizer in the 85th minute to salvage a point.
Bethesda SC U-16/17
Bethesda SC U-16/17 narrowly missed advancing into the knockout stages after winning two out of three games to finish 2nd in Group C.
A dominant defensive effort propelled Bethesda to a 1-0 win in their first outing against Montreal Impact FC. Marlon Tabora Ponce's 23rd minute goal held up as the game-winner for Bethesda, as goalkeeper Luca Ulrich and the back line combined for a clean sheet.
After coming up short 2-0 against Solar SC in their second game, Bethesda closed the event with a dominant 3-0 victory over Seattle Sounders FC. Jose Ortega (34'), Ponce (48') and Benjamin Baldwin (70') each found the net, while Uldrich and the back line secured another shutout.
Baltimore Armour U-18/19
In the oldest age group, Baltimore Armour U-18/19 had a strong showing in Group C, also earning points in two of three matches.
Toronto FC stunned Baltimore with a 90th minute game-winner on opening day, taking the 3-2 result. Armour received a brace from Kevin Medrano (45', 63') in the back-and-forth battle.
Armour captured a 1-0 shutout victory over New York City FC in their second outing, receiving a late game-winner from Ben Bender (79'). Goalkeeper Eduardo Romero registered the clean sheet, behind a stifling effort by the Armour back line.
In their final group match, Armour played Florida side Weston FC to a 2-2 draw. Baltimore took a 2-1 lead into halftime, as Alex Stevenson (1') and Medrano (35') each found the net. However, Weston ultimately salvaged a point thanks to a 60th minute equalizer.
Bethesda SC U-18/19
Following a tough 4-1 loss in their opening game against Crossfire Premier, Bethesda SC U-18/19 stormed back with two lopsided wins of their own in Group H competition.
Bethesda rebounded with a dominant 4-2 victory over Real Salt Lake in their second group match. Gabe Segal (25', 67') recorded a brace, while Alessandro Allen (73') and Joshua Wisdom (84') also provided second half goals.
Another MLS academy, Atlanta United FC, was no match for Bethesda in their Group H finale, as the Maryland side cruised to a 4-0 win. Wisdom (22') and Segal (71') both found the net for a second straight game, and Uriel Zeitz (24', 67') recorded a brace. Zeitz and Segal finished tied for the team lead with three goals each at the DA Playoffs.
Goalkeeper Thomas Zinngrebe combined with the Bethesda back line to tally the clean sheet on the defensive side against Atlanta.
FC Golden State handed D.C. their only loss of the event on June 22, thanks to three unanswered goals in the first half. Kayo provided the scoring for the Black-and-Red, netting a 38th minute strike.