Potomac area ECNL teams compete in league play at PDA Girls College Showcase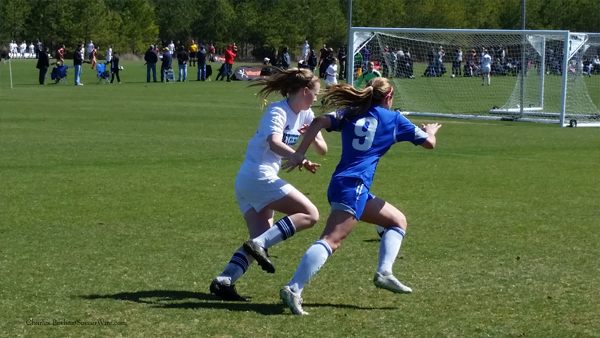 U-15, U-16 and U-17 ECNL sides representing local clubs McLean Youth Soccer, Maryland United and Bethesda SC competed in league play at the PDA Girls College Showcase over the weekend in Zarephath, New Jersey along with the Richmond United U-16 and U-17 sides. Other Potomac area ECNL teams played in the non-ECNL league brackets at the showcase, which featured some of the top ECNL, US Youth Soccer and US Club Soccer-affiliated teams in the country.
[player_box id=43843 leftright=right]In ECNL league competition, McLean's 3-1 win over FC Bucks on Sunday was one of the highlights of the weekend, as Aleigh Gambone ed the attack with a goal and an assist. Tracey Mills and Kristina Toms each found the net for McLean as well, while Grace Sklopan picked up her sixth assist of the season.
[player_box id=48436 leftright=right]Bethesda U-16 had a strong weekend going 2-1-0, following up a 4-0 loss on Saturday against Penn Fusion Soccer Academy with 3-0 and 2-0 wins over Charlotte Soccer Academy and California side Strikers FC. Cameron Mutha scored four of the team's five goals on the weekend running her season total to 16. Nicole Bautista added one as well, her fourth of the season. Murtha set up Bautista's goal for her seventh assist of the season. Jadyn Wilensky assisted two of Murtha's goals, while Francine Phillips and Bryanna McDermott each set up one. Meanwhile, the back line earned back-to-back clean sheets in the wins. Bethesda improved to 10-3-6 overall, remaining second in the Ohio Valley Division and holding onto the No. 14 Champions League playoff seed.
[player_box id=48448 leftright=right]Also in the U-16 age group, Maryland United earned a point against Minnesota Thunder Academy on Monday as the teams played to a 2-2 draw. Center back Arianna Green scored on a free kick from the half way line ball, launching a shot that landed inside the penalty area and bounced over the Minnesota goalkeepers head and into the net for United's second goal of the match. Alexis Hogarth set up the team's leading scorer Kori Locksley (8 goals, 7 assists) for the team's first goal.
[player_box id=45460 leftright=right]McLean and Richmond United U-16 each earned one win on the weekend as well. Dominique Davis and Emily Stranne found the net in McLean's 2-1 victory over World Class FC on Saturday, and Richmond United defender Caroline Cipolla set Morgan Hall for the game's only goal in a defensive battle against PDA Composite.
[player_box id=43427 leftright=right]In the U-17 age group, Richmond United went an undefeated 2-0-1 with a 3-3 draw against Connecticut side FSA FC, a 2-1 win [player_box id=47387 leftright=right]over California side Arsenal FC and a 3-0 win over Boston Breakers Academy. Virginia Jesselson and Seeley Yoo were among the team's top performers offensively, as United has pushes to earn a wild card spot.
[player_box id=48010 leftright=right]Six different players found the net for the Bethesda SC U-17s, as the team went 1-1-1 in the showcase. Lauren Mackie, Jessica Hopkins, Nicole Brodkowitz, Megan Saunders, Kelly Mayo and Elizabeth Coletti each scored once for the balanced attack over course of the weekend.
See below for Potomac area ECNL league play from over the Memorial Day weekend, along with updated standings and playoff pictures in the U-15 to U-17 age groups…
Results
U-15
| | | | |
| --- | --- | --- | --- |
| May 23 8:00am | | | |
| May 23 11:20am | | | |
| May 23 2:40pm | | | |
| May 24 2:40pm | | | |
| May 24 2:40pm | | | |
| May 24 3:20pm | | | |
| May 25 9:10am | | | |
| May 25 9:10am | | | |
| May 25 2:10pm | | | |
U-16
| | | | |
| --- | --- | --- | --- |
| May 23 9:40am | | | |
| May 23 1:00pm | | | |
| May 23 2:40pm | | | |
| May 23 4:20pm | | | |
| May 24 8:00am | | | |
| May 24 11:20am | | | |
| May 24 11:20am | | | |
| May 24 1:00pm | | | |
| May 25 7:30am | | | |
| May 25 9:10am | | | |
| May 25 10:50am | | | |
| May 25 10:50am | | | |
U-17
| | | | |
| --- | --- | --- | --- |
| May 23 8:00am | | | |
| May 23 9:50am | | | |
| May 23 9:50am | | | |
| May 23 11:40am | | | |
| May 24 9:50am | | | |
| May 24 9:50am | | | |
| May 24 1:30pm | | | |
| May 24 1:30pm | | | |
| May 25 7:30am | | | |
| May 25 11:10am | | | |
| May 25 12:30pm | | | |
| May 25 1:00pm | | | |
Standings
Playoff Picture