Pipeline SC adds Brandon Quaranta to coaching and directors staff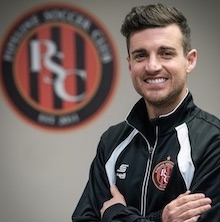 (Via Pipeline SC) – Pipeline Soccer Club has announced the addition of Brandon Quaranta to the coaching and directors staff.
Over the past 13 years, Quaranta has established himself as a highly-regarded coach focused on player development and college placement.
Quaranta has led his teams to win four US Soccer Youth Soccer National Championships (2010, 2014, 2015, 2018) with four different teams. During the same time, he has been an elite high school soccer coach in one of the most competitive states in the nation. Most impressively, he led his high school team to a state championship with an undefeated run in 2015.
Furthermore, he led the school to win the state championship 3 out of the 5 years he has been head coach. This success has led him to be a two-time recipient of the NSCAA Maryland State Coach of the Year award.
Quaranta will be joining pipeline in a Director role between Pipeline Soccer Club and Baltimore Armour focused on transitioning players within the Club/Development Academy while coaching the 2001 and 2002 Pre Academy teams under the Pipeline banner. His objectives as director will be individual player based focusing on each players development and progress before entering the DA or Pre academy level teams.
"Brandon's resume and coaching career speaks volumes" said founder Sean Rush. "Brandon is someone who has always been at the forefront of youth soccer in this country. Whether it was with his club teams, high school teams, and even most recently with the NPSL team (Coach of the Year for the NPSL Mid Atlantic Region). Brandon creates an environment for players and teams that is second to none," said co-founder Santino Quaranta.
Brandon Quaranta had this to say on joining Pipeline Soccer Club: "Pipeline SC has firmly established itself as one of the preeminent youth soccer clubs in the nation. With the current professional staff in place and genuine relationships fostered at all levels of the game PSC has created a rewarding pathway for all players."