Pay it forward: Virginian Elite Showcase plows proceeds back to local youth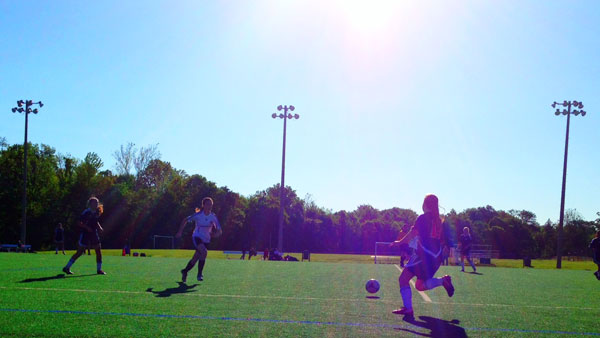 Many youth soccer tournaments raise revenue, and many direct those funds back to their host clubs.
But few such events or clubs see the benefits of such a partnership as directly or concretely as the Springfield-South County Youth Club and the Virginian Elite Showcase.
SYC has hosted the Virginian for some four decades, and during that time the massive Memorial Day weekend event – which last year featured around 700 teams – has been drawing teams from across North America to Northern Virginia for three days of spirited competition.
And the proceeds from the tournament have left a powerful legacy that SYC players and Virginian participants alike can see and feel – in large part under their own feet.
"We take great pride in the tournament. Our teams participate in helping with [operations] and running sites," explained SYC office manager Carolyn Brennan. "The Virginian continues to help us improve the fields our families play on, and to improve the travel soccer program."
Approximately 90 percent of the gross revenues from the tournament go to cover the costs of the event. The bulk of the remaining 10 percent or so of net revenue is put into SYC's field fund and helps cover the costs of scholarships for players who cannot otherwise afford to participate in the club's programs.
With field space a constant concern on the Washington, D.C. area's increasingly crowded soccer landscape – and many natural-grass fields exposed to high wear and tear – this resource provides a priceless benefit for SYC, who do not rely on some of the high-margin revenue streams other clubs in the area enjoy.
"We use that money to help defray costs because we do lots of field improvements," said Brennan. "We've been involved with the West Springfield High School turf field [since] it was first built, going on almost 10 years now."
SYC also works to care for and improve other area facilities like Hooes Road Park, Greensprings, Key Middle School and Loisdale Road. Cooperative partnerships with Fairfax County and other stakeholders help to expand and protect everyone's investments.
And in the big picture, the players benefit most – including those who travel long distances to take part in the Virginian Elite Showcase and hope desperately that the fields will be playable when they arrive, regardless of what the uncertain spring weather has to offer.
The tournament's proceeds also help underwrite SYC's scholarship program, which provides financial assistance to families in need who struggle to pay the costs required for their children to participate in sports programs – especially soccer.
"The soccer program have the biggest chunk of scholarships families, I'd say about 80 percent, and we run about 700 scholarships a year," said Brennan. "The money from the Virginian helps offset the loss of income from the scholarship families who can't afford to pay full price and the field [fees]."
So a mutually beneficial partnership that has lasted nearly 40 years seems well-placed to carry on, continuing a virtuous circle that is growing the game in multiple ways.
"Our hope is that the Virginian Elite Showcase makes our region's soccer community a better place, both on and off the field," said tournament director Dotty Talbott. "We're grateful for SYC's support – and happy that our event can make a positive difference in players' lives year-round."