Omega Select Black (Kan.) U-18 girls take "All-Star" team concept to new degree
By Michael Willis
RICHMOND, Va. — So what exactly constitutes a team? Is it a tightly-knit group that practices daily, goes on road trips together, maybe even attends nearby schools and hangs out on the weekends with similar friends?
Does being a team require the camaraderie that accompanies all those trials and tribulations experienced as a result of hours upon hours spent in very close proximity with your teammates? Many would argue that is without question the case, and that the cohesiveness of a unit is paramount to the level of success they can achieve.
The Omega SC Select Black team competing in the Under-18 Superior grouping here at the Jefferson Cup challenges all those preconceived notions about what a team really means. While Omega SC may have at one point and time been based out of Kansas City, Kan., the collection of girls on their U-18 squad has little to no affiliation with the state, and in a larger sense, with one another. The team has a single practice before each of the tournaments they attend, and the girls do not play with one another on a weekly basis.
In fact, the players on the team live absolutely nowhere close to one another for the most part. Three of the girls are from North Carolina, two are from Puerto Rico, another two reside in Canada, two more from Virginia, yet another pair from Pennsylvania, and one girl from Indiana and Illinois, respectively. Some of the girls don't even play club soccer in the United States; three of their team members are on the U-20 Puerto Rican national team. By a traditional sense, the Omega SC title is nothing more than a shell of a team, merely a name that allows them to compete in tournaments.
But their parents would wholeheartedly disagree with that stance. Melissa Lindsay, mother of Omega girl Alexis Lindsay and super-mom grassroots organizer, thinks that their backgrounds are precisely what makes them a team. And perhaps it even makes them a stronger team than most.
"They get used to different kinds of play," Melissa explained while watching her daughter. "Obviously, they all come from different backgrounds, from different types of coaches, and [different methods] of being taught how to play. But [the other parents and I] all discussed that if you can't mesh at this level of play as a team, then you probably aren't even playing at this level anyway."
The team itself is almost permanently in flux, as Melissa noted, both because of their head coach Gaspard D'Alexis' wishes and the ever-rotating roster based on each tournament attended.
"He never keeps the same girl in the same position, except for the goalkeepers," she said. "He'll use them based on the team that comes [to each tournament]. Each individual is allowed to decide the tournaments they want to come to, and the ones they don't."
Melissa's own daughter is listed as both a midfielder and a defender, and she's an example of how Omega players should be prepared to experience everything.
Maybe the team itself is an extension of D'Alexis' own experiences in a multitude of environments. Born in Haiti, D'Alexis then moved to Canada as a very young boy. His successful youth career led him to play in the FIFA World Youth Championships (what is now the U-20 World Cup) in 1979 for the Canadian national team in Japan. As a college player at Plymouth State University, he finished as one of the top ten scorers in school history.
More recently, D'Alexis spent time on the coaching staff of the Haitian Women's national team. His diverse background, whether consciously or not, has clearly rubbed off on his Kansas team.
The only permanent fixture on the team at each tournament they attend is Gaspard himself, but the team is rarely stationary. These ladies travel to tournaments all around the world, including the Jefferson Cup. Each year, the team competes in an international trip, which Melissa said is "basically their training camp."
"[In] 2011 was the Dominican Republic, 2012 was Belize. He plays them with the international team players from there, and they fare very well," she said. "But they also learn to mesh and work together that way. That's basically like his training camp; putting [the girls overseas] and seeing how they play."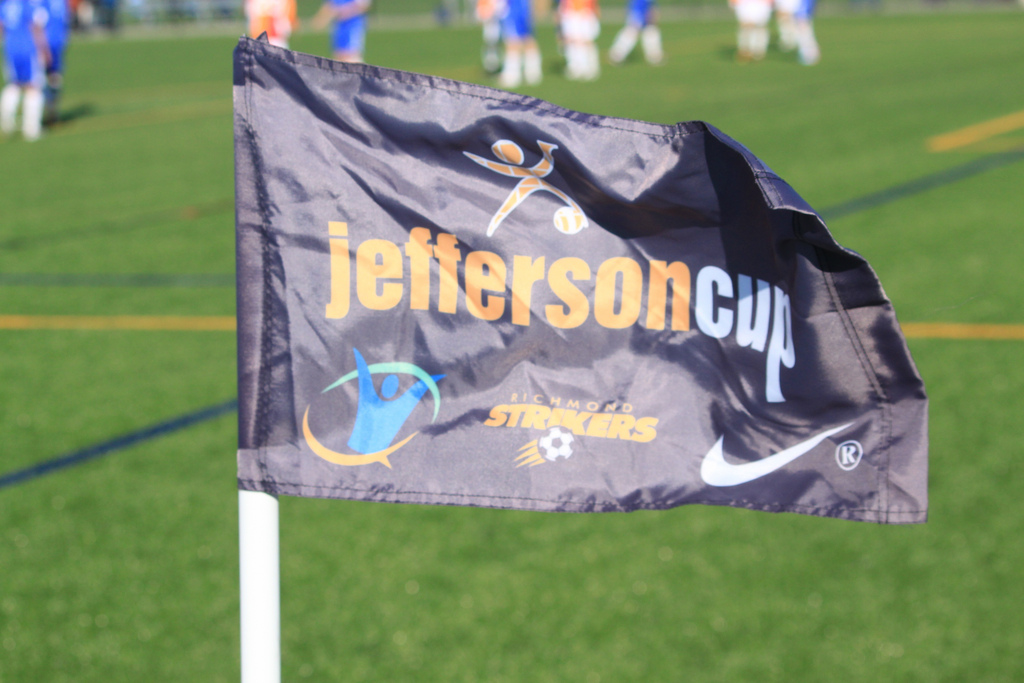 Omega Select Black are 1-1 at Jeff Cup thus far, following a 1-0 loss to Lee-Mt. Vernon SC Patriots (Va.) on Friday and a thorough 3-1 victory over McLean Power Green 94 (also Va.) They round out their tournament against another impressive group from far afield, Shattuck St. Mary's Sabres (Minn.), on Sunday morning.
So I ask again, what constitutes a team?These kinds of experiences, these international trips to foreign countries which serve as a crash course in bonding, most certainly have to play a factor in bringing these girls together from so far away to be qualified enough to compete in a tournament as prestigious as the Jefferson Cup. They are good enough to play with other "teams," to be sure. While they may be a tad unconventional if compared to, say, the beloved high school basketball team portrayed in the movie Hoosiers, these girls have no doubt that they are indeed teammates.
As Melissa puts it, "Usually by game three, we look like we've been playing together for eight years."