Notre Dame and North Carolina standouts earn ACC men's soccer weekly honors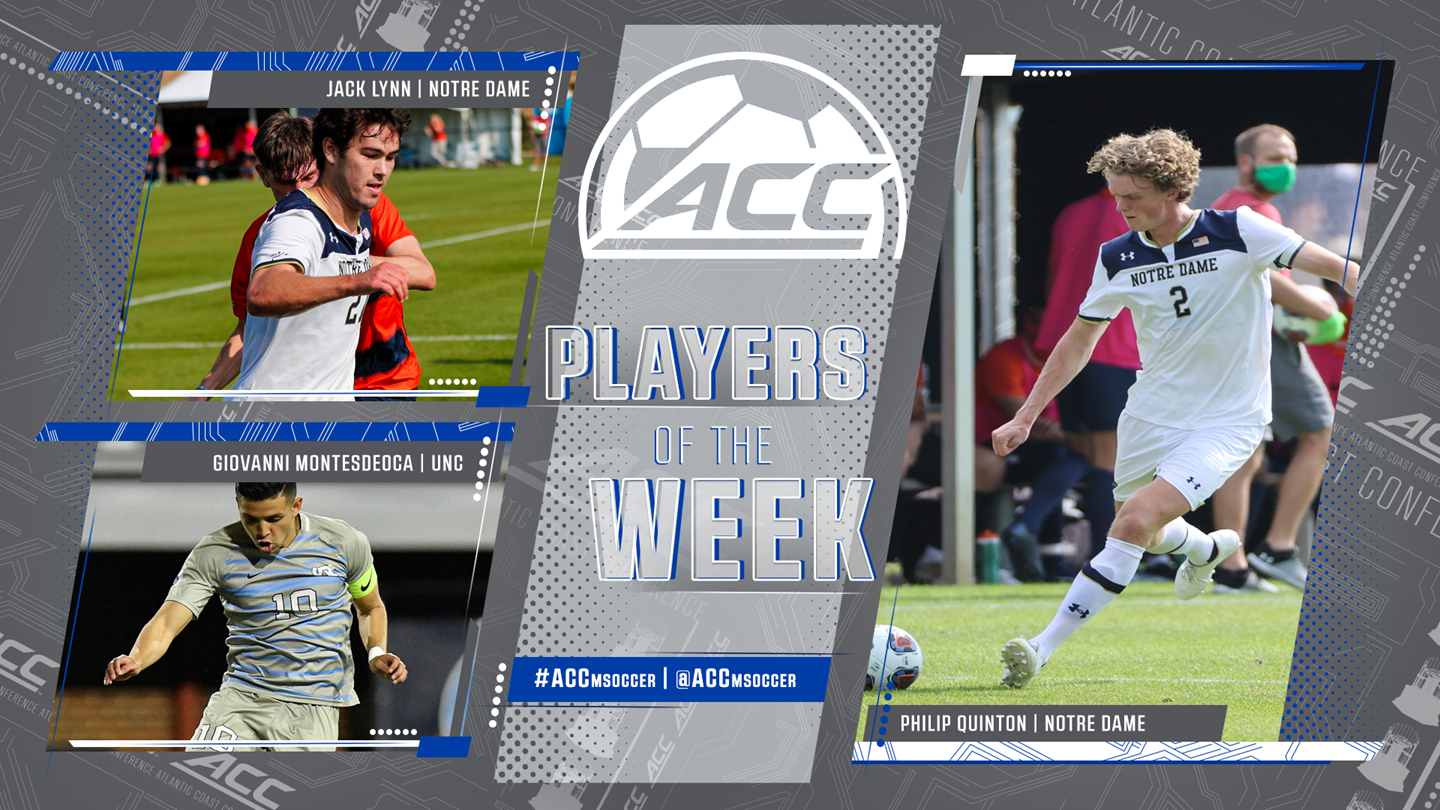 GREENSBORO, N.C. (theACC.com) – Notre Dame junior forward Jack Lynn and North Carolina senior forward Giovanni Montesdeoca were selected as the ACC Men's Soccer Co-Offensive Players of the Week, while Notre Dame junior defender Philip Quinton was named ACC Defensive Player of the Week.
Montesdeoca was named ACC Offensive Player of the Week for the second straight week. The Dallas, Texas, native led the way as UNC blanked Virginia, 2-0, on Saturday. He scored UNC's first goal via a penalty kick after he was taken down in the box by a Cavalier defender. Less than three minutes later, Montesdeoca fed Riley Thomas for an insurance goal and a 2-0 lead.
Lynn had a hand in both Notre Dame goals Friday in a 2-0 win at Duke. The native of St. Louis, Missouri, set up the opening goal, getting to the end line and then finding Aiden McFadden with a pass that led to the score. Later in the first half, he calmly finished from the spot after the Fighting Irish was awarded a penalty kick to double the lead. He now is tied for the first in the ACC with eight goals this season.
A native of Portland, Oregon, Quinton anchored a Notre Dame backline that recorded a clean sheet in the win at Duke on Friday night. Not only did the Irish record the shutout, but the defense did not allow a shot on goal. Notre Dame conceded just four corner kicks in its stifling defensive effort.
The ACC spring season continues this weekend with the third of six straight weekends of league action.
2020-21 ACC Offensive Players of the Week
Sept. 21 – Daniel Russo, Fr., F, Notre Dame
Sept. 28 – Bertin Jacquesson, Fr., F, Pitt; Calvin Harris, So., F, Wake Forest
Oct. 5 – Mohamed Seye, So., F, Clemson; Kyle Holcomb, Jr., F, Wake Forest
Oct. 12 – Veljko Petkovic, So., M, Pitt
Oct. 19 – Kimarni Smith, Sr., F, Clemson; Valentin Noel, So., M, Pitt
Oct. 26 – Grayson Barber, Jr., M, Clemson; Omar Hernandez, So., M, Wake Forest
Nov. 2 – Jacob Labovitz, Sr., F, Virginia Tech
Nov. 9 – Jack Lynn, Jr., F, Notre Dame
March 9 – Giovanni Montesdeoca, Sr., F, North Carolina
March 15 – Jack Lynn, Jr., F, Notre Dame; Giovanni Montesdeoca, Sr., F, North Carolina
2020-21 ACC Defensive Players of the Week
Sept. 21 – Keagan McLaughlin, Sr., GK, Notre Dame
Sept. 28 – Arturo Ordonez, So., D, Pitt
Oct. 5 – Alec Smir, Jr., GK, North Carolina
Oct. 12 – Colin Shutler, Gr., GK, Virginia; Fillipo Zattarin, Gr., D, North Carolina
Oct. 19 – George Marks, Jr., GK, Clemson
Oct. 26 – Oskar Ågren, So., D, Clemson
Nov. 2 –Nico Benalcazar, So., D, Wake Forest
Nov. 9 – Andrew Pannenberg, Jr., GK, Wake Forest
March 9 – Oliver Gerbig, Jr., D, Virginia
March 15 – Philip Quinton, Jr., D, Notre Dame