Northeastern University men's soccer team welcomes 8 freshmen and 5 transfers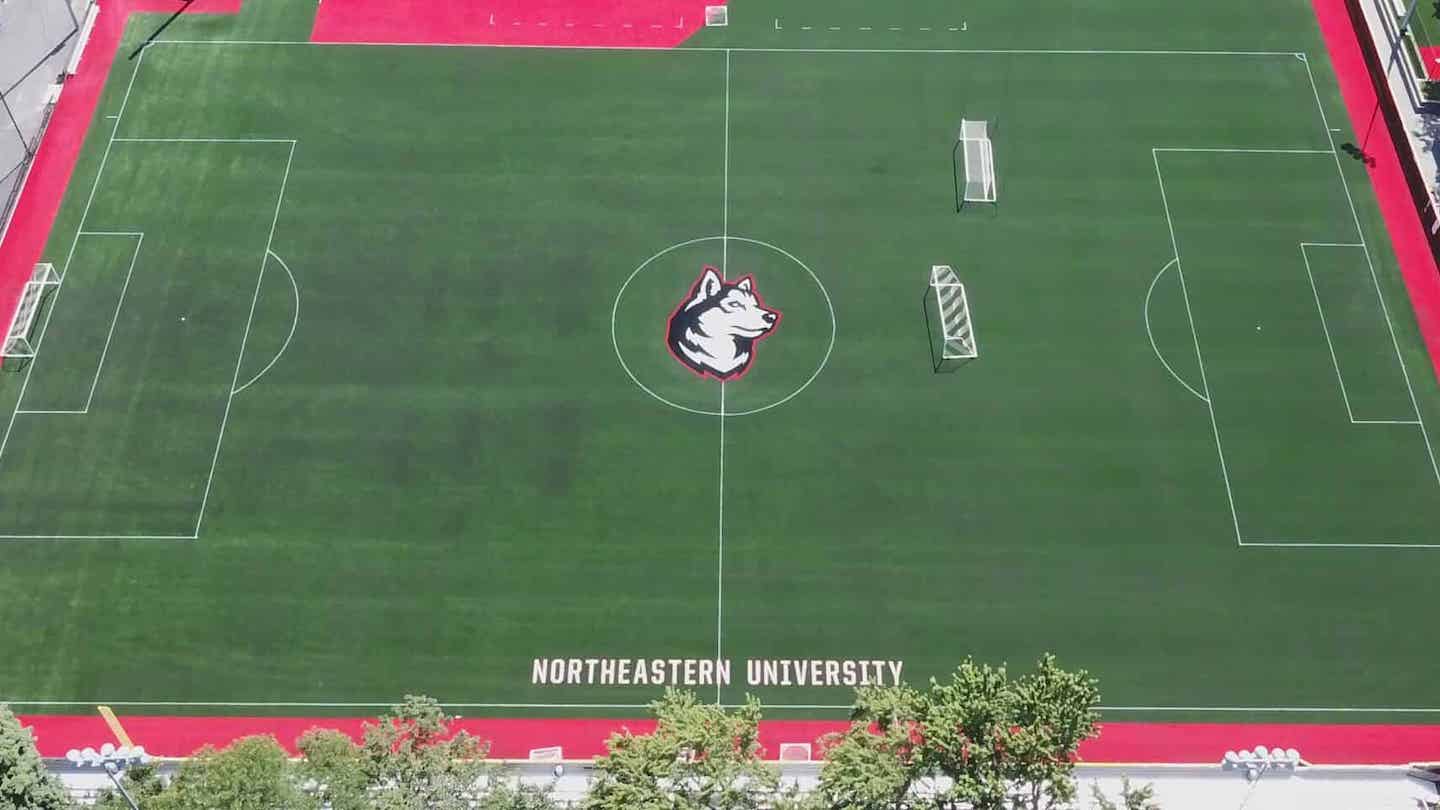 BOSTON – First year Northeastern University men's soccer head coach Rich Weinrebe has set his 2022 roster for the fall season.
The Huskies return 22 players from their 2021 roster and bring in eight incoming freshmen and five transfers as they try to build off a stellar 2021 season.
"We are thrilled to be welcoming this class to Northeastern University this fall," said Weinrebe. "It is a class that consists of experience, versatility, and potential. We believe that this group will mesh seamlessly with the returners and provide the depth we need to compete for a CAA Championship and an NCAA Tournament appearance, while setting the building blocks for continued success into the future."
Read up on the newest Huskies here:
#0 – Nikola Antic – Freshman – Goalkeeper – Waltham, Mass.
Waltham Public High School // The Rivers School // Boston Bolts
Antic backstopped the Red Wings of Rivers School to a 15-3-2 overall record and a 10-1-1 in the Independent School League.
For his efforts, he was named to the ISL All-League Team, and the 2021 ISL Defensive MVP
Was also honored with Massachusetts All-State Honors
Undeclared major… favorite non-soccer activity is fishing
Weinrebe on Antic: "Nik is a local product who comes to Northeastern via the Boston Bolts and the Rivers School. He joins a competitive goalkeeping core and has the right tools, and mentality, to push that group on a daily basis. He has excellent reflexes, is explosive, and possesses the right mindset to have a successful career here at Northeastern. We are looking forward to him bolstering the goalkeeper group this fall."
#4 – Ahriá Simons – Graduate Student – Defense/Midfield – Southampton, Bermuda
The Berkshire School // Dartmouth College
The Ivy League transfer saw 21 appearances for the Big Green ahead of the cancellation of the 2020 season, including 13 starts in his 2019 campaign with one assist.
Was a four-time letterwinner at The Berkshire School in in Sheffield, Massachusetts. He captained the team in his final year and was named NEPSAC Defender of the Year.
Named a 2017 All-American by TopDrawerSoccer and USA Today, along with First-Team All-New England honors.
Weinrebe on Simons: "Ahriá is bringing a wealth of experience to our group coming from Dartmouth College. Injuries have created some challenges for Ahriá in recent seasons, but he is healthy now and ready to impact our team. He possesses high end athleticism, elite 1v1 defending in space, and great leadership on and off the field. Ahriá has several goals he wants to achieve in the near future, and we are happy that he decided Northeastern would be the platform for accomplishing those goals."
#5 – Ole Kjørholt – Graduate Student – Defense – Stavanger, Norway
Saint Svithun // University of Central Arkansas
A four-year letterwinner for the University of Central Arkansas Bears, had 58 appearances with seven goals and three assists.
Helped anchor a backline for the Bears that held opponents to just 19 goals in back-to-back seasons.
Two-time All-Tournament Team member (2019 Missouri Valley, 2020 Sun Belt)
Pursuing his masters degree in Engineering Management.
Weinrebe on Kjørholt: "Ole is a leader in every sense of the word. He was a captain at his previous institution, Central Arkansas, where he played 5000 minutes in his career, while playing in 58 games. He brings experience, a strong soccer IQ, dominance in the air, and an ability on the ball to help us dictate the tempo from the back. He is pursuing his Master's in Engineering Management here, and we are thrilled he decided to join us this fall."
#6 – Sami Baiche – Freshman – Midfield – Stockholm, Sweden
Solna Gymnasium, Brona Gymnasium // LFK Lindigö
Comes to Boston from Sweden, where he played in the fourth tier of Swedish soccer system.
Tallied a goal in the first minute of Lindigö's Svenska Cup competition with Stockholm Inter.
Plans to pursue Environmental Studies at Northeastern.
Weinrebe on Baiche: "Sami comes to us from a high men's level in Sweden, where he has gained experience that will prepare him for the rigors of the college soccer season. His physical ability to cover ground, tackle, and his capacity to play under pressure are things that immediately drew us to him, but his character, demeanor, and desire to be at Northeastern really sealed the deal for us. We expect big things from Sami as he grows within his 4 years here on Huntington Ave and we're looking forward to welcoming him to Boston."
#8 – Davide Romeo – Sophomore – Midfield – Reggio Emilia, Italy
International Experiential School // Florida Atlantic University
Tallied two goals and three assists in 19 appearances his freshman season at FAU.
A 2021 All-Conference USA Rookie Team member.
Named to the Top 100 Freshmen mid-season list by Top Drawer Soccer in 2021.
Gained experience playing in u19 Primavera and Serie D in Italy.
Weinrebe on Romeo: "Davide is a mature, high character individual with a very successful season under his belt at Florida Atlantic University. He's another versatile player who can play several positions within the midfield. Davide's physical presence, soccer IQ, and technical ability will help give the team good balance in a key area of the field. We are excited about his potential during his time in Boston and the impact he'll make both on and off the field."
#11 – Tobias Wangerud – Sophomore – Midfield/Forward – Olso, Norway
Dahlske Videregaaende // University of San Francisco
Tobias played his freshman season at the University of San Francisco, appearing in 10 games, starting nine, with one goal and one assist.
A 2021 All-WCC Rookie Team Member
Spent time in the Norwegian professional soccer system, playing with FK Jerv from 2018-2021.
Enjoys golfing, gaming, and surfing – hopes to go pro in soccer.
Weinrebe on Wangerud: "Tobias is coming to us from Norway via the University of San Francisco where he was very impactful in a competitive West Coast Conference. The first thing when notice when connecting with Tobias was his character, and a desire to be a part of the Northeastern community. He has fantastic size and pace, combined with soft feet which will fit nicely into the style we will be implementing here. He possesses versatility within multiple positions, which we highly value. We are looking forward to Tobias making an impact here in Boston."
#19 – Morris Matthews – Freshman – Midfield – Cambridge, Mass.
New England Revolution Academy
Morris is coming off a MLS Next Cup championship with the New England Revolution this past summer, serving as team captain.
Played for the Revolution Academy from 2018-22.
Interested in a career of making prosthetics for those in medical need.
Weinrebe on Matthews: "Momo is a local product from the New England Revolution Academy who recently won the u19 MLS Next Championship. Momo has a strong understanding of Northeastern and the goals we are trying to reach. He has a strong soccer IQ and understanding of the game, tremendous technical ability to play in tight spaces, and a terrific final ball. We are excited to have such a talented local product joining our group this fall."
#21 Fraser Brown – Freshman – Forward – Wellington, New Zealand
Tawa College, Tawa Intermediate School // Western Suburbs FC
Comes to Northeastern by way of Tawa College and Intermediate School in Wellington, New Zealand.
Saw action with Wainuiomata AFC in the Capital Premiere League, and was the team's top goal scorer in 2020-21, before transferring to Western Suburbs FC.
Plans to study Business Administration and Design.
Weinrebe on Brown: "Fraser is another high character individual that is joining this year's class. Fraser has a fantastic personality and a real passion for the game. He is a striker in every sense of the word. Tall in stature, good back to goal, and gets himself into all the areas which will allow him to score goals for us. He joins an experienced group of attacking players and what he brings will provide tremendous balance within that group."
#23 Edward Rendle – Freshman – Midfield/Forward – Atlanta, Ga.
Westminster High School // Concorde Fire
Played midfield for the Concorde Fire of the ECNL and Westminster School varsity soccer.
Captained the Fire in 2021-22.
Named DA Player of the year in 2017-18, Rookie of the Year in 18-19, and was Team MVP and All-State First Team in 2021-22.
Member of the National Honors Society (2022) and a four-year honor roll member.
Weinrebe on Rendle: "Edward is a versatile player joining us from Georgia. He possesses extremely high character, the will to succeed, and truly embodies what we want in a Husky Men's Soccer player. His skill set allows him to play in multiple areas on the field and we are excited about helping him develop and find his role within the group."
#29 – Lucas Vallejo-Tato – Freshman – Midfield – Madrid, Spain
Boston Bolts
An attacking midfielder of the Boston Bolts from 2017-2022.
Once tallied four goals in a single game
From Madrid, by way of Cambridge, Massachusetts.
Weinrebe on Vallejo-Tato: "Our 3rd player from the Bay State, Lucas is a midfield player coming to us from the Boston Bolts Academy. His ability to connect passes, find the right spaces, and impose himself on the physical side of the game will help strengthen our midfield core. He has shown the ability to play anywhere in the midfield and has the drive to consistently improve. We are looking forward to working with Lucas when he arrives on campus this Fall."
#30 – Matty Gardner – Freshman – Defense– Norwich, Vt.
Hanover H.S. // Kimball Union Academy
Coming off a three-year career at Kimball Union, where in his final season he helped backstop his team to a 12-3-3 overall record.
All NEPSAC Selection in 2021 – Top Prep 11 by New England Soccer Journal (2021)
Appeared in the Northern Ireland Supercup (2016 runner-up)
Junior Class President at Kimball Union.
Weinrebe of Gardner: "Matty is a center back coming to us from Kimball Union Academy, who possesses a true center back's stature and mentality. He is a ball winner, out and out defender, and leader through action. His character jumps off the page, while his desire to come to Northeastern, and the excitement he has to contribute to the program, was extremely clear when getting to know him. We are very happy Matty chose Northeastern and look forward to welcoming him to Boston."
#31 – Fabrizio Cubbedu – Junior – Defense/Midfield – Davie, Fla.
St. Thomas Aquinas // Florida Atlantic University
Another former FAU Owl, Cubbedu joins Northeastern after two seasons in Boca Raton, making 22 appearances.
In eight of 12 games with the Owls, helped his defense hold opponents to one goal or less in 2021, with two shutouts.
Previously played for Inter Miami FC Development Academy in 2019-20, and Weston FC the year prior.
Weinrebe on Cubbedu: "Fabrizio joins our contingent of Floridians here in Boston, coming from Florida Atlantic University where he played in 22 matches during his career there. Fabri is a hard-nosed player, who provides us with another strong option in both the back line and midfield. His toughness and drive will help push the group forward and create the daily competition that we need to reach our goals. We are very excited to welcome him to the Northeastern family."
#32 – Tiger Shinoda – Freshman – Forward/Midfield – Sammamish, Wash.
Skyline High School // Seattle Sounders Academy
Four year member of the Seattle Sounders Academy (MLS Next)
Reached the MLS Next Cup Final in 2021 with the Sounders
Took Skyline Highschool to KingCoBoys 4A League Finals (2022)
Weinrebe on Shinoda: "Tiger joins the Husky Family from across the country, coming from Washington state where he played for the Seattle Sounders Academy. Tiger has great balance, quickness, and technical ability that will fit well in a few different roles within the system. He has shown that versatility and we are excited for him to put that on display upon his arrival in Boston."
The Huskies will also return All-CAA honorees Federico Tellez, Timothy Ennin, and Colby Hegarty, along with All-Rookie Team members Sebastian Restrepo and Andres Torrealba, among the 22 returners. Northeastern went 11-6-2 in the 2021 campaign, 5-2-1 in CAA play, and 5-2-1 in games at Parsons Field. The Huskies claimed the #2 seed in the CAA playoffs, appearing in their first CAA semifinal round since 2014.