No. 1 North Carolina defeats No. 13 Notre Dame to complete perfect regular season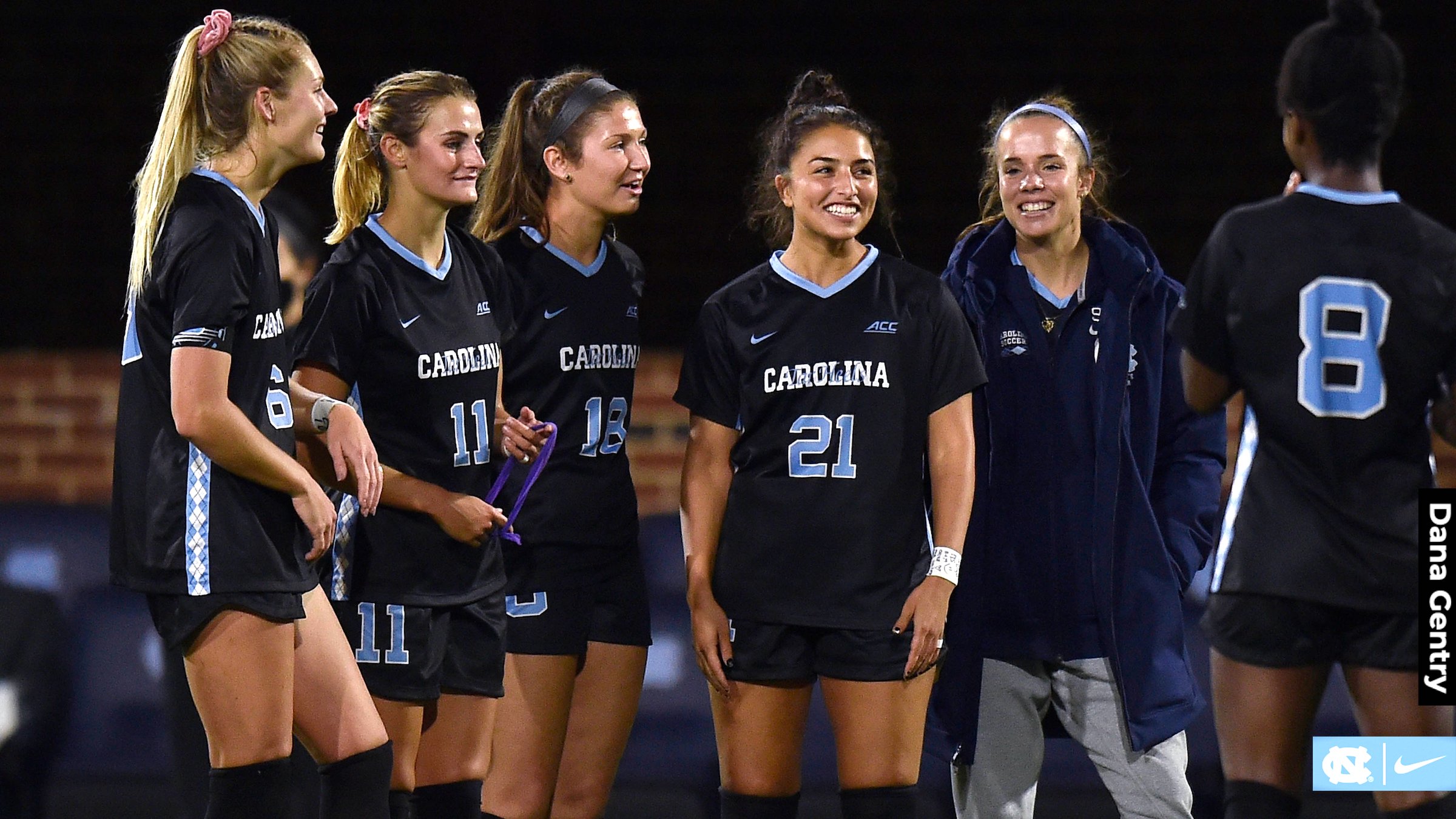 CHAPEL HILL — The top-ranked North Carolina Tar Heels (9-0-0) cemented their 24th regular season ACC Championship with a 2–0 victory over No. 13 Notre Dame (4-4-0) on Sunday night — securing a Senior Night win honoring Taylor Otto, Emily Fox, Natalie Chandler, Miah Araba, and Laura Sparling.
The Tar Heels' victory over the Notre Dame ensured UNC's undefeated regular season for the 17th time in program history.
"The first 30 minutes of the game was the best we have looked all year," said Head Coach Anson Dorrance. "We played with energy and pace, we were unselfish and were very impressive with our variety of attack. Our defense was remarkable — our pressure was where we wanted it to be and I am so proud of our team tonight. After a long trip to Louisville, I was excited to see us come out with enthusiasm from the whistle."
The Fighting Irish started quickly following the initial whistle, taking a shot on goal in the third minute that was saved by Claudia Dickey. Rachel Jones responded with shots in the 11th and 20th minutes that were stopped by the goalkeeper, leaving the match scoreless for much of the first half.
After a back-and-forth start, Hallie Klanke found the back of the net in the 35th minute with an assist from Libby Moore, giving Carolina the 1–0 advantage. The Tar Heels held the slight edge over the Fighting Irish in shots at halftime, 5–4.
The Tar Heels came out with an edge after the break, bombarding the Notre Dame goalkeeper with two shots in the first three minutes. Their attempts were quickly rewarded with a goal off a header from Brianna Pinto in the 50th minute, which was assisted by Isabel Cox. Carolina dominated in shots in the second half, recording eight to the Fighting Irish's one.
Although shortened by the COVID-19 pandemic to just nine matches, 2020 marks the first time North Carolina has gone unbeaten since 2004.
The No. 1 Tar Heels will begin their road to their 23rd ACC Tournament Championship in the ACC Quarterfinals against Virginia Tech on Nov. 10 in Cary. The Tar Heels will represent the second seed in the tournament, losing the goal deferential tiebreaker to Florida State.