NJ Youth Soccer completes State Cup, Presidents Cup, Commissioners Cup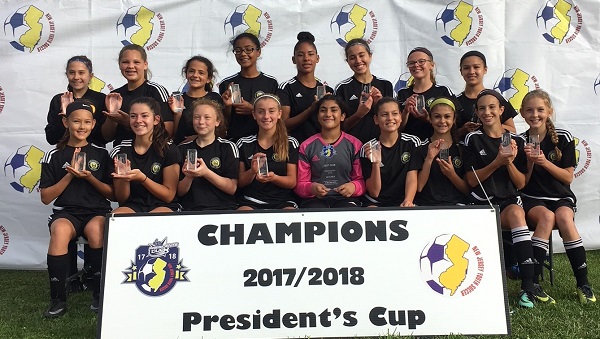 East Windsor, N.J. (Via NJ Youth Soccer) ― New Jersey Youth Soccer crowned U12-U14 National Championship Series, U12-U14 Presidents Cup and U11-U14 Commissioners Cup champions over the weekend, with semifinal and championship matches held in Bordentown, N.J.
"We are so proud of the effort from each and every one of the teams that competed in these state-wide tournaments," said Evelyn Gill, NJYS President.  "New Jersey is one of the most talent rich states in the country and these competitions demonstrated that skill from the girls and boys teams."
National Championship Series Winners:
12U Girls: Cedar Stars Academy 2006 Black

12U Boys: Watchung NJ Elite 2006 Litmanen

13U Girls: SJEB Rush 2005 Academy

13U Boys: Real Jersey FC 2005

14U Girls: SJEB Rush 2004 Academy

14U Boys: PSA Wildcats 2004
NJ Youth Soccer Presidents Cup Champions:
12U Girls: GPS Central 2006 Red

12U Boys: Cherry Hill SC Knights 2006

13U Girls: Watchung STA MUSC 2005

13U Boys: Ocean United Titans Red

14U Girls: Bordentown FC Jaguars 2004

14U Boys: Valencia Soccer Academy 2004 Black
NJ Youth Soccer Commissioners Cup Champions:
11U Girls: NJ Elite 2004 Force

12U Girls: Freehold Storm

12U Boys: Match Fit Montclair United 2006

13U Girls: German American Kickers Banshees

13U Boys: BHYSC Arsenal

14U Girls: Bridgewater Academy
*Select tournament finals were postponed due to weather from 10/29 and are yet to be completed.
Catrina Atanda, a four-time NJYS State Cup champion in her youth and current player with Sky Blue FC, was on-hand to congratulate the finalists and champions:  "It was a great experience to witness these young players compete at such a high level and display such impressive sportsmanship. New Jersey is one of the best soccer states in the country and today was evidence of that."
The US Youth Soccer National Championship Series provides winners from each state the opportunity to showcase their soccer skills against some of the best competition in the nation while emphasizing teamwork, discipline and fair play.
The US Youth Soccer Presidents Cup is a national tournament that is designed to create a high-level competition for teams that are looking to play against teams of similar abilities, where those teams that advance will play for a regional or possibly a national title.
The NJ Youth Soccer Commissioners Cup is a tournament that was introduced in 2017, and hosts travel teams in the U11 to U14 age groups in the fall, with the U15 and U16 age groups participating in the spring/summer. This state-only tournament is designed to create a challenging and enjoyable event for teams that do not play in the National Championship Series or Presidents Cup.
(Photo: 14U Girls Presidents Cup Champions, Bordentown FC Jaguars 2004)