Nineteen candidates embark on U.S. Soccer Academy Directors Course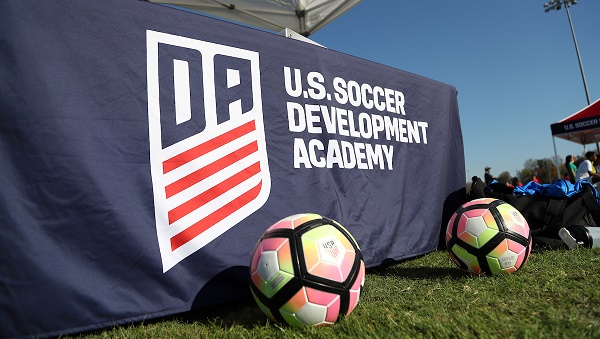 CHICAGO (Via U.S. Soccer) – A roster of 16 U.S. Soccer Development Academy Directors and three U.S. Soccer Technical Advisors recently completed its first of six modules on the path to obtaining the U.S. Soccer Academy Director's License. The course programming is part of U.S. Soccer's overall effort to develop world class players, coaches and referees.
Striving to become the fourth group of candidates to complete U.S. Soccer's highest level of youth level licensing, the group of 19 spent four days with the North Carolina FC Development Academy in Raleigh, N.C., at the beginning of August. Upon going through five additional modules, including international and domestic club visits, the group will aim to complete the course in June 2018.
"The course provides great resources and insights for Academy Directors and Technical Advisors to obtain a more structured and intentional way in which they handle their day-to-day tasks," Girls' Development Academy Director Miriam Hickey said. "Collaboration with Academy Directors from around the country provides a unique opportunity for candidates to broaden their perspective, with the common goal of creating a better soccer environment for our domestic players."
+READ: U.S. U-17 MNT routs Iceland 4-0, places 3rd at Vaclav Jezek Tournament
"Along with the program, content and guest speakers of the course, the collaboration between the Academy Directors and Technical Advisors is invaluable," Boys' Development Academy Director Aloys Wijnker said. "It's fantastic to see each candidate experience that process and I believe it will help create a better environment in and between the clubs of the Development Academy."
The overall objective of the Academy Director's Course is to empower candidates to acquire or further develop the knowledge, skills, attitude and traits necessary to work as an Academy Director at the elite youth level in the United States. During the year-long commitment, candidates learn to evaluate development plans, develop policies, establish club philosophy and vision, improve everyday club environments and create pathways for talented players to accelerate their development.
After their introduction to the course in Raleigh, the 19 candidates now return to their respective clubs to prepare for the upcoming U.S. Soccer Development Academy season which serves as the practical setting to complete their assignments. The cohort's next gathering will be a visit to European clubs AZ Alkmaar (Netherlands) and Club Brugge (Belgium). There, the candidates will observe academy training sessions and learn from academy personnel.
+READ: Inaugural U.S. Soccer Girls' DA season kicks off September 2
2017-2018 Academy Director's Course Participants:
Garrett Biller (U.S. Soccer Technical Advisor)
Phillip Brown (Arsenal FC)
Sean Bushey (Shattuck-St. Mary's)
Andrew Butler (North Carolina Fusion)
Cedric Cattenoy (Chicago Fire)
Cris da Silva (U.S. Soccer Technical Advisor)
Matt Dacey (U.S. Soccer Technical Advisor)
Rick Derella (Oakwood Soccer Club)
Kevin Flanagan (Carolina Rapids)
Wayne Galloway (Cedar Stars Academy)
Steve Gummer (Charlotte Soccer Academy)
Paul Holocher (San Jose Earthquakes)
Hassan Nazari (Dallas Texans)
Jimmy Nordberg (FC Golden State)
Philip Presser (Indiana Fire Academy)
Sey Rosenstrauch (Strikers FC)
Todd Saldana (Los Angeles Football Club)
Jamie Smith (FC United Soccer Club)
Nathan Smith (Vardar)