Nine clubs to join Girls Development Academy for 2018-2019 season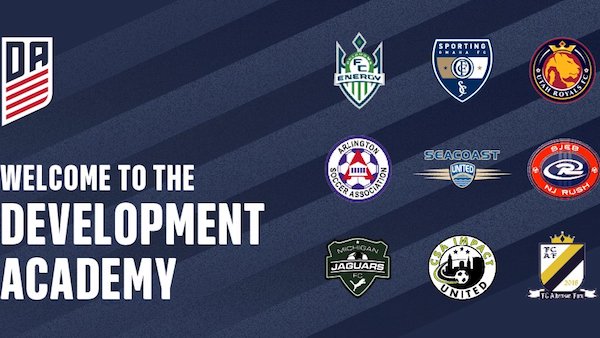 CHICAGO (Via U.S. Soccer) – As part of its ongoing effort to impact everyday environments to develop world-class players, the U.S. Soccer Development Academy has expanded its membership of existing Girls' programs for the 2018-2019 season, welcoming nine new clubs.
NEW CLUBS JOINING THE GIRLS' DEVELOPMENT ACADEMY IN 2018-19 SEASON
| | |
| --- | --- |
| Club | Division |
| Arlington Soccer Association | Atlantic |
| Cleveland Soccer Academy Impact United | Mid-America |
| FC Albertson Fury | Northeast |
| Michigan Jaguars FC | Mid-America |
| Oklahoma Energy FC | Frontier |
| Seacoast United | Northeast |
| SJEB Rush | Atlantic |
| Sporting Omaha | Frontier |
| Utah Royals FC (Phoenix, Ariz.) | Southwest |
"The Development Academy is committed to expanding opportunities and creating a clear pathway for players across the country," U.S. Soccer Development Academy Director Jared Micklos said. "The continued interest of Clubs encouraged us to further consider opportunities to expand the Girls' Academy to make an immediate impact for the 2018-19 season. These additional Clubs demonstrate a commitment to invest in the development of players to reach their highest level. We look forward to supporting these Clubs to create the optimal environment for the players in these communities."
+READ: Group pairings set for U.S. Soccer Girls Development Academy Playoffs
New clubs were selected for admission to the Development Academy's 12th season based on:
Academy leadership and quality of coaching staff
Desire to embrace Development Academy philosophy and core values
Infrastructure and investment of resources
Player production history, player pool depth and geographic location
The nine new clubs being introduced for the second year of Girls' programming will account for 29 additional teams. The 2018-19 Girls' Development Academy season will welcome a total of nine new teams to U-14, eight to U-15, eight to U-16/17 and four to U-18/19.
While the number of divisions remains the same, clubs from two new geographical regions are joining the Girls' Development Academy: Oklahoma Energy FC (Oklahoma City, Ok.) and Sporting Omaha (Omaha, Neb.). The nine new clubs were selected from a sizeable pool of applicants.
With the addition of Utah Royals FC, eight of nine NWSL clubs will be represented in the Academy.
BY THE NUMBERS:
At the start of the 2018-19 Development Academy season:

U-18/19: eligible for players born Jan. 1, 2000 or later
U-16/17: eligible for players born Jan. 1, 2002 or later
U-15: eligible for players born Jan. 1, 2004 or later
U-14: eligible for players born Jan. 1, 2005 or later
U-13: eligible for players born Jan. 1, 2006 or later
U-12: eligible for players born Jan. 1, 2007 or later
In 2015-16, the Development Academy registered 5,916 players across 231 teams from 96 clubs that played in 3,509 games.
The 2016-17 Development Academy season concluded with 10,783 players registered across 461 teams from 150 clubs playing 8,036 games.
The 2017-18 Development Academy season will conclude with over 19,000 players across 896 teams from 197 clubs playing over 13,000 games.
ABOUT THE ACADEMY
Following a comprehensive review of elite player development in the United States and around world, U.S. Soccer created the Development Academy program in 2007 to improve everyday environments with standards focused on individual player development. The Academy launched with two combined age groups for male players, U-15/16 and U-17/18. In 2013, the Academy expanded to include the U-13/14 age group, and in 2016, the Academy launched the U-12 program, which has continued to build a player pathway for elite players and clubs.
In 2017, the Girls' Development Academy was launched with a mission to improve the player development landscape and create a pathway for elite female players. Today, the Academy is comprised of teams across six age groups in the Boys' program: U-12, U-13, U-14, U-15, U-16/17, and U-18/19 and four age groups in the Girls' program: U-13/14, U-15, U-16/17, and U-18/19.
As Boys' Academy alumni have progressed to play at elite amateur and professional levels with MLS paving the way, NWSL clubs have also created Academy teams to develop the same pathway for future female players to progress to the professional level.