New York Red Bulls Academy a factory for national-team defenders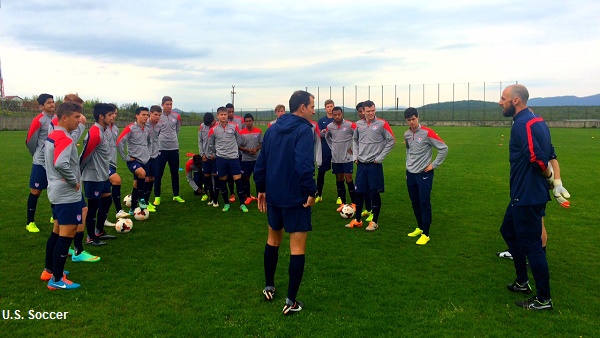 Earlier this month, three Red Bulls Academy players – Marcello Borges, Kyle Duncan and Andrew Lombard – traveled to Carson, California to train with the U.S. U-18 Youth National Team.
For the three young defenders, the call-ups provided an opportunity to train with some of the best players in the country in their age group and the chance to test their skills against other young international talents.
But for the Red Bulls Academy, the three call-ups are yet another feather in the cap of a program that has grown into one of the most renowned in the country. This is the same academy that has also produced central defender and rising star Matt Miazga, defender Connor Lade, and midfielder Sean Davis for the MLS club's senior squad.
So what is it about the Red Bulls Academy that has made it such an incubator of young defensive talent?
"Our number one goal is definitely to get players to the pro team," Red Bulls U17/U18 coach Paul O'Donnell told SoccerWire. "I think the Red Bulls pro team is giving our younger guys – especially the academy homegrown guys – more of an opportunity to play at the next level."
So far this season, Miazga, Lade and Davis have combined for nearly 1700 minutes played with the Red Bulls first team, while Red Bulls II features a roster filled with current and former Red Bulls Academy players.
+READ: Defense leads New York SC U-16 boys to NPL Finals title
This jump from one level of competition to another – whether from the academy to Red Bulls II or Red Bulls II to the first team – is critical to helping a young player make the next leap in his game, says Red Bulls II head coach John Wolyniec.
"Some of these guys, they're the best players on the field and then they come to us and they're not the best players on the field [anymore]," Wolyniec told SoccerWire. "[It's] just providing that opportunity and opening their eyes to say, 'Yeah, you're good, but there's more steps to be taken.'"
One player who has experienced that leap firsthand is Borges, a 17 year-old defender and midfielder.
Borges has been in the Red Bulls Academy system since the U-13 level and recently jumped from the Red Bulls' U-17/U-18 academy team to Red Bulls II. While Borges noted that the technical level of USL play compares to that of his U-18 side, the speed of play is like nothing he had encountered before.
"You have to do things much quicker, much faster, because [USL players] were all more physical, faster, stronger, taller, bigger, everything," Borges told SoccerWire. "So you have to do everything with more readiness, with more anticipation. Overall you had to just think at the next level."
He encountered a similar challenge when he was called in to his first U-18 National Team camp this past April.
+READ: Stock rising for U.S. U-18 MNT keeper, Georgetown commit JT Marcinkowski
"In the beginning it was a little difficult, just to get everyone's playing style and how I play and for them to get familiar with me," Borges said of the camp. "I think after a couple of days I settled in pretty quickly and pretty well too."
According to O'Donnell, the level of competition in the Red Bulls Academy is a big reason why players like Borges, Duncan, and Lombard have been called in to the youth national teams — and also a big reason so many defenders move up from the academy to the professional ranks.
"The training environment is so competitive [because] they're always playing against some of the best attacking players in the country," O'Donnell said. "The environment that they're in on a daily basis is one thing that helps to make them better as well as constantly being pushed, held to a high standard, and held accountable on a daily basis."
Borges knows what it takes to make it as a defender in the Red Bulls system. He first entered the Red Bulls Academy as a central attacking midfielder and only transitioned into defense when he saw how crowded the roster was with other young players just like him. He's now found his niche as an attacking left back.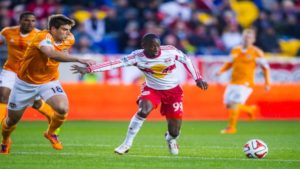 "As a defender, it's easy to move up in the ranks if you're a technical and tactical player, if you understand the game almost from a midfielder's perspective, but playing in the back," Borges explained. "So for defenders, it's almost like you have to play and think as quick as a midfielder, but also be defensive."
Ultimately, the experience of playing with the youth national teams has given these young Red Bulls Academy players yet another opportunity to see firsthand what soccer can be like at the highest levels.
+READ: Revamped Princeton SA U-17 Girls ready for National Cup Finals
"[They see] how quick the game is with limited time and space on the ball and what's expected of them at the next level," said O'Donnell. "We want to expose our players to higher levels where they're constantly pushed on a daily basis, constantly held accountable, and constantly asked to figure out new ways to play quicker and think quicker."
And as a coach, what could be sweeter than seeing your own players recognized as some of the best in the country in their age group?
"It [makes] you feel good about getting guys recognized," he said. "Hopefully these guys will continue at that level and push to get to the next level, push to get into the U-20s, the U-23s, and hopefully the senior team down the road.
"The future is definitely bright for the Red Bulls, with the way they're looking to go with younger players and more homegrown guys, there's definitely a lot of opportunities."