New York City FC wins 2nd straight U-18/19 Boys DA Championship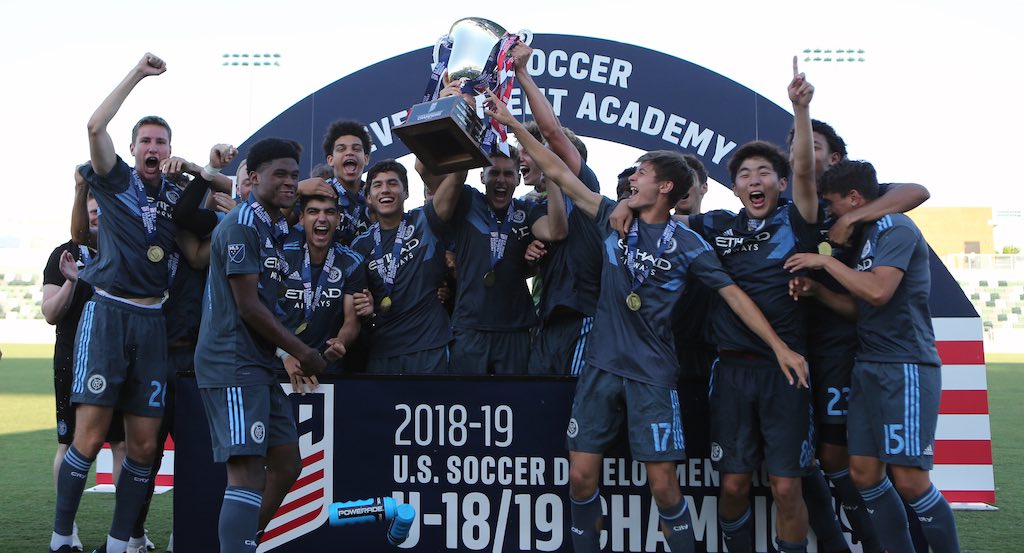 IRVINE, Calif. (Via U.S. Soccer) – New York City FC won its second straight Boys U-18/19 Academy Championship with a 1-0 victory against FC Dallas at Championship Soccer Stadium to cap off the 2019 U.S. Soccer Development Academy season.
In a clash between a rising power and an established youth giant, New York City FC earned back-to-back national titles, keeping Dallas from adding to its record four Boys' Academy Championships.
New York City FC is the first team to repeat as national champion at the Academy's oldest age group (U-18/19), since it was upped from U-17/18 for the 2018 Academy season. Its two titles have come in its first two seasons fielding a team at this age group. The title also represents the first repeat at any level since FC Dallas U-15/16 in 2015 and 2016.
With end-to-end action from the game's opening minutes, Dallas looked to have the game's first prime scoring opportunity in the 10th minute. Off of a free kick from just outside the box, a Dallas player was taken down in the area and the referee pointed to the spot. Gibran Rayo lined up for the kick andhit a hard-rolling shot, but New York goalkeeper Alex Randoguessed correctly and dove to his right, halting the attempt. Rando earned the Golden Glove for his efforts throughout the postseason as the tournament's best 'keeper.
The stop sparked NYCFC, and just five minutes later, Veljko Petkovicbagged the game's opening goal. Jonathan Jimenez found space running up the right wing and sent a cross into the box, where it was too high for Petkovic's initial headed attempt. It fell to Andres Jasson, whose shot was deflected but dropped in range for Petkovic, and he hit the bouncing ball inside the far post to give NYC an early lead.
NYC's trio of forwards: Jasson, Jimenez and Petkovic all returned from the 2018 Championship squad and were lethal throughout the AcademyPlayoffs, scoring 14 of the team's 16 goals in the postseason. Jasson's six goals during the Playoffs earned him the postseason Golden Boot award as the tournament's leading scorer.
Jimenez netted an opportunistic goal in the 63rd that proved to be the game-winner. As the Dallas defense attempted to play back to the 'keeper, Jimenez was relentless with his pressure and dispossessed a defender, took a few dribbles towards goal and hit a rolling shot from a tight angle for NYC's second.
Beni Redzic pulled one back for FC Dallas in stoppage time, but it was too little too late. The Texas powerhouse was aiming for its fifth Boys' Academy title and first since 2016. FCD midfielder Tanner Tessmannwon the Golden Ball as the postseason's best player.