New US Club Soccer Volunteer State League hosts first PDP event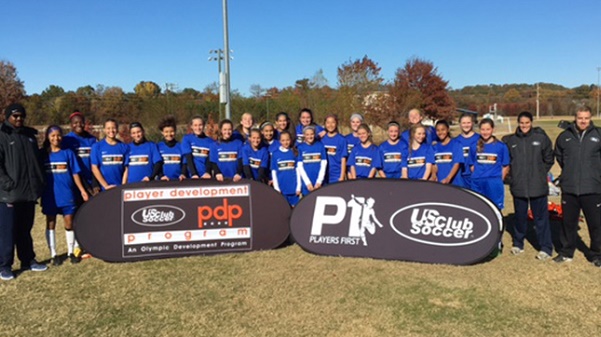 EAST RIDGE, Tenn. (Via US Club Soccer) – The Volunteer State League, a new US Club Soccer-sanctioned league in Tennessee as of this fall, hosted its first-ever Player Development Program (PDP) event, Nov. 20 at Camp Jordan Park in East Ridge, Tenn. – just outside of Chattanooga.
Twenty-five players participated and five clubs were represented: Chattanooga FC, FC Alliance, FC Dallas Tri, Southern Soccer Academy and United Futbol Academy. The PDP targeted 2002-03 girls with top performers receiving invitations to the upcoming id2 Training Camp, Dec. 8-11 in Casa Grande, Ariz.
Staff coaches were: Luidgi Beauzile (Lee University), Kerri Butler (Chattanooga FC) and Chris Hennessey (Lee University).
PDPs are regionally based identification and developmental programs conducted within the id2 Program umbrella. PDPs are focused around the NPL and other top leagues in specific geographic areas.
PDP invitations are based upon objective scouting of elite clubs and leagues, combined with recommendations from top Directors of Coaching. Each PDP includes at least one training session and one internal competition.
Roster 
| | | | | |
| --- | --- | --- | --- | --- |
| First | Last | Position | Club | Birth Year |
| Maria | Andujar | MF | Southern Soccer Academy | 2002 |
| Kailyn | Borngesser | MF | Southern Soccer Academy | 2002 |
| Kendall | Brittingham | D | Southern Soccer Academy | 2002 |
| Reyna | Coston | MF | FC Alliance | 2002 |
| Ana | Diaz | MF | United Futbol Academy | 2002 |
| Sarah | Dieffenderfer | MF | United Futbol Academy | 2002 |
| Ashley | Eulo | MF | Chattanooga FC | 2003 |
| Savannah | Fields | MF | FC Dallas Tri | 2002 |
| Brianna | Fitts | F | FC Alliance | 2002 |
| Kristen | Gasaway | MF | FC Alliance | 2002 |
| MacKenzie | Haba | GK | FC Alliance | 2002 |
| Sydney | Hammond | D | FC Alliance | 2002 |
| Megan | Hong | D | United Futbol Academy | 2002 |
| Taylor | Jones | MF | FC Dallas Tri | 2003 |
| Malia | Kim | MF | FC Alliance | 2003 |
| Kiana | Lane | D | FC Alliance | 2002 |
| Laura | Lavinder | MF | FC Dallas Tri | 2002 |
| Sarah | Luna | MF | FC Dallas Tri | 2002 |
| Gracen | Poss | GK | Chattanooga FC | 2003 |
| Jaelyne | Rivera | F | Southern Soccer Academy | 2003 |
| Claire | Rountree | MF | FC Dallas Tri | 2003 |
| Sara | Schultz | F | Southern Soccer Academy | 2002 |
| Kendall | Wade | D | FC Alliance | 2003 |
| Ava | Woityra | D | Southern Soccer Academy | 2002 |
| Sophia | Youngman | F | FC Dallas Tri | 2003 |