New kid on the Development Academy block: Who and what is Baltimore Armour?
WASHINGTON – It's not often that an official press release from the U.S. Soccer Federation sets tongues wagging among thousands of soccer coaches and parents across the continent. But such was the case on Monday afternoon as the federation dropped a bit of a bombshell in announcing the four clubs who will join the Development Academy next season.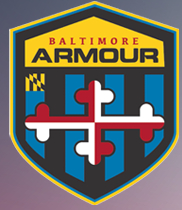 Some of next year's newcomers to the DA, the top youth competition for boys in the United States and Canada, were already known well before the federation officially announced the 2015-16 entries.
+READ: U.S. Soccer Development Academy admits four new clubs from California, Florida, Maryland, NYC
Last month MLS expansion club New York City FC revealed that their incipient academy had been admitted to the DA starting at the U-13/14 level. SI.com's Liviu Bird reported in December that ambitious USL club Sacramento Republic had purchased DA rights from nearby club San Juan SC. And South Florida's Boca United are a well-established player on the national youth scene.
But a new name on the DA's list puzzled many: Baltimore Armour.
Armour is a new entity created out of four Baltimore-area clubs: the Soccer Association of Columbia in the city's western suburbs, incumbent DA club Baltimore Bays Chelsea, Pipeline SC – a project led by former D.C. United teen phenom and U.S. international Santino Quaranta – and Pro Soccer Academy, whose main figure, coach and former indoor soccer star Lee Tschantret, had already joined Pipeline as technical director last month.
"This is the place for the elite player," said Quaranta, who also coaches the Baltimore Bohemians PDL squad, in a press release. "Our club teams will continue to prosper and compete at the top level through EDP, State Cups, and major national tournaments but this will take those elite few players and put them in an environment very similar to what I grew up in with the U.S. national team, and fortunately they can do this in their backyard whereas I had to move to Florida [for the Bradenton Residency program] at 14 years of age. It is very exciting."
It appears that it will be taking over the Bays' spot in the Atlantic Division, and also phasing out SAC's U-13/14-only membership in the DA. All four clubs are to remain independent entities in terms of their non-DA programming. While not explicitly stated, the new venture's name, and the logo which is circulating with its tag, strongly suggest that Baltimore-based apparel manufacturer UnderArmour will be providing gear and/or financial support.
+READ: Pipeline SC signs Lee Tschantret as Technical Director
Intriguingly, U.S. Soccer's release (which was reposted on the Bays' website) alludes to all four programs, while the press release from Pipeline lists only that club and SAC.
"Baltimore Armour will be run and operated by Pipeline President Sean Rush, Pipeline Vice President Santino Quaranta, SAC's COO Craig Blackburn, and SAC's Technical Director John Ellinger," said the Pipeline release. "Baltimore Armour will work locally with existing clubs on player recruitment."
As of Tuesday morning, there was no mention of the merger on SAC's site. And the new project's stated home page, www.baltimorearmour.com, was not operational at that point, with the URL redirecting to a domain placeholder site. Ellinger – a former pro and youth national team coach with rich connections throughout the federation – did not immediately respond to calls and emails seeking further information, while Rush referred questions to Ellinger.
All that might just be a matter of logistics and coordination. But it also hints at the multi-layered politics of a local soccer scene which Baltimore Armour will seek to unite in order to compete more effectively at the national level.
As recently as two years ago, Bays Chelsea were one of the top DA competitors in the country, routinely topping the Atlantic Division table, competing at championship events and sending players on to youth national teams, major college programs and occasionally to the professional level.
+READ: Baltimore club scene grows as group leaves Bays Chelsea to form Celtic SC
But the club saw a sudden exodus of talent after the federation's mandate barring DA players (with a scant few exceptions granted on an individual basis) from competing in high school soccer took effect in February 2012. That's because high school competition in Baltimore is highly valued and generally quite strong, dominated by scholarship-granting private-school powerhouses like McDonogh, where former Bays coach Steve Nichols (now the head men's soccer coach at Loyola University) built a dominant program with blue-chip talent that once simultaneously played for Bays Chelsea's DA teams.
When Nichols had to choose between school and DA club, he selected the former, and left Bays Chelsea to start a new, non-DA program called Baltimore Celtic. Many of his top players followed, and his old club has by and large been rooted to the bottom of the DA standings ever since.
This season, Bays Chelsea's U-17/18s are 0-15-1 in DA play, their U-15/16s are 2-14-1 and while the U-13/14 division technically does not track standings, the Bays' side have won just 1 of their 12 games to date, and have been on the short end of a few scorelines like 10-0, 8-0, 8-1 and 11-0.
Baltimore, and Maryland in general, have been soccer hotbeds for more than a century, and the federation is clearly keen to maintain a strong presence in the talent-rich region. But the deep identification with high school competition is just one example of the youth scene's quirks, many of which are almost tribal in nature and thus easily confounding to outsiders.
+READ: Santino Quaranta named PDL Baltimore Bohemians head coach
In this case, U.S. Soccer seems to have taken note of relatively successful club mergers like the ones in Atlanta (Georgia United), Richmond, Virginia (Richmond United) and Maryland's D.C. suburbs (Bethesda-Olney Soccer Academy), and orchestrated – or at least strongly suggested – a similar solution in Baltimore.
"Each of these new [DA member] clubs has shown that they are invested in fostering positive and collaborative relationships with the other youth clubs in their area," USSF director of scouting and de facto DA chief Tony Lepore said pointedly in the federation's press release, "the types of cooperation that represent the collective effort needed to improve the game at all levels in the U.S."
Will it work in Charm City? Stay tuned.