New Jersey Youth Soccer Fall State Cups final matchups set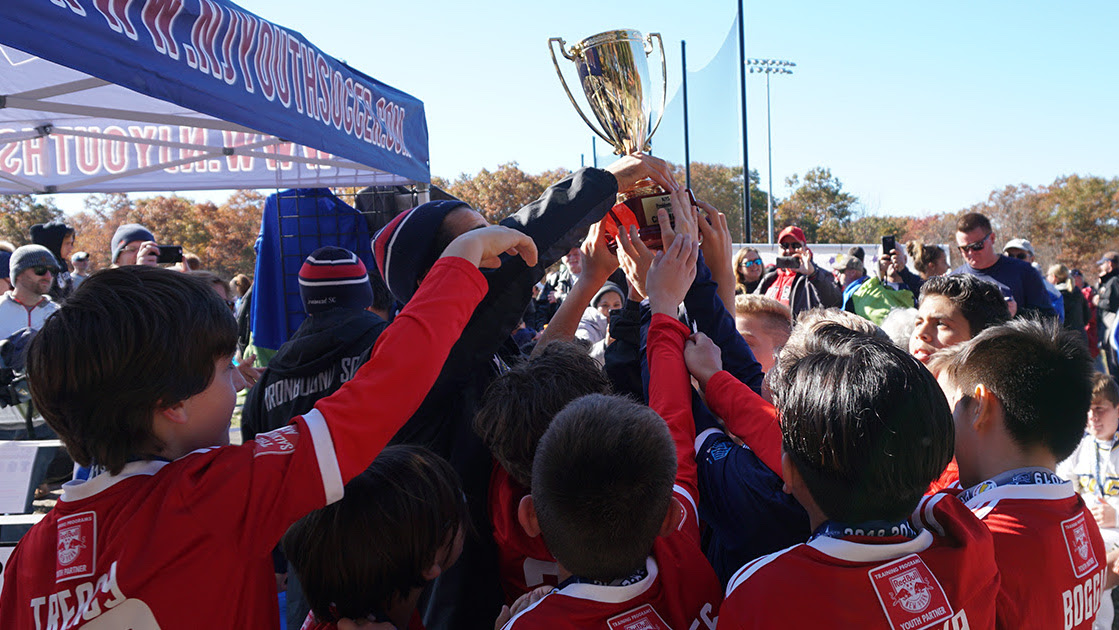 East Windsor, N.J. (Oct. 29, 2019) – The semifinals of the 2019 NJYS Fall State Cups concluded this past weekend, with final matches now set to take place on Sunday. Champions will officially be crowned in the 11U-14U age divisions for the National Championship Series, Presidents Cup and Commissioners Cup.
NJYS National Championship Series Finals:
11U Girls: Real Jersey FC 2009 vs Cedar Stars Academy Monmouth 2009 Green
11U Boys: Vistula FC Panthers vs Cedar Stars Academy Monmouth 2009 Green
12U Girls: STA-MUSC 2008 USYS vs Torpedoes SC Red Saxton
12U Boys: CSA Monmouth 2008 Green vs NJ Premier 2008 Boys
13U Girls: STA-MUSC 2007 USYS vs Torpedoes
13U Boys: NJ Premier FC 2007 vs SC Vistula Garfield Lewandowski
14U Girls: NJ Premier FC 2006 vs Real Jersey FC 2006
14U Boys: Washington United Elite 06 vs Real Jersey FC 2006
NJYS Presidents Cup Finals:
11U Girls: Jersey Shore Boca Jr FC O'Hara vs Roxbury MSC Elite Ruckus
11U Boys: Greater Flemington SC CAPS PSG 09 vs STA-MUSC 2009 Blue
12U Girls: B'Elite Player Development SC Clash vs Rancocas Valley SC Dragons 2008
12U Boys: Cinnaminson SC Union vs Princeton FC 2008 Porto
13U Girls: Chatham United SA 07 Breakers vs GPS NJ South 07
13U Boys: WSA UCFC Sampdoria vs Deptford Premier FC 07
14U Girls: Rancocas Valley SC Crush vs TSF Academy 2006
14U Boys: STA MUSC 2006 USYS vs Union SC Dragons Blue
NJYS Commissioners Cup Finals:
11U Girls: Old Bridge Soccer Strikers vs Deptford Premier FC 09
11U Boys: Torpedoes Red vs Elite Plainfield AC Strong
12U Girls: Deptford Premier FC 08 vs TSF Academy 2008
12U Boys: SFL United Black vs Stateline SC 2008 Eagles
13U Girls: Stafford SC Galaxy 07 vs Moorestown SC Fury 2007
13U Boys: Ironbound SC 07 White-Jaguars vs. Freehold SL Phantoms
14U Girls: Summit SC Premier 06 vs TBAA Premier 2006 Thunder
14U Boys: Union City United 14 vs BSM Elite 06 Cosmos
The U.S. Youth Soccer National Championship Series is the country's most prestigious national youth soccer tournament, providing winners from each state the opportunity to showcase their soccer skills against the best competition in the nation while emphasizing teamwork, discipline and fair play.
The Presidents Cup is a national tournament that is designed to create a high-level competition for teams that are looking to play against teams of similar abilities, where those teams that advance will play for a regional or possibly a national title.
The Commissioners Cup is a tournament that was successfully introduced in 2018. The competition hosts travel teams in the 11U to 14U age groups in the fall, with the 15U through 18U/19U age groups participating in the spring/summer. This state-only tournament is designed to create a challenging and enjoyable event for teams that do not play in the National Championship Series or Presidents Cup.