New Jersey Youth Soccer crowns Fall 2018 State Cup champions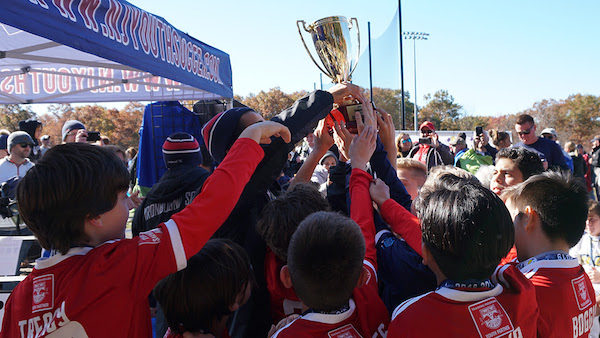 East Windsor, N.J. (Via NJ Youth Soccer) – New Jersey Youth Soccer crowned its 11U-14U National Championship Series, Presidents Cup and Commissioners Cup champions over the weekend with a full slate of tournament finals taking place.
"We are so proud of the effort from each and every one of the teams that competed in these state-wide tournaments," said Evelyn Gill, NJ Youth Soccer President. "New Jersey is one of the most talent rich states in the country, and these competitions demonstrated a very high skill-level from both the girls and boys teams that participated."
NJYS National Championship Series Champions:
11U Boys: NY Red Bulls Pre-Academy
11U Girls: Torpedo SC Red
12U Boys: Ironbound Red Raiders
12U Girls: Watchung Hills Elite G Force
13U Boys: Watchung Hills Elite Litamen
13U Girls: Real Jersey FC
14U Boys: STA-MUSC
14U Girls: NJ Stallions Fire EDP-NL
NJYS Presidents Cup Champions:
11U Boys: Cedar Stars Academy Monmouth White
11U Girls: STA-MUSC
12U Boys: Ironbound Blue-Alliance
12U Girls: GPS NJ South
13U Boys: Bridgewater Academy
13U Girls: FC Sportika
14U Boys: GPS NJ Clearview
14U Girls: STA-MUSC
NJYS Commissioners Cup Champions:
11U Boys: PDA Neymar
11U Girls: PDA Legacy White
12U Boys: Jersey City Strikers
12U Girls: Perth Amboy Lady Warriors
13U Boys: Summit SC Summit City
13U Girls: SPF Rampage
14U Boys: Lawrence Hamnett SA Jaguars
14U Girls: GAK Banshees
The US Youth Soccer National Championship Series is among the country's most prestigious national youth soccer tournaments, providing winners from each state the opportunity to showcase their soccer skills against the best competition in the nation while emphasizing teamwork, discipline and fair play.
The Presidents Cup is a national tournament that is designed to create a high-level competition for teams that are looking to play against teams of similar abilities, where those teams that advance will play for a regional or possibly a national title.
The Commissioners Cup is a tournament that was successfully introduced in 2017 and hosts travel teams in the 11U to 14U age groups in the fall, with the 15U and 17U age groups participating in the spring/summer. This state-only tournament is designed to create a challenging and enjoyable event for teams that do not play in the National Championship Series or Presidents Cup.