Capital Fall Classic champs crowned at 2nd Annual Rec Weekend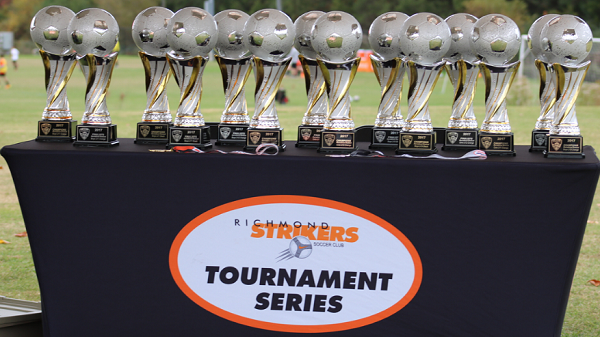 Rec Weekend Results
@RSKTournaments: Twitter
(Via Richmond Strikers) – The 2018 Capital Fall Classic kicked off with the 2nd annual edition of the Recreational Weekend as over 100 teams competed for division titles at the Richmond Strikers Tournament Series event.
In its second year, the Capital Fall Classic Recreational Weekend provided teams from the Richmond Strikers and Chesterfield Strikers, along with other clubs from throughout the region, an additional chance play in front of friends and family in a competitive end-of-season tournament setting.
This year's edition saw 109 total teams participate. The boys division included 55 teams from the U10-U16 and U19 age groups. The girls division included 54 teams from the U10-U14 and U19 age groups. This year's Capital Fall Classic took place at Glover Park and Striker Park, which are two of the top natural grass and artificial turf fields in the country.
The Capital Fall Classic will continue next weekend (November 9-11) with the girls sides and then finish the following weekend with the boys teams.
See below for a list of the top performers in this year's Recreational Weekend:
Boys
U-10
Premier Orange
Champions: Strikers Cowboys
Finalists: Strikers Dolphins
Premier Black
Champions: Smithfield Arsenal
Finalists: RSK Chesterfield Powers
U-11
Premier Orange
Champions: Strikers Hokies
Finalists: Strikers Spiders
Premier Black
Champions: Strikers Tarheels
Second Place: Strikers Blue Devils
U-12
Premier Orange
Champions: Strikers Archers
Finalists: Strikers Jaguars
Premier Black
Champions: Strikers Bravehears
Finalists: Strikers Panthers
U-14
Premier Orange
Champions: Strikers Newcastle
FInalists: RSK Chesterfield Maldonado
Premier Black
Champions: Strikers Sounders
Finalists: Strikers Chelsea
Premier White
Champions: Strikers Liverpool
Second Place: RSK Chesterfield Finch
U-16
Premier Orange
Champions: Strikers Liverpool
Finalists: Strikers Valencia
U-19
High School Premier Orange
Champions: RSK Chesterfield Rios
Finalists: Strikers Brasil
High School Premier Black
Champions: Strikers Japan
Finalists: Tri-Cities United U19
Girls
U-10
Premier Orange
Champions: Strikers Firebirds
Finalists: Strikers Thunderbirds
U-11
Premier Orange
Champions: Strikers Cyclones
FInalists: Strikers Diamonds
U-12
Premier Orange
Champions: Strikers Pumas
Finalists: Strikers Hurricanes
U-14
Premier Orange
Champions: Strikers Sweden
Finalists: Strikers Germany
Premier Black
Champions: RSK Chesterfield England
Finalists: Strikers England
U-19
High School Premier Orange
Champions: Strikers Breakers
Finalists: Strikers Redbacks
High School Premier Black
Champions: CHSA Tri Cities United
Finalists: Strikers Volcanoes