New Jersey youth clubs FC Sportika, PSA Wildcats announce merger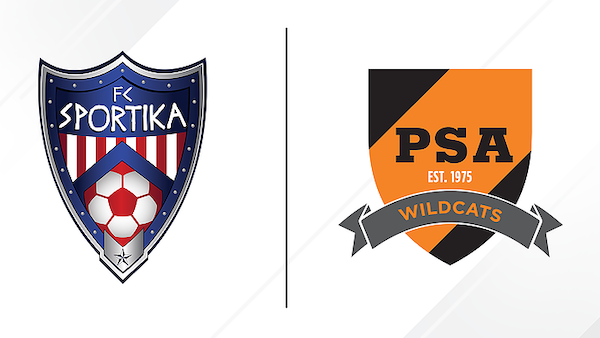 (Via Princeton SA / FC Sportika) – Princeton Soccer Association and FC Sportika have announced the official merger of FC Sportika into the PSA Wildcats regional program for the 2018/19 season.
FC Sportika came into existence in the fall season of 2014 with five teams and about sixty-five or seventy players. Four years later, If we fast forward to the present day the club now has twenty-five teams and near three hundred and fifty players, a quite remarkable period of growth. FC Sportika has consistently produced good players including a number of players who have moved on to the professional environment with the New York Red Bulls & Philadelphia Union MLS franchises and their Academies.
​
PSA Wildcats, based in Monmouth and Ocean counties, has a long-standing tradition of developing players and teams that are recognized on State, Regional and National levels. Many former PSA Wildcats (Formerly NJ Wildcats) players can be seen playing in top colleges around the country and in the Professional NWSL.
+READ: EDP Soccer approved for outside competition for USSDA teams
Combining the programs from FC Sportika and PSA Wildcats further enhances the club and build upon the significantly talented teams already playing between them. PSA Wildcats will utilize the resources of both clubs throughout Middlesex, Monmouth and Ocean counties of NJ with the directors, coaches and facilities of both programs coming together.
The merging of the two programs will see teams created at each age group for boys and girls U7 through U19. There will be separate U7 through U11 teams individually based out of Long Branch and Manalapan. From the U12 and above age groups, the program's players will combine and create appropriate level teams using all of the PSA Wildcats facilities, depending on the logistics of each team formation.
​
While the club merger of FC Sportika is with the PSA Wildcats region, players will have the option to tryout and join teams based out of the PSA Princeton teams in Mercer County.
"Everyone involved with PSA is excited by the addition of the FC Sportika players families and coaches. We are continually looking to provide the best possible development environment for our members. Through the addition to the FC Sportika players a platform will be available to enable each and every player in the region an appropriate level of competitive play. Wayne and the coaching staff at FC Sportika have carried out a phenomenal job with their program over the past 5 years and we are excited to have share their knowledge and experience as a part of our fantastic coaching staff. Our collaborative work for the 2019/20 season is well under way and we are all excited for the future of our players."
Wayne Price, FC Sportika Academy Director commented: "As the Founding Member and Academy Director of the club, I couldn't be more delighted than to get this merger over the line and look forward to an extremely bright and exciting new era for our soccer families with PSA . I couldn't be more proud of what we have achieved in the last 5 years and this announcement secures an even brighter future for all of our players. We will now be able to expose our players to more high level coaches and facilities, better competition for players of all abilities as well as having immediate access to an already active and proven pathway for those players who which to pursue a collegiate career in soccer. I look forward to working alongside our new colleagues at PSA for many years to come."
FC Sportika Director of Coaching, Dan Lawson stated: "I am excited to build upon the strong foundations we have set in the Manalapan and Monmouth County area in terms of developing exciting young soccer players and high level teams. By becoming a part of the PSA structure, our families will have opportunities for an exclusive higher level of play (NPL, USYS National League etc) within an environment a proven and rich history in producing players who go on to play at a collegiate and indeed professional level, something which I have long strived for our players over the years. Most exciting for me however, is the development model our players and coaches will be following through the thoroughly detailed PSA Formula and Curriculum which is the most in depth and comprehensive I have seen in 10 years coaching youth soccer. "