NCAA Women's Soccer Tournament quarterfinal matchups set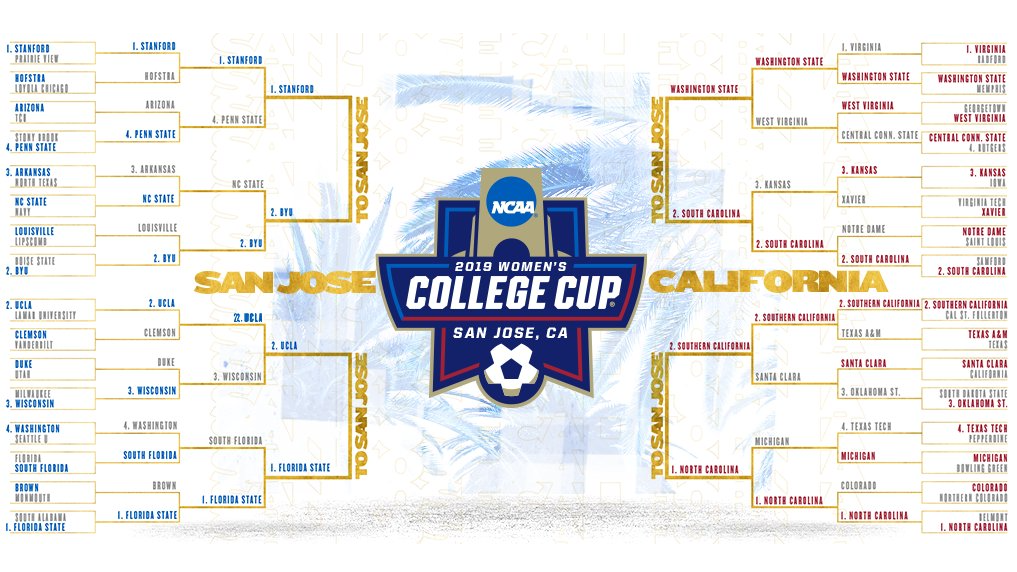 The quarterfinal matchups of the 2019 NCAA Division I Women's Soccer Tournament have been determined, following the conclusion of the third round this past weekend.
Of the eight remaining teams, three are No. 1 seeds and four are No. 2 seeds on their respective sides of the bracket. Washington State is the only unseeded team still standing for the quarterfinals, after they knocked out West Virginia with a 3-0 victory in the third round.
The No. 1 seeds that have advanced to the quarterfinals are: North Carolina, Florida State and Stanford.
All four No. 2 seeds are still dancing after their third round victories: BYU, South Carolina, Southern California (USC) and UCLA.
See below for a look at all the scores from the third round, along with a look ahead to the quarterfinal matchups.
2019 NCAA DI Women's Soccer Tournament: Scores and Schedule
THIRD ROUND (Saturday, Nov. 23)
THIRD ROUND (Sunday, Nov. 24)
QUARTERFINALS (Friday, Nov. 29 or Saturday Nov. 30)
SEMIFINALS (Friday, Dec. 6)
7 p.m. or 9:30 p.m. (at Avaya Stadium in San Jose, California)
CHAMPIONSHIP (Sunday, Dec. 8)
8:30 p.m. (at Avaya Stadium in San Jose, California)
NCAA DI Women's Soccer Tournament Bracket – Quarterfinals Update:
Click the image below to enlarge to Full Screen: