Navy Men's Soccer incoming recruiting class for 2015 season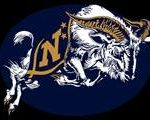 ANNAPOLIS, Md. (vis Navy) – Navy men's soccer head coach Dave Brandt has announced the program's eight-member incoming Class of 2019. The incoming class went through induction ceremonies on July 1 and is currently partaking in plebe summer activities at the Naval Academy.
"We are very pleased with our freshman class," said Brandt. "It is a group who fits us very well on and off the field and I think will be a very instrumental class for four years."
The eight-member class features seven field players and one goalkeeper. Six of the freshmen played in the U.S. Soccer Development Academy, while the other two players won state championships with their high school teams. The eight Midshipmen hail from eight different states (Florida, Georgia, Maryland, Missouri, New York, Oregon, South Carolina and Texas).
Navy returns nine starters from last year's squad that went 11-4-5 overall and 6-1-2 in the Patriot League. Navy opens the 2015 season at West Virginia on August 28 and at Penn State on August 30.
#4 Matt McCraith, 5-11, 170, Midfielder, Clarence, N.Y. / Canisius
A 2015 graduate of Canisius High School in Buffalo, N.Y. … played club soccer for the Revolution Empire Buffalo in the U.S. Soccer Development Academy … played for NYSW in the Olympic Development Program … played one year at Canisius before switching full time to the Development Academy … helped club team to a NYSW State Cup Championship in 2010 and runner-up showings in 2011 and 2012 … served as a co-captain for Empire Buffalo and was a captain at the ODP level … led Empire Buffalo in assists during the 2013-14 and the 2014-15 seasons … earned all-region honors three times at the ODP level … rated as a four-star recruit by TopDrawerSoccer.com and as high as the fifth-best prospect from New York in his class … member of the National Honor Society … received the President Award for Educational Achievement … did a service trip to the Dominican Republic … son of Brian and Lisa McCraith.
Brandt on McCraith: "Matt is both versatile positionally and very quick; with a very high work rate as well. We liked Matt from the moment we first saw him play for his Empire Revolution Academy team. He is a tremendous fit in every way to our style of play and someone who could turn into a very potent attacker, despite his ability and experience on the defensive side of the ball as well."
#15 Elijah Kilmer, 6-0, 175, Midfielder, Bend, Ore. / Sunset
Graduated from Sunset High School in Beaverton, Ore. in 2015 … played club soccer for the Portland Timbers Academy in the U.S. Soccer Development Academy … lived on his own at the age of 16, 3.5 hours from home, to play for the Timbers … also played club soccer for the Oregon Rush … played one year of soccer at Bend High School … had a run of league championships with his club team … earned all-league honors in 2012 … two-time team captain … born in Maui, Hawai'i … son of Barry and Laura Kilmer.
Brandt on Kilmer: "We were in retrospect lucky that an injury during Elijah's junior year of high school caused some others to back off of him and keep him available for us to find as a senior. Elijah was captain of the Portland Timbers top youth team and is a highly experienced and competitive midfield general who we expect to impact immediately."
#16 Eli Medder, 5-10, 180, Midfielder, Cutler Bay, Fla. / Westminster Christian
Earned four letters at Westminster Christian in Miami, Fla., where he graduated in 2015 … played club soccer for SAA Real Madrid and U.S. Soccer Development Academy teams Boca United and Kendall Coalition Academy … two-time regional champion … four-time all-Miami Dade County selection … two-time team captain … three-time Team MVP … played on Florida ODP team … also was a kicker on his high school football team for two years … won two regional titles with football team … member of the National Honor Society … member of the leadership council and the Thespian Honor Society … sister, Katie, played volleyball and softball at Palm Beach Atlantic University … son of David and Sherry Medder.
Brandt on Medder: "Eli has been in our opinion one of the very few top players in the state of Florida the past two years and we're thrilled to have him. He is a natural holding midfielder with a great combination of size and quickness, and reads the game on both sides of the ball extremely well."
#20 Ericson Bean, 6-2, 200, Defender, Johns Creek, Ga. / Centennial
A 2015 graduate of Centennial High School … played club soccer for Concorde Fire in the U.S. Soccer Development Academy … served as a team captain for his club team … helped the Concorde Fire to fifth-place finishes two years in a row in the Southeast Academy Division … played for his high school team in his freshman and sophomore seasons before switching to club full time … helped his high school team win regional titles in 2012 and 2013 … his team was the state runner-up in 2012 … earned first-team all-region honors as a sophomore … was a kicker on his high school football team as a freshman … member of the National Honor Society … member of the Fellowship of Christian Athletes … president of CORE, a student-run club for camping and hiking … older brother, Cameron, plays soccer at Amherst College … cousin, Peyton Ericson, plays soccer at South Carolina … son of John and Nina Bean.
Brandt on Bean: "Ericson is a big, left-footed central defender from Atlanta who has been a mainstay on his Concorde Fire Academy teams. He is excellent in the air and a natural leader with great innate competitiveness and tackling ability as well."
#21 Mason Gilpin, 5-9, 155, Midfielder, Greenville, S.C. / J.L. Mann
Earned four letters at J.L. Mann High School, where he graduated in 2015 … helped lead J.L. Mann to South Carolina AAAA State Championships in 2015 and 2012 … led team to a 22-2 record as a senior as a co-captain … J.L. Mann was the state runner-up in 2014 and had a 27-2 record … earned all-state honors in 2014 and was a two-time all-region honoree … earned the team's leadership award in 2015 … high school teammate of Aubrey Jones, a Navy soccer teammate and member of the Class of 2018 … Gilpin played club soccer for Carolina Elite Soccer Academy (CESA) … won a South Carolina Club U-18 State Championship in 2014 … selected to the 2015 Clash of Carolinas all-star game … Eagle Scout … Junior Class President … member of the National Honor Society … served in Mann Nation and the Inner High Council … hobbies include wakeboarding and scuba diving … son of Dr. Lewis and Julia Gilpin … father is a 1982 graduate of the U.S. Naval Academy … brother, Lewis, Jr., is in the Class of 2018 at the Naval Academy.
Brandt on Gilpin: "Mason is a high school teammate of current Navy sophomore Aubrey Jones, and both come out of the CESA club system in South Carolina. Mason, like Matt McCraith, is both versatile positionally and possesses excellent quickness and athleticism and a tireless work rate on both sides of the ball."
#23 Daniel Kwon, 5-11, 160, Forward, Severna Park, Md. / Severna Park
Earned four letters at Severna Park High School, where he graduated in 2015 … led his team to the Maryland 4A State Championship in 2013, scoring the game-winning goal in a 1-0 victory in the title game … team was 17-0-2 in 2013 and Kwon scored 16 goals … named to the all-state first team four straight years … named the Capital Gazette Player of the Year in 2012 and 2013 … set school records with his career totals of 58 goals, 25 assists and 141 points … also played club soccer for the Severna Park Fever … three-time state champion with his club team … born in Cheonan, South Korea … son of Dak Yi and Young Kwon.
Brandt on Kwon: "Daniel is an extremely technical, extremely smart forward. His anticipation and movement off the ball are both at a very high level and he has a killer instinct around the goal. Daniel is a top class forward in every area."
#27 TJ Powers, 6-1, 170, Defender, Frisco, Texas / Prince of Peace
A 2014 graduate of Prince of Peace Christian in Carrollton, Texas … attended the Mercersburg Academy prep school during the 2014-15 academic year and was a member of the soccer team … played club soccer for Solar Chelsea in the U.S. Soccer Development Academy … co-captain at Mercersburg Academy … led Mercersburg to the Mid-Atlantic Prep League Championship and an 18-1-1 overall record … earned first-team All-Mid-Atlantic honors at Mercersburg … lettered twice in soccer at Prince of Peace … led Prince of Peace to a pair of Texas Association of Private and Parochial Schools (TAPPS) State Championships in 2011 and 2012 … named to the TAPPS 3A State Championship All-Tournament Team in 2011 … earned second-team all-state and first-team all-district honors in 2011 … won a Region III title with Solar Chelsea in 2011 … played club soccer with Navy men's soccer teammate and Class of 2018 member Brock Dudley … member of the Young Men's Service League and Conservative Club … received the Eagle Spirit Award … was also recruited by Denver and Air Force … sister, Carlyn, was an All-American soccer player at Hardin Simmons University and won a Division III national championship in 2010 … son of Tony and Carla Powers.
Brandt on Powers: "TJ is a long time club teammate of Brock Dudley's and both are high level players whose experience playing for an extremely competitive Academy club will continue to show dividends. TJ is a natural wing-back, and an excellent passer and 1v1 defender."
#31 Conor Robinson, 6-2, 185, Goalkeeper, Weldon Spring, Mo. / Christian Brothers
A 2015 graduate of Christian Brothers College High School in St. Louis, Mo. … lettered one year for Christian Brothers College … played for St. Louis Scott Gallagher in the U.S. Development Academy … also played on the St. Louis Scott Gallagher Premiere Green … born in Tulsa, Okla. … son of Kelly and Erin Robinson … father, Kelly, played soccer at John Brown University … mother, Erin, was a cheerleader at Tulsa … grandfather, Mike Shaughnessy, played football at Tulsa.
Brandt on Robinson: "Conor's got a big wing span, is an excellent shot stopper, very athletic, and we believe his ceiling as a goalkeeper is very high. He is a "long" 6-foot-2 and has the chance to develop here into a top goalkeeper."