National Premier Leagues Southeast Region 2017-2018 Season Preview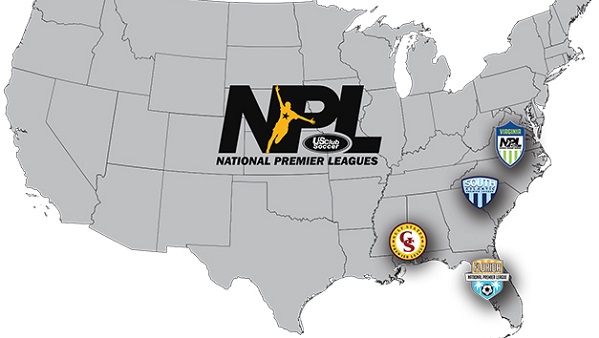 CHARLESTON, S.C. (Via US Club Soccer) – The National Premier Leagues (NPL) enters its sixth season with 21 leagues, about 300 clubs and nearly 2,000 teams. And while the expansive platform has settled into a niche of quality, consistent programming, the NPL also welcomes change that is facilitating new growth.
Member leagues continue to be led by club-driven models, with US Club Soccer initiatives like Players First, id² and PDP providing necessary support. The newest addition to the landscape is the Elite National Premier League (ENPL), which serves as the top spot for boys competition. The ENPL is a collaboration between US Club Soccer and the ECNL to create a competitive platform for 14-U through 18/19-U boys age groups.
Sixteen qualifying competitions – consisting of NPLs and Boys ECNL Conferences – are now working towards ENPL qualification on the boys side of the brackets. For NPL teams, that results in a modified NPL Finals structure in 2018. While the girls are still positioning towards an NPL Finals run, boys teams are divided among multiple events.
+READ: Red River NPL hosts 76 players at US Club Soccer PDP event
ENPL-qualifying NPL teams have three playoff opportunities depending on age group:
14-U teams advance to the National Cup XVII Finals
15-U, 16-U and 17-U teams advance to either the ENPL Eastern Playoffs or the ENPL Western Playoffs
19-U teams advance to the ENPL 19-U National Championship
Six NPLs do not have ENPL qualifying status, though, so their postseason opportunities are different. Those leagues are Central States NPL, Great Lakes Alliance, Gulf States Premier League, Red River NPL, Southern California NPL and Washington NPL.
Here are four NPLs in the Southeast:
Florida NPL
Established in 2011 as a founding member of the NPL, the Florida NPL is back in action with 17 competing clubs. The league was able to send five clubs to the 2017 NPL Finals and nearly saw the Florida Kraze Krush 2003 girls through to the semifinal.
Florida NPL league play began in late August and the boys competitions are off to a furious start, with an undefeated club sitting atop the standings in every age group. GPS Florida West yields two of those undefeated clubs in their 14-U and 15-U boys teams.
The girls divisions have featured a much tighter start, as every age group has a different first- place club, and no team remains perfect. The 16-U GPS Orlando girls team has set the pace with their league-high 12 points in five matches.
Florida NPL will host a PDP on January 27, 2018, in Tampa.
+NCAA Women's Soccer Commitment Announcements: October 2017
Gulf States Premier League
The Gulf States Premier League has once again returned with all six eligible age groups. Its second division will also be returning after its inaugural season in 2016-17.
In the 2017 NPL Finals, the Gulf States Premier League was represented by five clubs; with Gulf Coast United FC's 2003 girls team ultimately missing the semifinal by a five-goal differential.
League play recently kicked off and is off to a competitive start, with 14 clubs from five states battling and a different club currently leading every age group.
South Atlantic Premier League
The South Atlantic Premier League's fifth season has arrived on the back of some impressive NPL finals runs by some of its member clubs.
The 12-club league fielded three teams in the 2017 NPL finals, with two of those advancing to the semifinal. Triangle United's 2003 boys team earned its semifinal spot by winning its respective flight, while United Futbol Academy's 2002 boys squad claimed a perfect nine points in group play, before falling to the ultimate national champions, Chicago Inferno, in the semifinal.
2017-18 South Atlantic Premier League play began shortly over a month ago and United Futbol Academy is off to a dominant start, leading or tied at the top of every boys age group, with the exception of the 14-U age group, where Discoveries SC sits on a three-point hold. The girls landscape looks fairly similar, as United Futbol Academy currently leads four of the seven age groups.
The South Atlantic Premier League hosted a PDP in August and will hold another one  February 10, 2018.
Virginia NPL
The Virginia NPL enters the 2017-18 season with a new format. The 12-club league has transitioned from 13-U through 18-U competitions to offer 11-U through 18-U play.
The league had four representatives in the 2017 NPL Finals, including one finalist and one semifinalist. The Vienna Youth Soccer 1999 girls team looks to avenge its 3-1 national championship game loss after advancing that far with a 4-0 record through group play and the semifinal. The Virginia Rush 2000 boys also finished perfect in group play before falling 2-1 in the semi-final.
The 2017-18 season is shaping up to be competitive, with six different clubs sitting atop the leaderboards of eight boys age groups. The girls groups are off to the same pace, with six varying first-place teams, as well.
Less than a month remains in Virginia NPL league play, so these teams will be the first ENPL (boys) and NPL Finals (girls) postseason qualifiers.
The league will host a PDP in January, 2018.