National League Boys North Carolina Showcase Day 2 Recap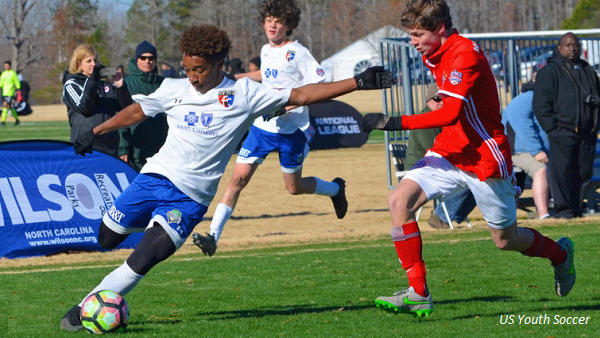 Day 2 of 4 complete
Watch 16 of Saturday's Matches Live | Scores and Standings 
WILSON, N.C. (Via US Youth Soccer) — The 2016-17 US Youth Soccer National League Boys season is in full swing after two days of play at the Wilson Gillette Athletic Complex and Rocky Mount Sports Complex in North Carolina.
The competitive level of each game serves as a key factor in attracting college coaches to each National League weekend, and this week in North Carolina has been no different. More than 150 college scouts have been on hand during the first two days of play to see the teams compete in meaningful matches.
"This is the place that, if you're in youth soccer, you want to be at these events," Loudoun SC coach Mark Ryan said. "You know you are going to get a great array of college coaches from up and down the East Coast.
+Read: US Youth Soccer National League Boys kick off in North Carolina
"You're playing quality teams, which is the most important thing. Coaches want to see you play against top class opposition, and games we play here are top class."
National League teams earn their place in the league based on a proven track record of success in US Youth Soccer regional and national competitions. Competing for a league title and a spot in the US Youth Soccer National Championships, each game will play into who represents the National League this summer in Frisco, Texas.
Some highlights from Friday's matches…
15U
Solar Chelsea Red 02 Stricker (TX-N) added another three points in the 15U Blue Division with a 5-2 win over CESA 02 Premier (SC). Ilean Castorena put the North Texas side in just the first minute of play. The Solar pressure turned into more goals as Harvey Castro made a pass over the defense to Castorena, who slotted his shot by the keeper. Grant McCarty added a brace of his own to finish the first half, hitting his first high over the CESA keeper and curling the second into the right side of the goal. Alexander May got one back for CESA in the 57th minute, but Castorena completed his hat-trick four minutes later to make the score 5-1. Alan Pedraza scored another consolation goal for CESA, as the game finished 5-2 in favor of Solar.
Baltimore Celtic 2002 (MD), looking for its first win of the weekend, fell to USA MP 02 Premier (SC), 1-0, on the second day play. Miller Stokes started the buildup on USA Premier's goal, as he dribbled through a trio of Celtic players. Stokes poked a pass to Kevin Wray, who slotted his shot to the bottom right corner for what would be the game-winner. Celtic's Tyquan Stroud had a couple of tough chances to equalize for Baltimore but saw a pair of shots go high. USA Premier's John Sheppard had a great chance to double his team's lead late in the game, but saw his chipped shot hit the post and then get cleared off the line. With the win, USA Premier stays perfect with two wins to collect a full six points through two days of 15U Red Division play.
+Read: All-Star teams announced for ODP Girls Thanksgiving Interregional
16U
Lobos Rush 01 Premier (TN) has opened up an early lead at the top of the 16U Red Division standings thanks to a 1-0 win over Galaxy Soccer Club (IL) on Friday. The matchup between two day one winners was even throughout, and neither side managed to grab an advantage in the first half. Lobos Rush finally broke through in the 54th minute when Nicolas DiMauro received a low cross at the back post and hammered his shot home to put the Tennessee side in front. That proved to be the deciding factor, as Rush held on for the 1-0 victory to move to 2-0-0 on the week.
In the 16U Black Division, Solar Chelsea 01 Elite (TX-N) picked up a 2-0 win over Beadling (PA-W) to remain in a tie for first place. The North Texas side jumped out to an early lead thanks to a Samuel Coad strike in the fourth minute. Solar continued to apply pressure while Beadling found it difficult to create any sustained possession in its attacking half. Dario Martinez added some breathing room for Solar in the 54th minute when he made a run into the box, received a pass and placed his shot past the keeper. The shutout victory helped Solar pick up its second win in two days to keep pace with EC Real Salinas Galaxy 01 (CA-N).
17U
A pair of Region I sides met in a close 17U Blue Division contest, as Baltimore Celtic SC 2000 (MD) earned a 1-0 win over Lehigh Valley United 2000 Black (PA-E). The Maryland side took an early lead when Benjamin Stitz found the back of the net in the ninth minute. LVU pushed for an equalizer, but Baltimore did well to keep possession in its attacking half. Celtic nearly netted a second goal in the 77th minute, but an attempt following a set piece rang off the right post. However, the Baltimore back line made sure that missed opportunity didn't come back to haunt their side, as Celtic recorded it second clean sheet of the week.
After not being able to find their scoring touch on day one, the FC Dallas 00 Che (TX-N) players found their scoring boots on Friday in a dominant victory over Baltimore Bays 00 (MD) in the 17U White Division play. Derek Norsworthy started the scoring in just the first minute, as he found the end of a Brandon Torres flicked-on pass. Norsworthy added his second of the game 10 minutes later when he slotted his shot beyond the keeper. Brandon Torres scored the last goal of the first half — finishing a great ball slipped in behind the defense. FC Dallas had a chance to add a fourth early in the second half but Nathan Wdzieczkowski parried the attempt over the bar. Gabe Liebman added a brace late in the second half, with Ernesto Rueda adding a goal just before the final whistle to cap the big FC Dallas win.
18U
Arlington SA Red (VA) picked up its second 18U Black Division win in as many games on Friday after defeating EC Real Pumas (CA-N), 2-0. John Eberle scored the opening goal in the 28th minute off a Marcel Guzman corner kick. Eberle beat his defender to the ball and tapped in a near post shot. Zachary Johnson scored the game's lone second-half goal to double Arlington's advantage. Michael Daunt cannoned a shot off the post and the rebound fell to Johnson, who calmly finished his shot into an open net. EC Real Pumas pushed for an equalizer, but couldn't connect on any shots or meaningful passes in Arlington's final third.
19/20U
Defending Region II Champion Challenger Crew Jrs Gold 98 (OH-N) is off to a hot start in the 19/20U Blue Division after a come-from-behind 2-1 win against OFC 98 (OK) on Friday. Oklahoma got on the scoreboard first with a 13th-minute goal from Joshua Berney. That advantage did not last long, as Stephen Milhoan equalized for Challenger just six minutes later. The score remained level until Hayden Parente put Challenger in front in the 62nd minute. That proved to be the difference, as the Ohio North side held on for the 2-1 win.