Morgan Andrews speaks: Notre Dame star undeterred by U.S. U-20 World Cup snub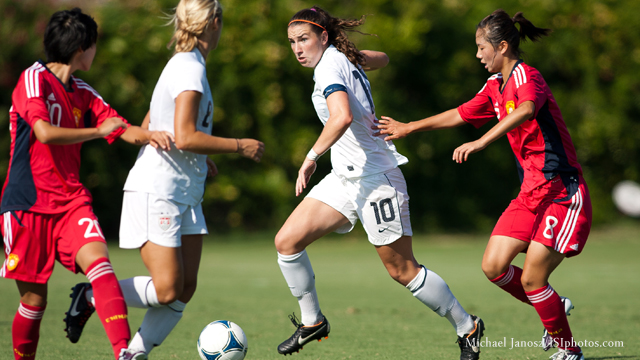 It was the snub that sent heads snapping across U.S. women's soccer.
Last month, Notre Dame midfielder and New Hampshire native Morgan Andrews received shocking news: After years of callups and even a stint as the team's captain, she was left off the United States' final roster for the FIFA U-20 Women's World Cup.
+ READ: Why on earth is USWNT playing friendlies during NWSL playoffs?
Andrews thought that she'd done enough in camp to earn herself a spot on the roster.
"I don't know if you ever really see those things coming," Andrews told SoccerWire this week. "I know that when you go to camp you just put your head down and try to make the roster because it is a tryout every single day."
Several weeks removed from the snub, Andrews has developed some perspective on the situation.
"It's not your decision at the end of the day," she said. "You put everything out there on the field and it's the coaches' decision whether they pick you or not."
While many have speculated about why head coach Michelle French excluded Andrews from the final U-20 roster, Andrews herself was reluctant to offer up an explanation.
"Those girls are my friends," she said. "Even though I play against them in the season here, I think each of them are very talented and they deserved a spot."
Whatever the reason behind the exclusion, Randy Waldrum, Andrews's former coach at Notre Dame, believes that she could have helped the U-20s in Canada. Seen as a trophy contender, French's side lost to eventual finalists Germany in their opener an only turned in one performance of consistent quality in four games before falling to North Korea on a penalty-kick shootout at the quarterfinal stage.
"After seeing the first game against Germany, to be honest with you, I think they could have used her," Waldrum, who now coaches the NWSL's Houston Dash, told SoccerWire.
"I don't know all the reasons behind it, why it was that way, but … I certainly would have had her on a roster if I had been coaching just because I know what she brings to the table. She's the kind of player I'd always want on my team."
Waldrum believes that his former charge will return from her disappointment a stronger player.
"I think she'll come back even bigger and better. I think she'll be even more driven to prove [French] wrong and prove [U.S. women's technical director April Heinrichs] wrong. I hope she does. I think she's got a great future and think she can play for our full [senior] team."
For that to happen, Andrews will need to build on her outstanding first season for the Fighting Irish. In 2013, Andrews scored seven goals and tallied five assists in 22 games started. Those performances earned Andrews the ACC Freshman of the Year award and led to appearances on the All-ACC second team and the ACC All-Freshman team.
+ READ: U-20 Women's World Cup loss rings alarm bells for U.S. Soccer
Reflecting on her first-year success, Andrews credits her former coach with helping her take her game to the next level.
"I felt like I matured a lot under Coach Waldrum and honestly, it just felt like I have the skill, but I could definitely learn more by watching film and taking on the challenges that the coaches gave me," she said.
Waldrum agrees.
"First and foremost she's got a great soccer brain. She understands the game, she reads the game well," he said. "She's a student of the game. A lot of our players participate in soccer, but they're not all in in terms of being engaged in growing their game by watching other teams play, by watching other players, by breaking down video. That's where Morgan has a little bit of an edge."
You can see Andrews's soccer IQ and technical ability in the way that she utilizes pockets of space, taking players on the dribble or making the long incisive pass to slice open an opposing defense.
And she offers a welcome dose of spontaneity. In a friendly against Mexico last year, Andrews took a pass at the edge of the box, perfectly executed a "rainbow" heel flick to get by her defender, headed the ball back down and, using her strength to shield off the Mexican defender, sent a low cross into the six-yard box that led to a goal for the Irish.
This kind of free-thinking creativity, coupled with such skill on the ball, is all too rare in the American game.
But Andrews is trying to find a balance between the creative part of her game and the more practical demands of club soccer.
"I like to play with skill and use my dribbling technique," Andrews said. "But I also like to say that I have good vision on the field. I like to hit those long range passes, but … after my first season I've matured and I know when to hit those balls and when not to, when to play simple."
Heading into her second season at Notre Dame, Andrews knows that she's still a work in progress, but she also isn't allowing her practicality to limit her ambitions.
+ READ: U.S. U-20 Women eliminated from World Cup on penalties by North Korea
"I expect a lot from myself. I think that's the way I was raised," she said.
"I want a national championship. I want a Hermann Trophy. I want those kinds of accolades, but at the same time I just want to improve as a player," she continued. "As long as I'm improving, I'm happy. But I want an Olympic medal. I want a World Cup medal. So I'm going to keep working until that happens."
And Andrews says she has no plans to quit anytime soon.
"I want to play the game until my body can't take it anymore."